The Mariupol City Council denies that the evacuation of the city's population is being organized. Information about such "humanitarian corridors" may simply be preparation for major sabotage, local authorities warned.
After the Russian Federation invaded Ukraine, Russia began actively using social media to disseminate disinformation which seems aimed at the organization of war crimes. Information about organizing a corridor for the evacuation of civilians has been repeatedly posted and reposted. Addressing the residents of Mariupol, the southeastern Ukrainian port that has been bombed without pity for days, the Russian military promises "to transport citizens to a peaceful place," "organize humanitarian corridors," "ensure security of movement, particularly to the Russian Federation".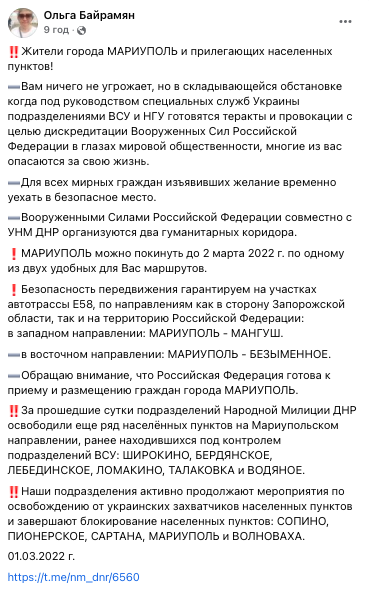 The Mariupol City Council refuted social media fakes that they were planning to evacuate people from certain city areas.
"Information about evacuation corridors organized by the so-called Donetsk People's Republic may be preparation for major sabotage. We have already seen that Russian fascist troops have used civilians as human shields to break through to Ukrainian cities. It is possible that they may attack peaceful columns of people to create a propaganda picture for Russian television" Mariupol City Council wrote in a statement on its official Facebook page.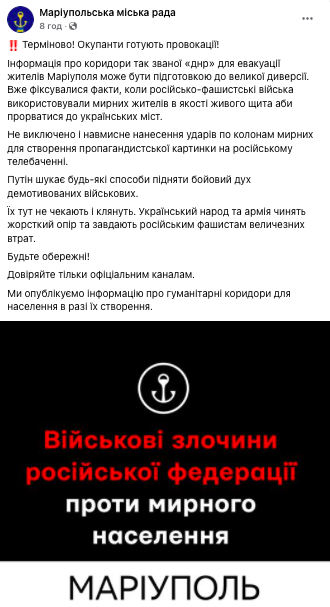 Anton Herashchenko, adviser to Ukraine's Interior Minister warned earlier that Russian troops could promise humanitarian corridors and then use civilians as human shields.