Russian sites disseminated fake stories claiming that Ukrainian soldiers were infected with Covid-19 during the Joint Endeavour NATO military exercises. These claims turned out to be blatant lies.
"During the Joint Endeavour 2021 NATO exercises Ukrainian soldiers who were in contact with Lithuanian military showed signs of coronavirus infections" announced the People's Police of the self-proclaimed Russian separatist Donetsk People's Republic. Made without citing any sources, the announcement in turn served as the source for further fake claims about Ukrainians servicemen showing signs of the coronavirus infection after two Lithuanian soldiers suspected of being infected with Covid were hospitalized on September 24.
Russian sites EADAILY, Imag.one, Fine-news.ru all featured this fake story.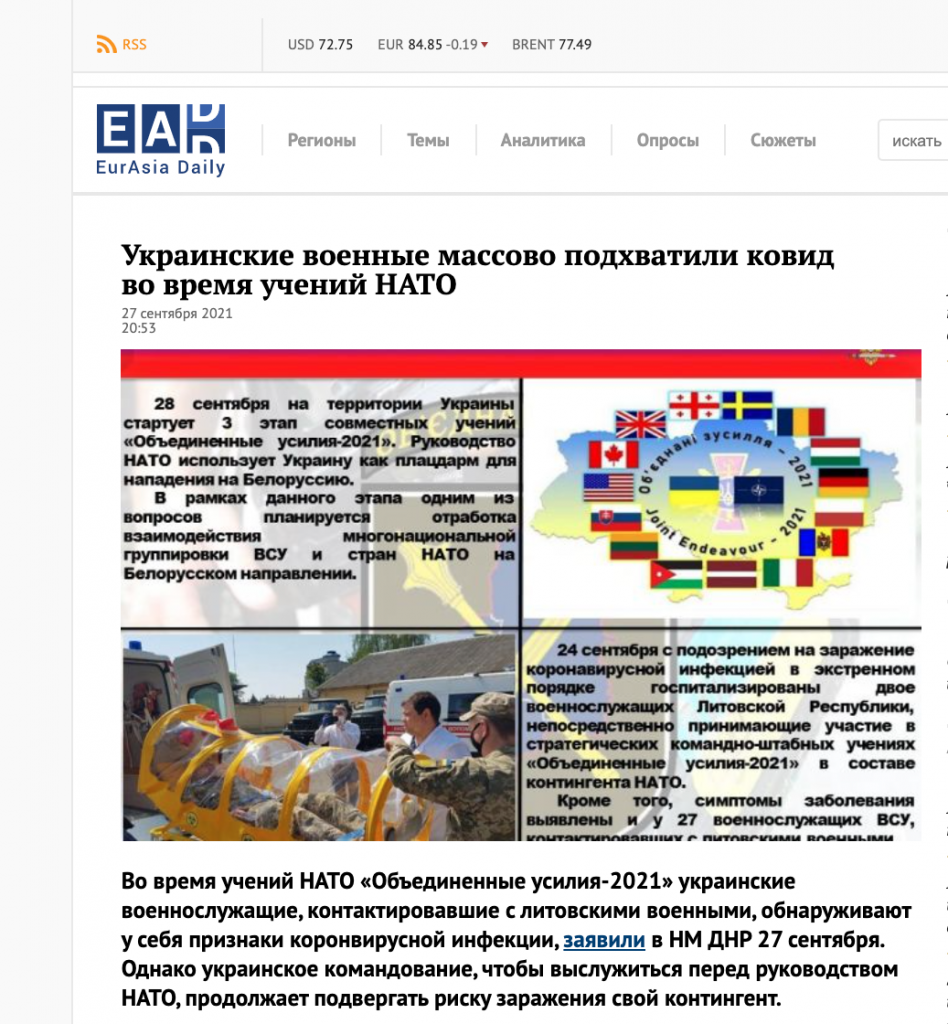 Written in exactly the same manner, the fake stories claim that Ukraine's military leadership put its servicemen in danger during a pandemic and should have stopped Ukraine's participation in all military exercises.
"In order to curry favor from the NATO leadership, the Ukrainian command continues to put its military at risk of infection" Fine-news alleges.
Responding to StopFake's inquiry about the veracity of these Russian media claims, Ukraine's Military Medical Command said such allegations were false. In an email statement the Medical Command said that Ukraine's Armed Forces have one of the lowest rates of coronavirus infections in Ukraine. According to the Medical Command, the military took all possible measures to prevent the spread of any coronavirus infection during the joint military exercises.
The 2021 Joint Endeavour military exercises which began September 22 are strategic in character and are conducted in three phases. During the first two stages test the state defense management during armed aggression. The third stage tests the capability of the military in special operations. The exercises are multinational and involve troops from 15 countries, 11 of which are NATO members. The exercises, held in Ukraine and were completed on September 30.
StopFake analyzed the information campaign that followed the Zapad 2021 Russian military exercises held jointly with Belarus. Russian media coverage of the exercises intended to sown panic in neighboring countries.