Russian media reported that on March 5 Europeans staged massive demonstrations in support of Donbas, the eastern Ukrainian industrial region currently occupied by Russian- sponsored separatists.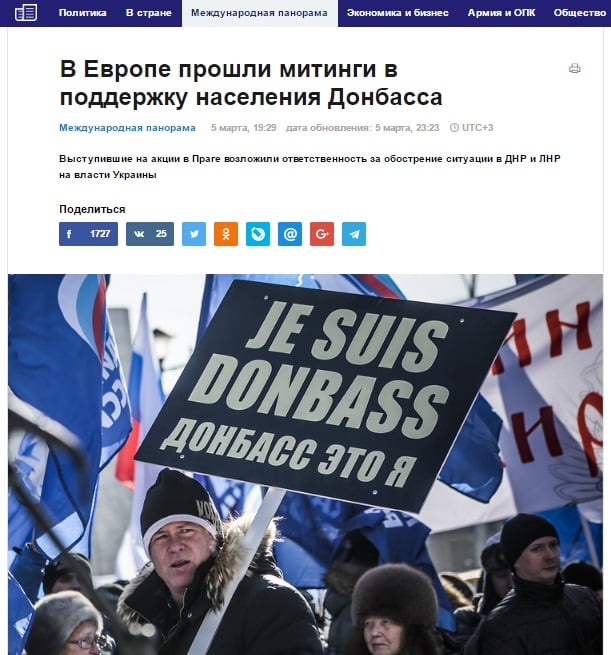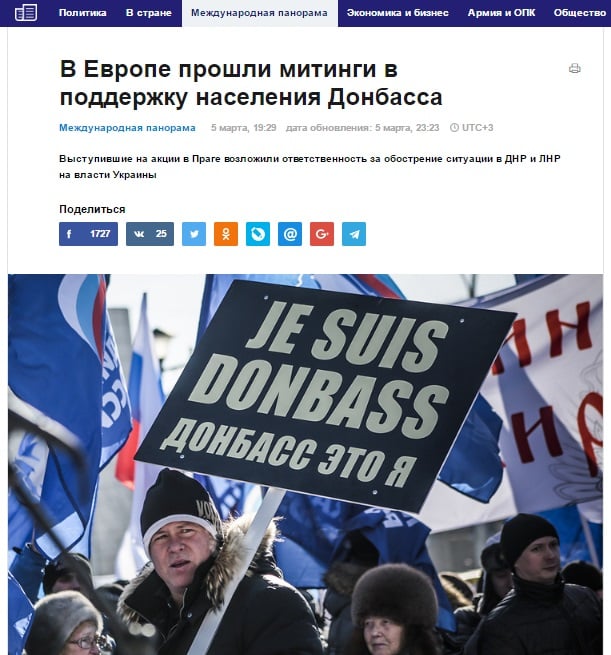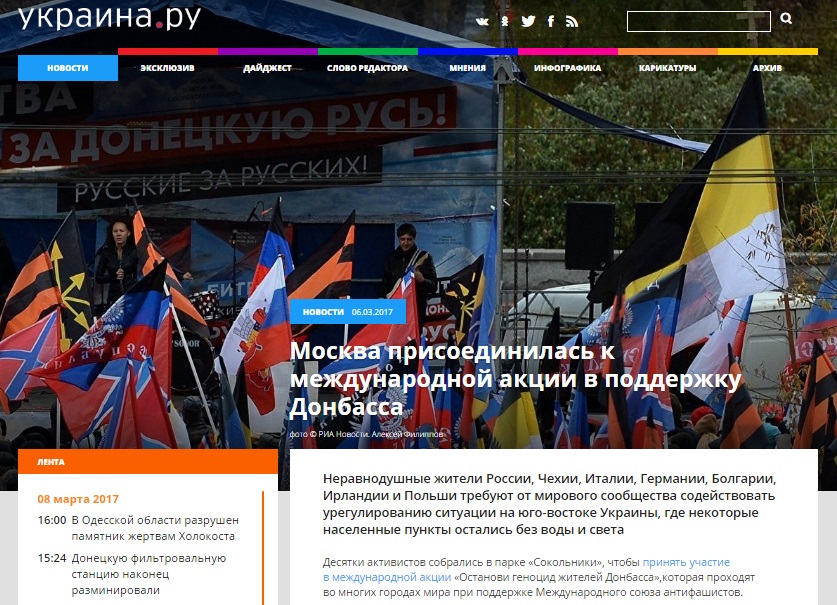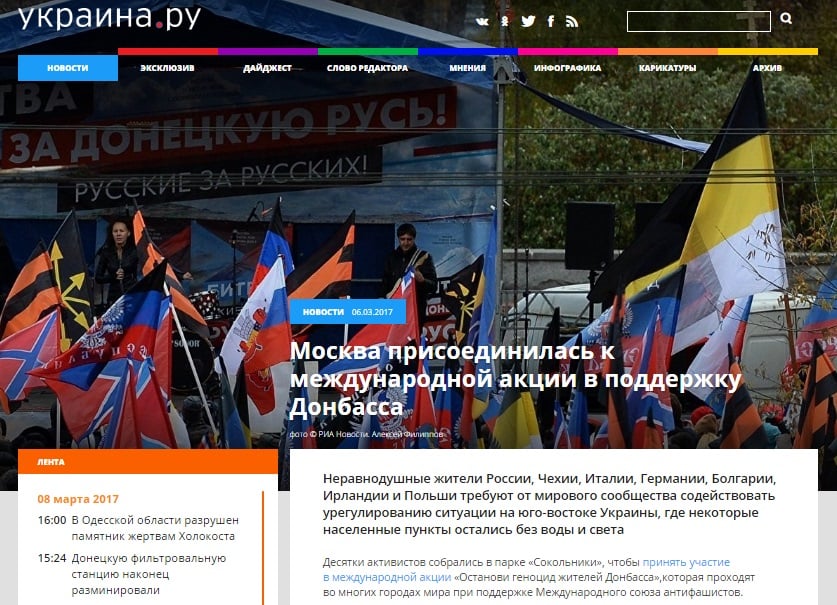 The demonstrations were in fact made up of small groups of emigrants from the former Soviet Union who gathered in several European capitals holding signs such as "Je suis Donbas" and "Stop the genocide in Donbas".
All the demonstrations featured self-proclaimed Donetsk People's Republic flags, Russian national flags, red flags of the former Soviet Union and the notorious black and orange St. George's ribbon, a Russian military symbol widely associated with Russian nationalist and separatist sentiment.
The demonstrators accused Ukraine of not abiding by the Minsk ceasefire agreement, of staging a coup in the country and conducting genocide against Donbas residents.
The rallies were organized by Donetsk People's Republic activist Shezhana Aendo. Speaking on the Abkhazian Network News  channel (Anna-News) Aendo thanked the pro-Putin Russian biker gang the Night Wolves and the National Liberation Movement, an extremist group which believes Russia is a colony of the US, for helping organize the protests.
"The demonstrators sacrificed their hard earned funds, hand painted the signs at night because they believe that they are the Donbas" Aendo said (Anna news interview 12:35).
TASS, RIA Novosti, Rossiyskaya Gazeta, Vzglyad, Ukraina.ru, News front and others disseminated this story.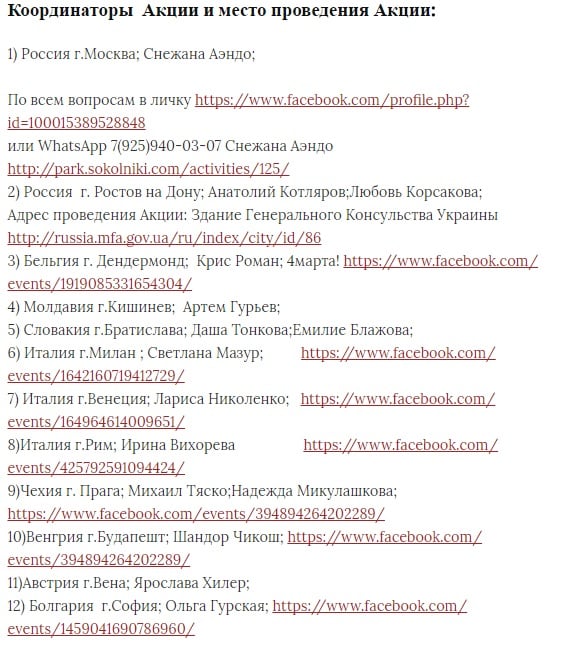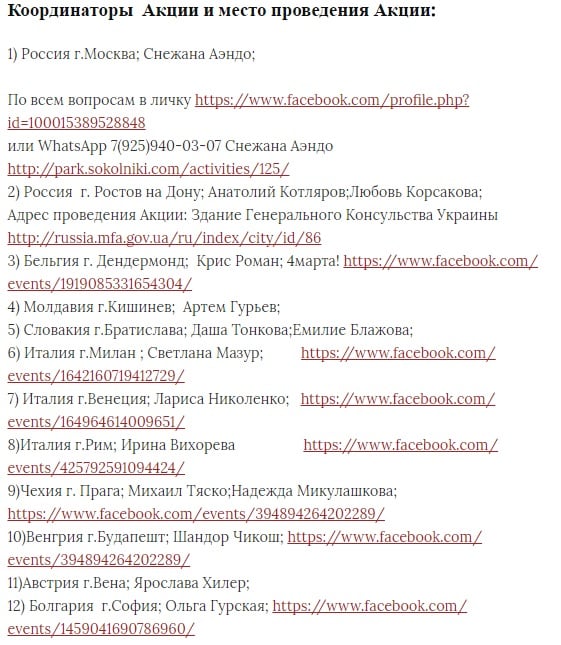 Snezhana Aendo's site Yadonbas.rus contains video from the various sparsely attended rallies. The participants all speak Russian amongst themselves; some hold signs accusing Ukraine's President Petro Poroshenko of orchestrating the war.  The site also features a list of protest organizers and their social media accounts. They are all either Russian or pro-Russian societies.
To allege that Europeans massively took to the streets protesting the war in eastern Ukraine is clearly a gross overstatement of what were essentially a few small and insignificant pro-Russian gatherings that only Kremlin propaganda reported.