This week Russian and western media made wide use of a video of masked young men claiming they were responsible for the death of Russian separatist militant Arsen Pavlov, aka Motorola, who was blown up by a bomb planted in the elevator of his apartment building in Donetsk.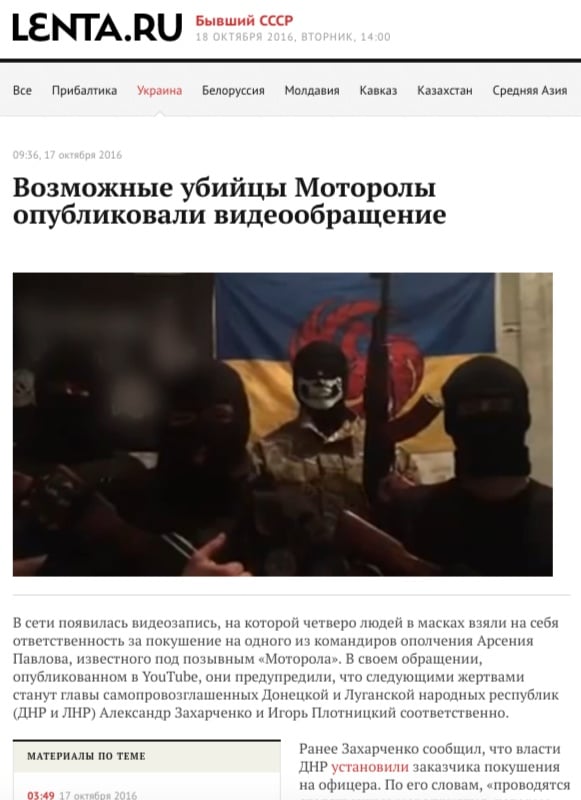 The 11 second video (which has since been removed from the web) shows four masked men with machine guns standing in front of ultranationalist Misanthropic Division and Phoenix banners announcing they " liquidated the terrorist Motorola and other militant leaders are next", led Russian and some western media to claim that Ukrainian nationalists had assassinated Pavlov.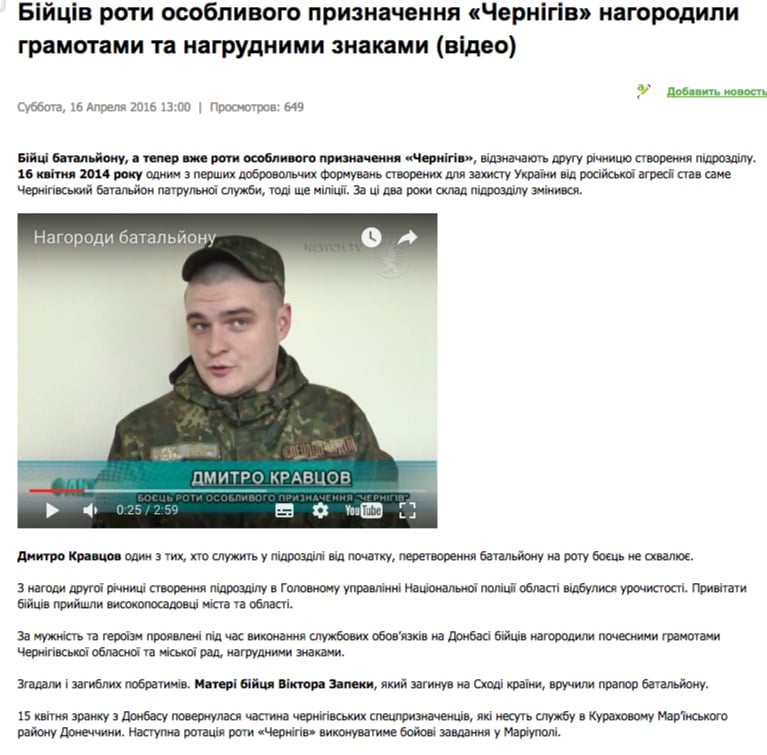 Misanthropic Division, a radical organization whose official black banner features their name in Gothic script flanked by two Kalashnikov rifles published their own video stating they had nothing to do with Pavlov's death or neo-Nazism. The group accused a man named Dima Kravtsov of staging the fake video to compromise them.
After Misanthropic Division accused Kravtsov of staging the fake video, his social media accounts under the alias Dima Shuler were removed.
A man named Kravtsov really is a member of the Chernihiv patrol company, he was recently interviewed on a local television station about the company's activities. His voice is very similar to the voice of one of the speakers on the fake video.
In a Facebook European radical right wing movement expert Anton Shekhovtsov  called the video finger pointing an internal squabble between two neo-Nazi groups Misanthropic Division and their splinter group Phoenix.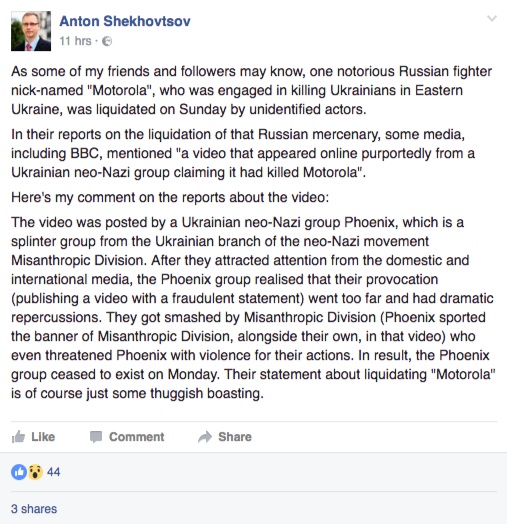 Phoenix posted the original video making a fraudulent claim and using Misanthropic Division's banner. The video was widely reported and has dramatic repercussions. Misanthropic Division responded by threatening Phoenix, which led to the group's demise.
"Their (Phoenix) statement about liquidating "Motorola" is of course just some thuggish boasting," wrote Shekhovtsov.
Ukraine's 112 television channel reported that according to a Misanthropic Division leader, Phoenix had a very small following and did not have the capacity to mount an assassination operation.
The video also has different audio levels, casting further doubt on its veracity.
Life.ru, Komsomolskaya Pravda, Rossiyskaya Gazeta, Gazeta.ru, the television channel Dozhd (Rain) all featured stories using the fake video.