The Antonov Company denies the disinformation disseminated by Russian media, claiming the wreckage of the world's largest aircraft, the Mriya Antonov An-225 cargo plane has been disposed of. The wreckage is being kept as evidence of Russian invaders' crimes.
Several Russian and Ukrainian media reported that the Mriya cargo plane which was badly damaged by Russian shelling had been disposed of as scrap metal. The reports also featured a video allegedly showing parts of the plane being pulled out of a hangar. The source of this story is the notorious Strana.ua website, known for its propagandist fakes and pro-Kremlin narratives.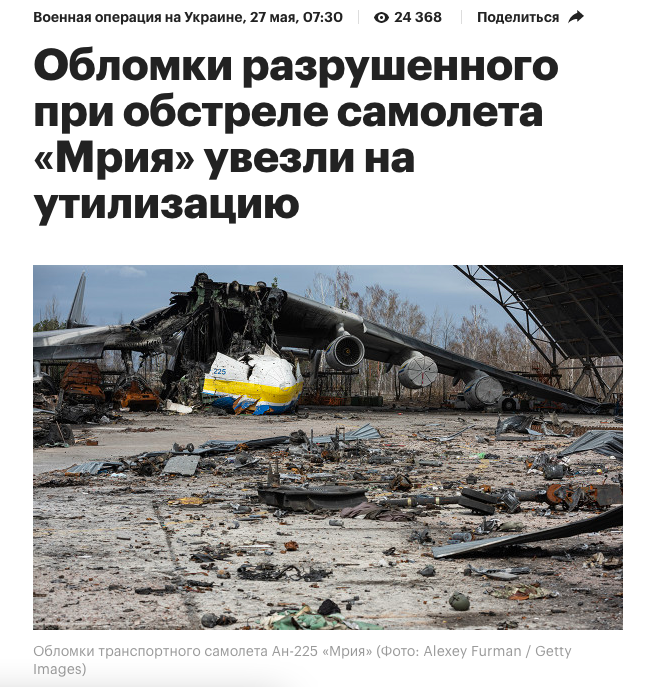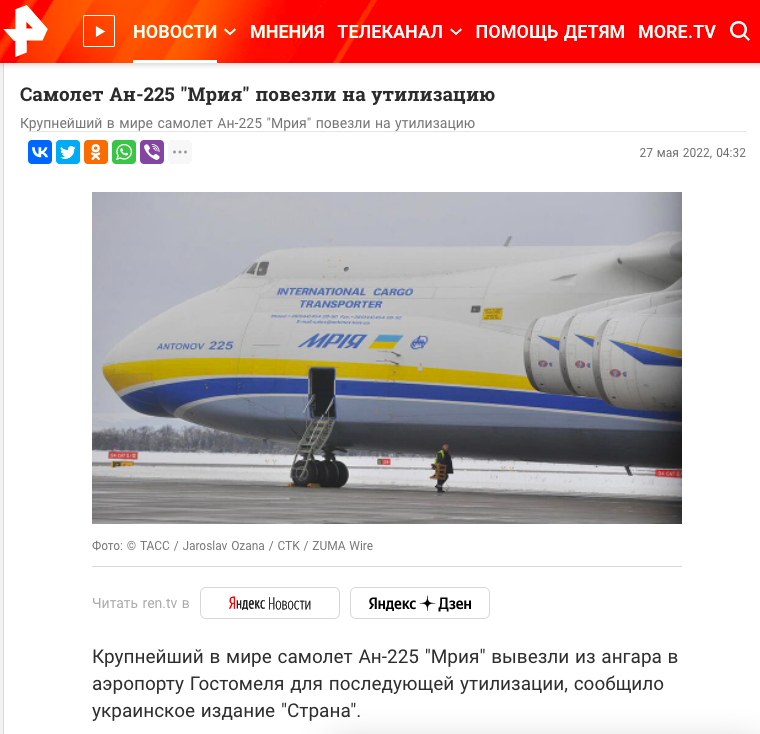 "The footage shows a multi-ton tractor and an armored personnel carrier (emblazoned with the Ukrainian flag) using ropes to pull out what is left of the Soviet-designed aircraft that Ukraine inherited. Ukraine, like many others, was not able to look after this Soviet heritage properly, "writes the Voyennoye OIbozrenie propaganda website.
"There is great symbolism in the destruction and scrapping of Mriya. Having inherited the Soviet Mriya, independent Ukraine could not reproduce it, but it managed to destroy it perfectly" writes the Argumenty I Fakty publication.
The Antonov Company denies that Mriya has been scrapped and calls the Russian reports to that effect untrue and unreliable.
"Antonov is cooperating closely with Ukrainian law enforcement and investigative authorities toward collecting evidence of crimes committed by Russian occupiers" the company said in an official Facebook statement.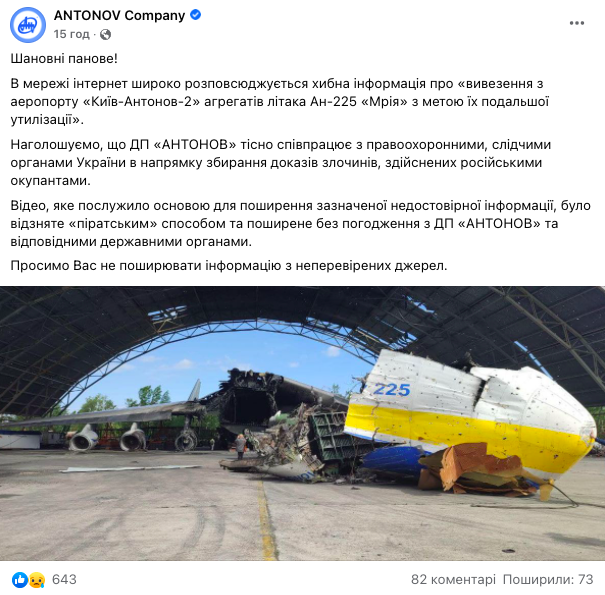 Antonov also pointed out that video of the airport wreckage was filmed without authorization.
The world's largest aircraft, the An-225 aircraft Mriya plane was destroyed by Russian forces on February 27, in the early days of Russia's full-scale invasion of Ukraine. The Hostomel airport, where the aircraft was based, was one of the first to be attacked by Russian invaders. Aviation experts admit that the aircraft was destroyed on purpose, and in such a way as to prevent its reconstruction.
Ukraine's National Police is conducting a number of investigations regarding the destruction of the Mriya airplane. The 360war.in.ua volunteer project which documents the consequences of the war in Ukraine, has created a virtual tour of the destroyed aircraft and the Hostomel airport.
Earlier, President Volodymyr Zelensky said that Ukraine should build a new Mriya aircraft and dedicate it to the memory of pilots who died in the war.