The Ocean shipbuilding plant based in Mykolayiv is being cut down for scrap metal announced the Russian site Antifascist this week, fake news that was quickly picked up and further disseminated by Facebook. Neither Antifascist nor any of the Facebook reposts provide any evidence of the claim; they all cite a source from the Telegram social media site.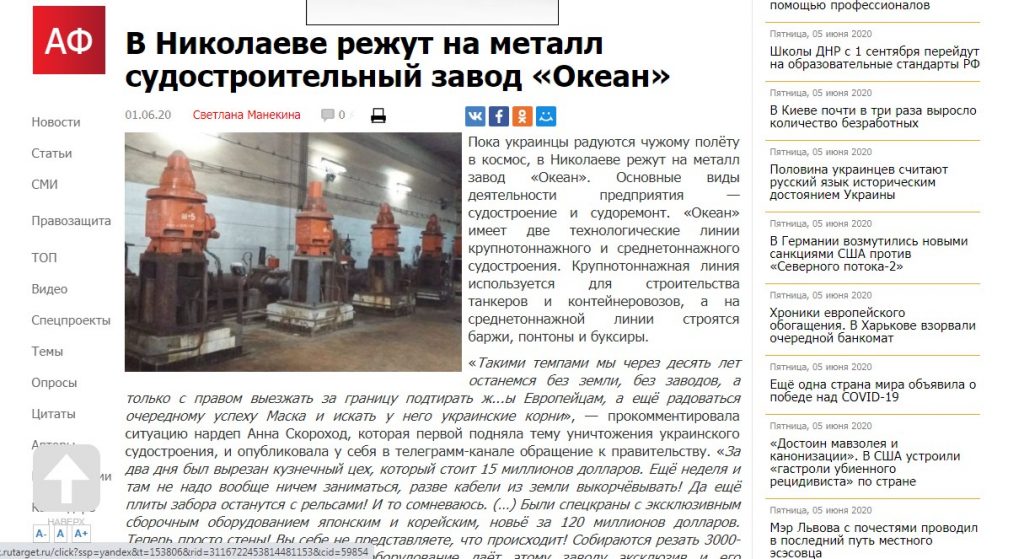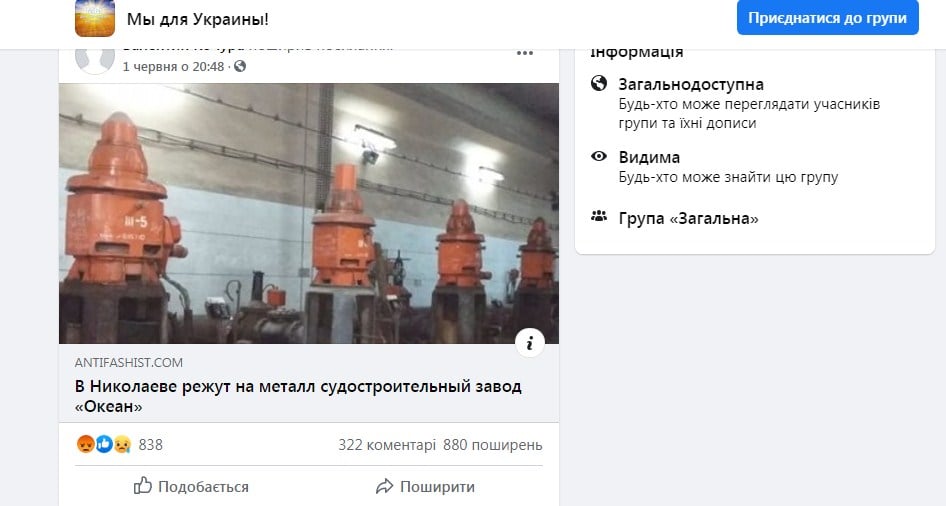 Ocean's management refutes this claim and says the plant is working, new ships are being built and old ones repaired. In a statement on its official Facebook page the company wrote: "Legendary ocean is coming to come back to life, shipbuilders are returning to their factory from foreign shipyards, we've entered the European shipbuilding market, we are filling prestigious orders".
Ocean's liquidator Iryna Serbin called the claim that the plant was being scrapped an "information attack" and said she believed the plant and its workers would not only survive but thrive.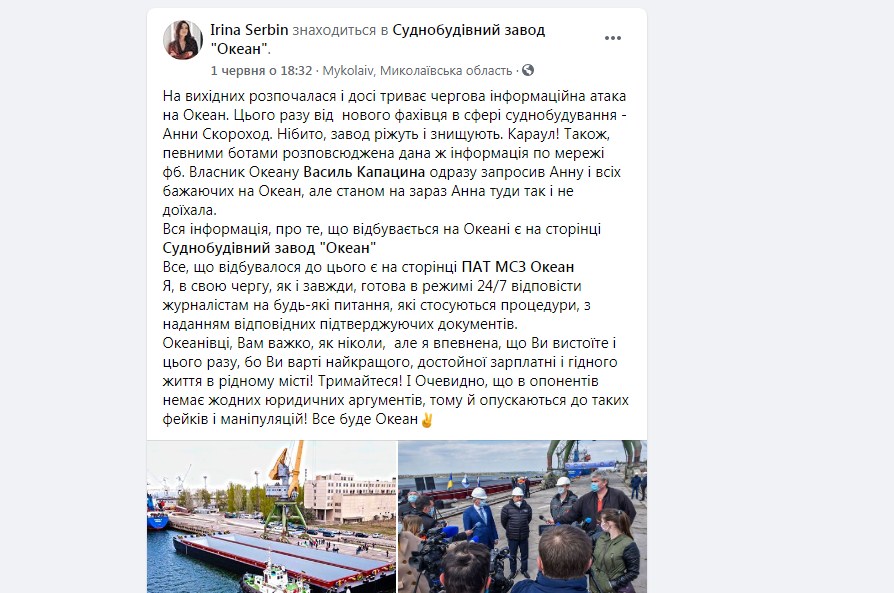 Ocean's vibrancy was also reported on in a local newscast by the Mykolayiv branch of Ukraine's public broadcaster Suspilne. The plant continues to repair ships and install new equipment; the Buh vessel project which stood in dock for ten years has been revived.
Over the past year work at the plant has intensified considerably. In April of this year Ocean shipbuilders completed the construction of two barges for the Netherlands Eurobulk company.
In August of last year the company successfully completed repairs on a Palau owned cargo ship, earlier this year Ocean builders carried out repairs and refurbishing on the Chinese cargo vessel Sigma.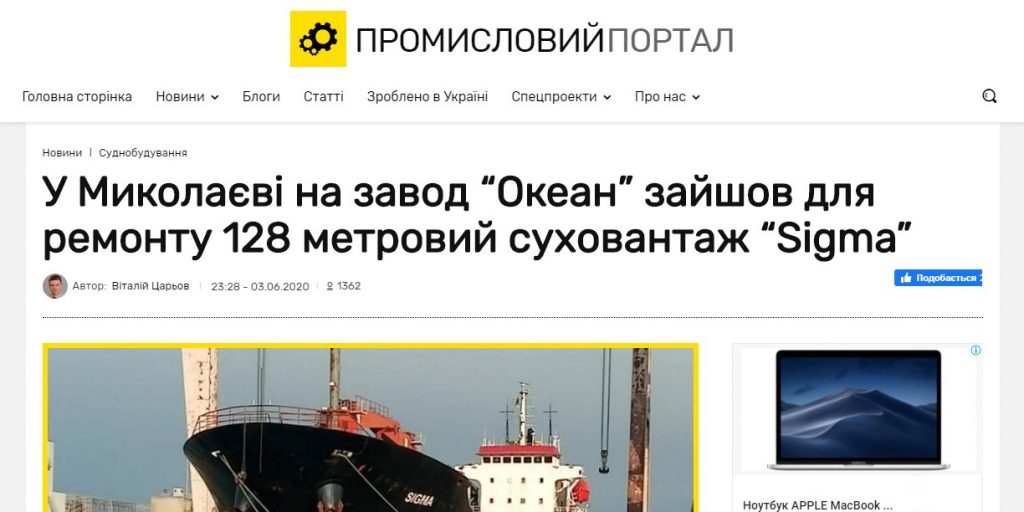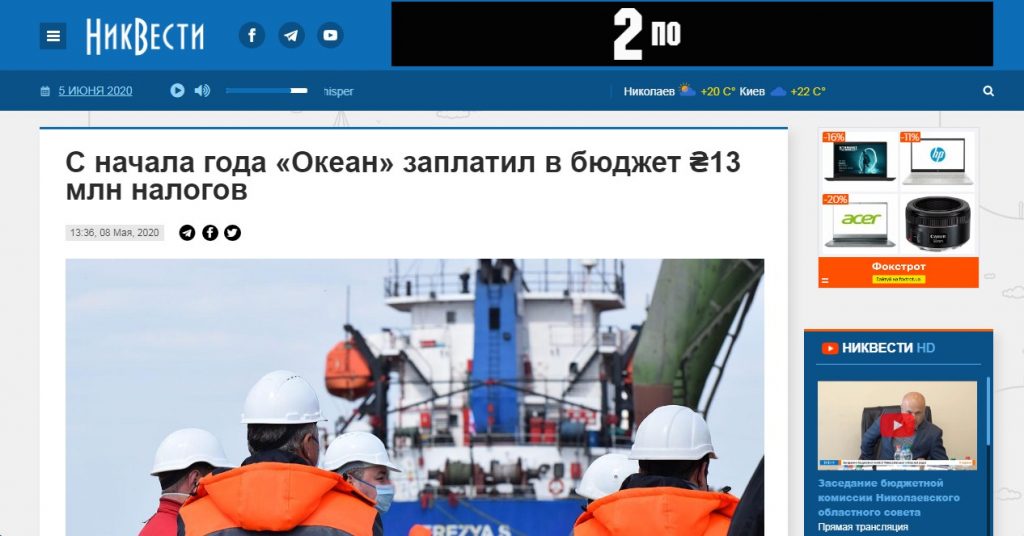 Ocean also fulfills local Ukrainian infrastructure orders, such as bridges and bypass roads.
According to the Nikvesti Mykolayiv news portal, in 2020 the Ocean plant carried out repairs on five vessels and built two barges, handled 22 cargo operations and moved 90 thousand tons of cargo. This year the plant has so far paid 13 million hryvnia ($488,442) in taxes and 15 million ($563,848) in port charges.
The Ocean shipbuilding plant was privatized in 2000 and has changed owners several times. In December 2018 the plant changed hands for the fourth time.
According to the Mykolayiv mayor Oleksander Senkevych, the plant was in decline long before 2018. "Today's investors did not buy a successful company, but a company with a difficult future, a personnel crisis and a poor reputation that developed in recent years. Most of its equipment was damaged, the territory and buildings were in decline" Senkevych wrote in a column for the Novoye Vremya newspaper.
A once profitable and modern plant was first sold to a Dutch company in 2000, who in turn sold it to a Norwegian firm in 2004, which then sold Ocean to a Russian company. Ocean went into severe decline under Russian ownership and was brought to near bankruptcy, jobs were lost and the company's debt grew to nearly four million dollars. The new owner, the former director of the Mykolayiv port, has already invested $1.5 million in Ocean's modernization.