Ukraine is playing with fire conducting the Sea Breeze 2018 military exercises with NATO countries  – such is Russia's reaction to the joint Ukrainian American maritime training exercises being held for the 18th year in the Black Sea. On July 12 the spokeswoman for Russia's foreign Ministry Maria Zakharova accused the participating countries of trying to destabilize the situation in eastern Ukraine and in the Black Sea region. Zakharova's accusation was dutifully reported by RT, Interfax, TASS and other Kremlin-faithful media.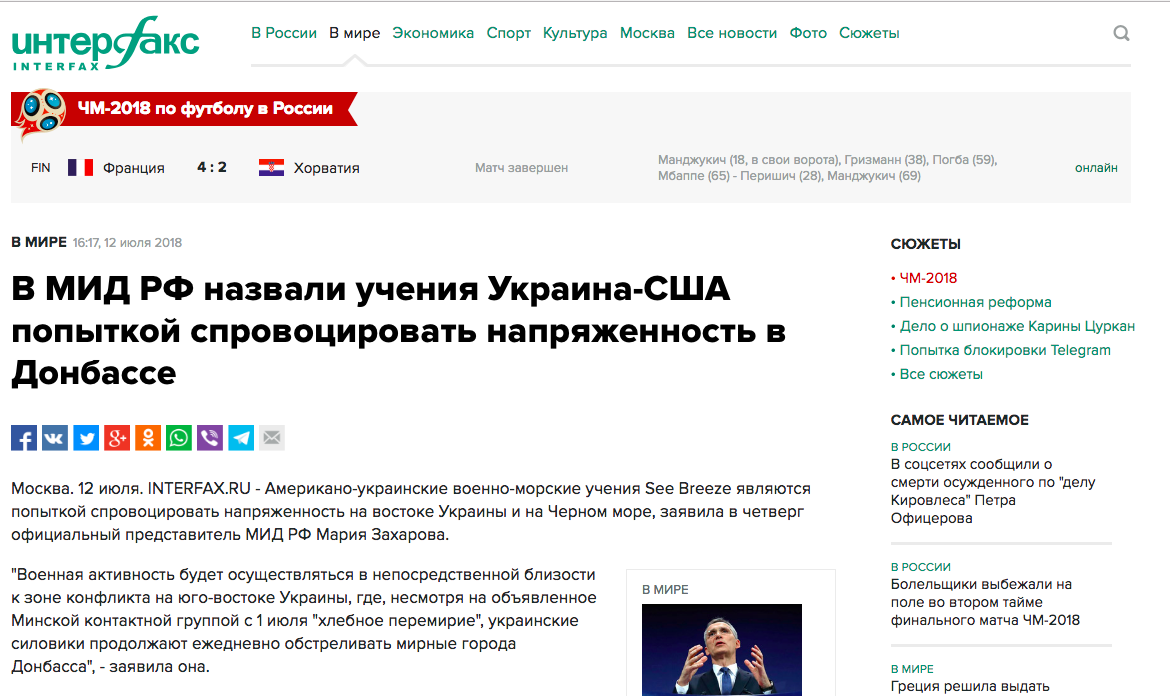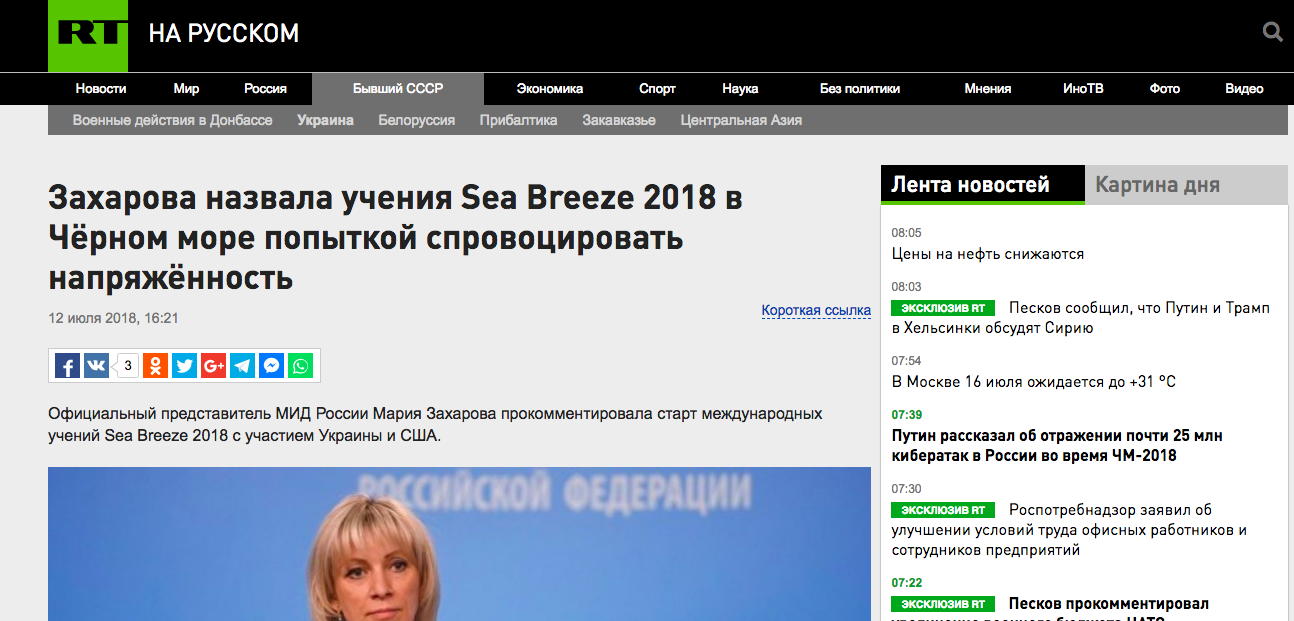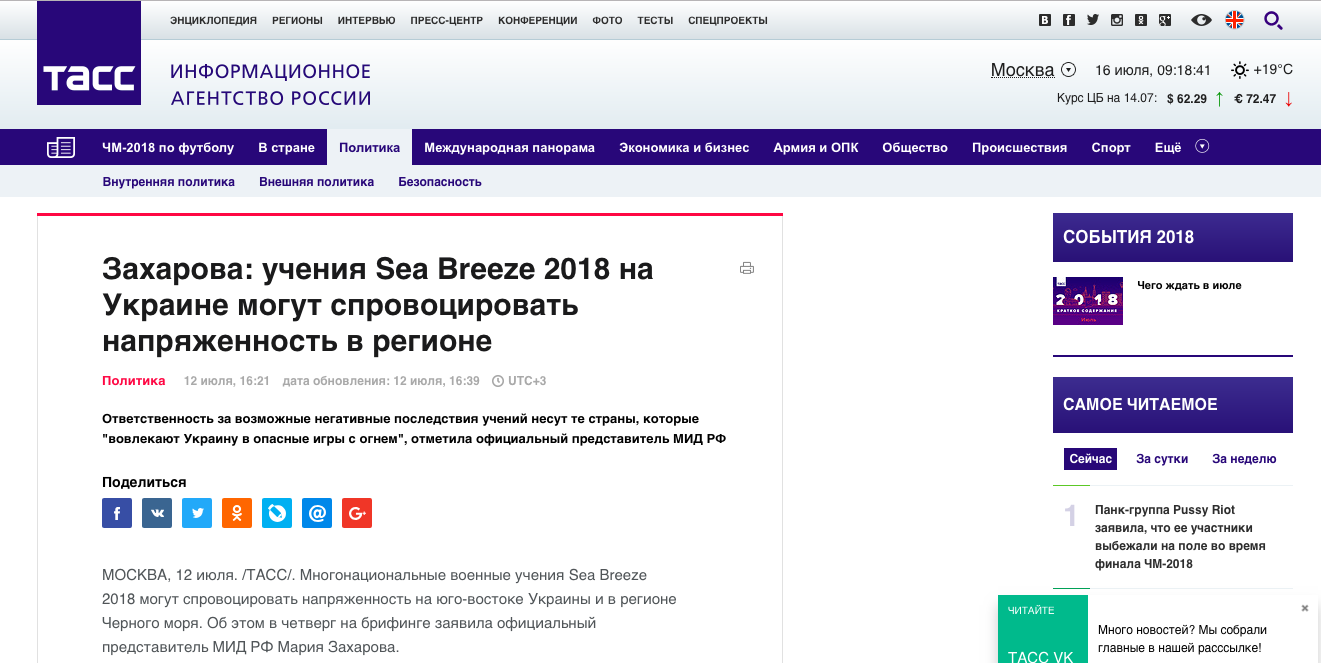 Zakharova accused the US of behaving like a hooligan and involving Ukraine in a dangerous game with fire. "The responsibility for possible negative consequences lies with those countries that involve Ukraine in dangerous games with fire and constantly accuse Russia of threatening regional stability" Zakharova said.
This year's Sea Breeze exercises began July 9 and involved 19 countries including Bulgaria, Great Britain, Greece, Denmark, Estonia, India, Italy, Canada, Lithuania, Moldova, Turkey, Sweden. Designed to enhance interoperability of participating nations and strengthen regional maritime security, the exercises were held in the Odesa and Mykolayiv regions and in the Black Sea.
https://www.facebook.com/petroporoshenko/videos/1334158650051857/
The Sea Breeze exercises have been held in Ukraine for more than 20 years and prior to the Russian annexation of Crimea they were conducted in the waters off the peninsula. This year's exercises were devoted to countering Russian aggression in the Black Sea region. During the exercise opening ceremony Ukraine's Naval commander Ihor Voronchenko said that Russia continues to violate international law and is slowly encroaching on Ukraine's maritime economic zone, squeezing Ukraine out of its territorial waters.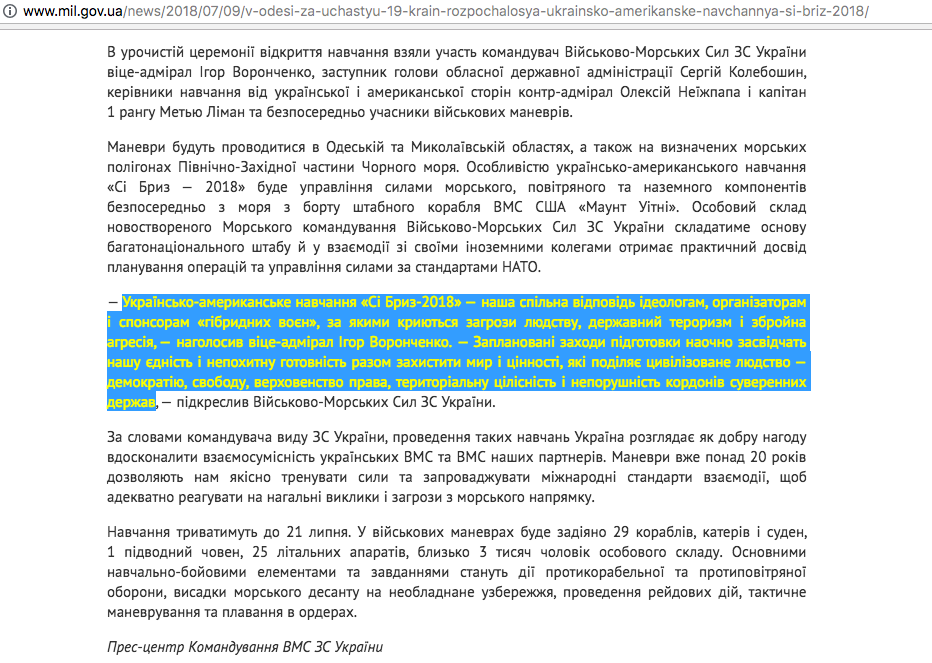 The exercises are a response to the ideologues, organizers and sponsors of hybrid wars," Voronchenko said, "and demonstrate our unity and unwavering readiness to together protect democracy, freedom, rule of law and territorial integrity of states and inviolability of their borders."
During a Radio Liberty program, Ukraine's Chief of Staff, Rear Admiral Andriy Tarasov called these international military exercises on Ukrainian territory a deterrent for Russia. The presence of NATO ships in the Black Sea demonstrates support for Ukraine and counters the aggressive intentions of the Russian Federation, he said.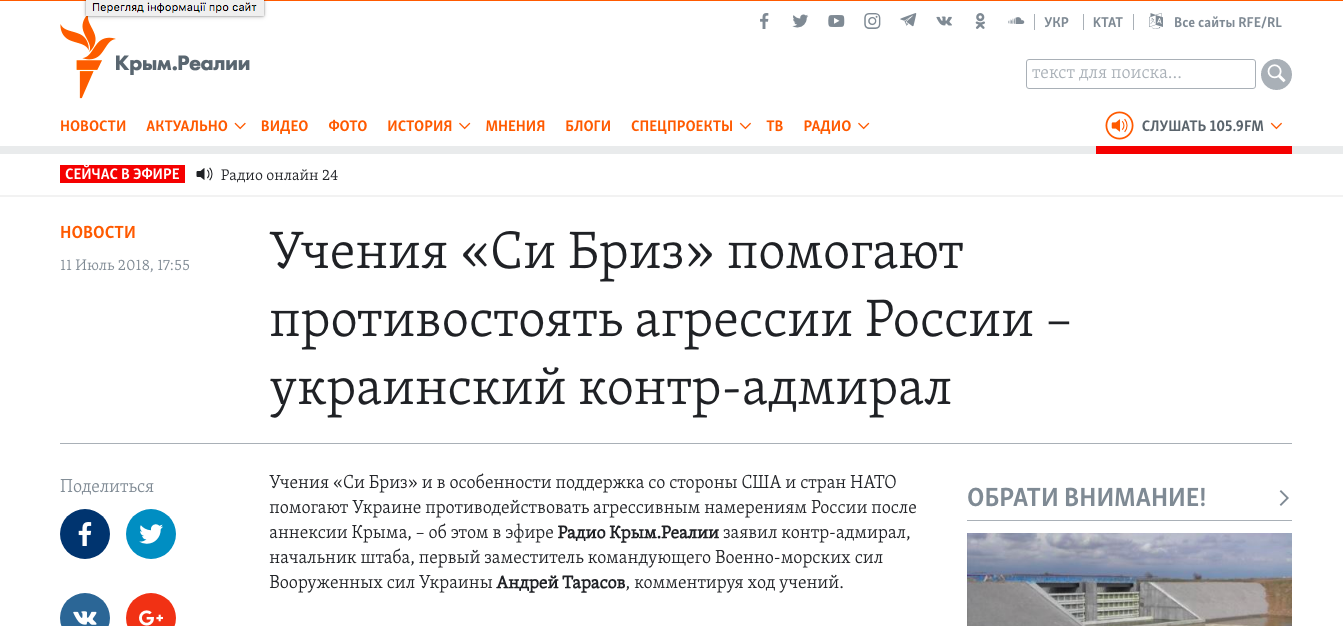 Russian officials on the one hand claim that Ukrainian ships are deliberately causing tension in the Black and Azov Sea regions, on the other they brag about the might of their Black Sea Fleet and Ukraine's naval inability to withstand Russia's fleet.
According to Ukraine's Infrastructure Ministry, Russia harasses ships in the Black Sea and interferes with maritime traffic. Just in the last three months Russia has groundlessly detained and searched 140 ships bound for Ukrainian ports through the Kerch strait.