In the latest wave of anti-NATO disinformation Russian media are claiming that the Alliance is increasing its military presence in the Black Sea region without any justification. These accusations were brought on by the NATO 2030 report, which examines the security situation in the Black Sea region and in particular mentions the Russian occupation of Ukraine's Crimean peninsula. NATO is engaging in demagoguery, destabilization and provocations in the Black and Caspian Sea regions, Russian media allege.
Various versions of this fake narrative were featured in RTVI, Federalnoye Agentstvo Novostey, Svobodnaya Pressa, TASS, Regnum, RIA Novosti, Rossiyskaya Gazeta, Sputnik as well as Russian media published in occupied Crimea.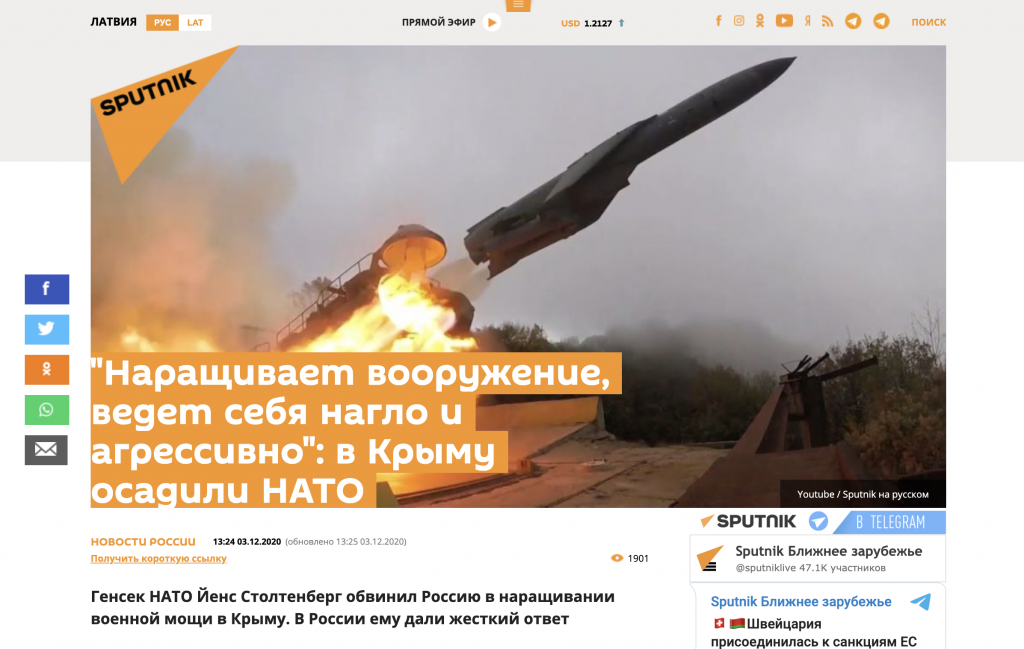 Unlike Russia's accusations, NATO's allegations against Russia are not unfounded. The NATO report entitled NATO 2030: United for a New Era once again recounts Russia's endless attempts to destabilize international security, the its ongoing military build-ups and assertive activity in the Baltic and Black Sea regions, in the Eastern Mediterranean, Baltic, and in the High North, Russia's aggression against Georgia and Ukraine and the use of chemical weapons on Alliance territory.
The Kremlin is constantly denying its aggression against Ukraine, disregarding the overwhelming array of documents confirming Russia's interference in Ukraine's internal affairs. By actively militarizing occupied Crimea and parts of eastern Donbas, Russia is violating dozens of international treaties, including the Open Skies Treaty, the treaty on Conventional Armed Forces in Europe and the 2011 Vienna Document on Confidence and Security Measures.
Russia's involvement in the use of chemical weapons on the territory of a NATO member has also been well documented. There is clear evidence that the 2018 poisoning of former Russian spy Sergei Skripal and his daughter in Salisbury was carried out by Russian intelligence officers with the involvement of high ranking Russian officials. The poisoning of Russian opposition politician Alexei Navalny this summer is another example of Russia using powerful nerve agents against its enemies. The German federal government has said that toxicology tests carried out on Navalny provided "irrefutable evidence of the presence of a chemical neuro-paralytic agent of the Novichok group" in Navalny's blood samples. This was further confirmed by two independent laboratories in France and Sweden.
According to the NATO 2030 report, the main principle in deterring Russian is not increasing NATO's military power, but engaging in dialogue and diplomatic relations with Moscow. "NATO should continue the dual-track approach of deterrence and dialogue, within parameters agreed at the Wales and Warsaw Summits, as the basis for its approach toward Russia" the report emphasizes (page 25-26), Following the Warsaw NATO summit in 2016 the joint statement of the participating countries specifically emphasized that "the Alliance does not seek confrontation and does not pose a threat to Russia" (paragraph 14).
The Alliance has also repeatedly stressed that the bloc's activities have consistently focused on deterring possible military threats, rather than preparing for hostilities. NATO points out that it was Russia's destabilizing actions in 2014, Moscow's violation of Ukraine's sovereignty and territorial integrity that brought on NATO's suspension of all practical cooperation between the Alliance and Russia. The NATO 2030 document reiterates that the Alliance remains a supporter of peace and its main methods of influencing the Kremlin are through exchange of information and analytical briefs with other states, providing common approaches in strategic areas including cyberspace, and strengthening global rules and regulations in such strategically important areas as arms control.