NATO troops are in Ukraine in accordance with the country's laws. The presence of all foreign troops at any given time in Ukraine is strictly regulated by legislation, the dates are determined well in advance, and all equipment is approved prior to the actual exercises. Intended to improve regional security and the level of preparedness of Ukraine's armed forces, international military exercises and trainings are exactly that, training exercises intended to increase troop readiness and compatibility and not any occupation.
Russian media reacted with an avalanche of criticism to the flight of two US V-22 Osprey aircraft over Kyiv on September 23 as part of the United Efforts 2020 and Rapid Trident 2020 exercises. Russian publications call the fly overs by American aircraft over Ukrainian territory "a clear example of the occupation of the country" and claim that the presence of NATO troops in Ukraine is illegal.
NewsFront, Ukraina.ru, Politnavigator, Regnum, Federalnoye Agentstvo Novostey, along with such Ukrainian media as Channel 112, Zik and Znaj.ua featured this latest fake.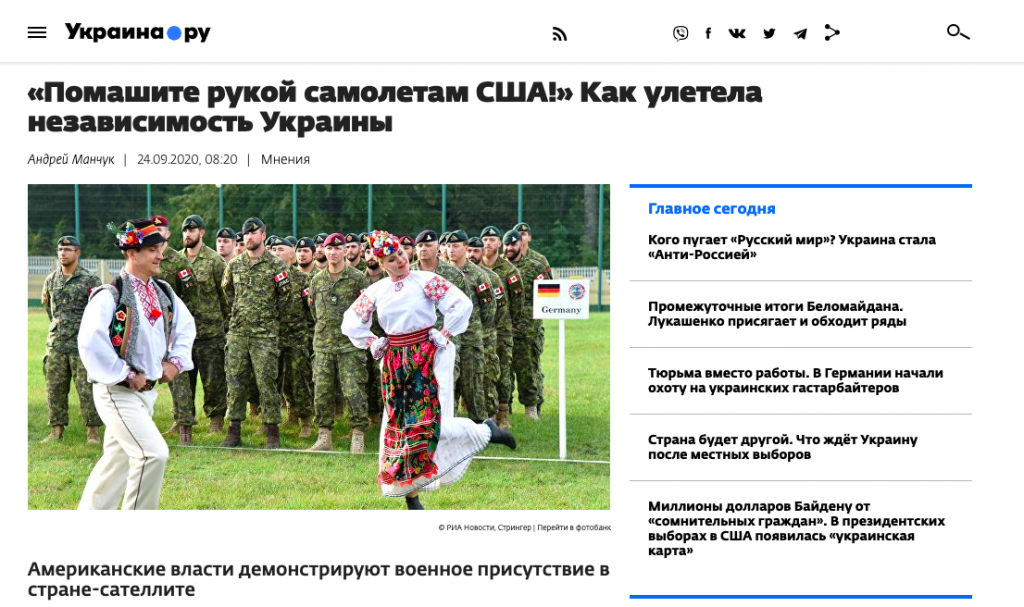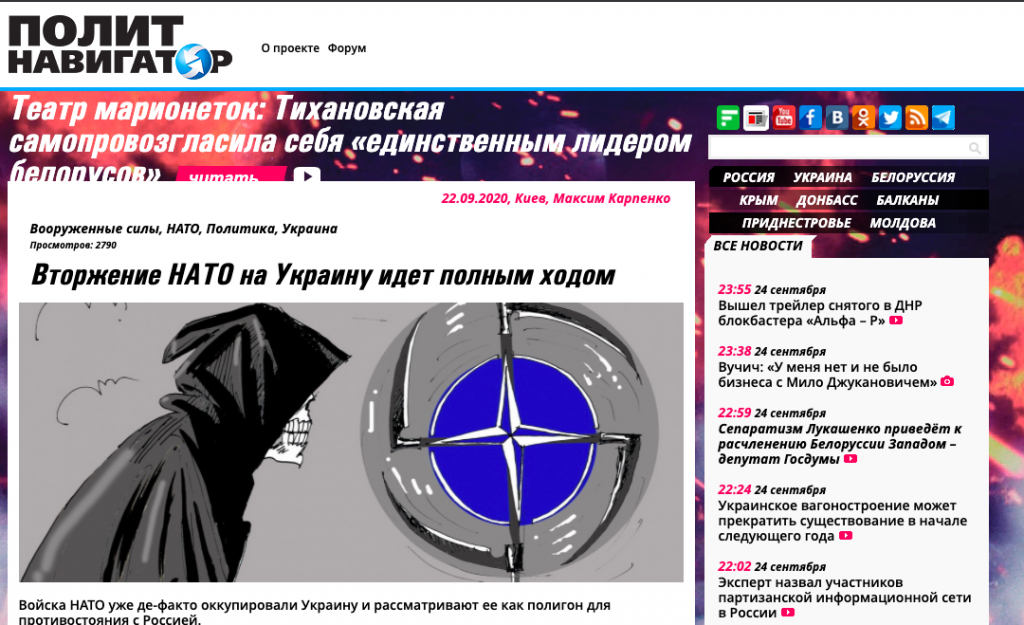 Pro-Kremlin media claim that the September military exercises held in Ukraine, including the flights of the Ospreys over the Ukrainian capital and other Ukrainian cities "show all the signs of an occupation" of the country. They contend that the presence of NATO troops in Ukraine is illegal, and these particular exercises are not included in the legislation approved by the Ukrainian parliament in the spring of this year.
While the law the Russian media refers to does not specifically mention the United Effort 2020 or other military exercises currently taking place in Ukraine, it does however contain detailed and comprehensive data on the number of foreign servicemen and military equipment and weapons that are allowed on Ukrainian territory in 2020. The appendix to the law clearly states that exercises conducted from June through September foresee "up to 3,750 foreign military personnel with weapons and military equipment, up to 50 ships, 2 submarines, up to 40 aircraft and helicopters and up to 90 wheeled vehicles".
NATO troops are in Ukraine temporarily, they are in the country purely for exercises , which are a far cry from an occupation.
The head of the NATO office in Ukraine Alexander Vinnikov said the joint NATO Ukraine September exercises were intended to improve troop compatibility. These trainings were also a response to Russia's Kavkaz  2020 exercises which began on September 21 in Russian occupied Crimea. "We believe that Russia's aggression towards its neighbors is unacceptable. That is why NATO stopped all cooperation with Russia, leaving only political channels for dialogue in the hope that Moscow will  change its behavior and adhere to international law and principles" Vinnikvo said during a Radio Liberty Crimea program.