Pro-Russian media reported that during her March 15 testimony in the Senate Assistant Secretary of State for European and Eurasian Affairs Victoria Nuland demanded that the self-proclaimed people's republics in occupied eastern Ukraine and the Russian Federation implement the terms of the Minsk ceasefire agreement. Nuland "omitted" Ukraine from the list of parties to the conflict wrote the publication Ukraina.ru.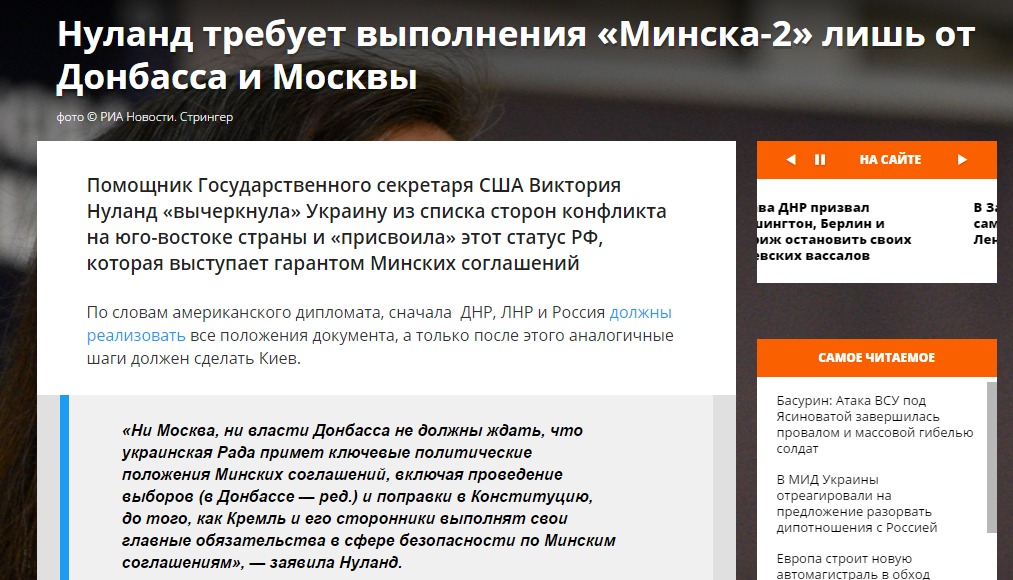 Meanwhile the site Novostnoe Agentstvo Kharkov wrote that Nuland is demanding that Russia and the self-proclaimed separatists implement all the points of the Minsk agreement ahead of Ukraine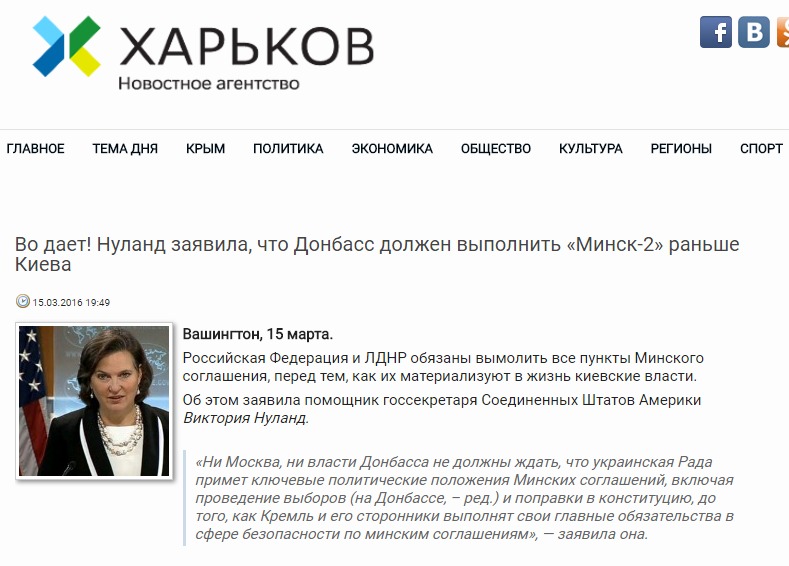 Victoria Nuland said that the parties must first implement all points relating to safety issues, only then can Ukraine carry out its political obligations as required by the Minsk agreements.
Nuland pointed out that in recent weeks 68 Ukrainian soldiers were killed and 317 were wounded. Furthermore, most violations of the ceasefire (some 15, 000 reported cases) were committed by Russian supported separatists.  In addition, the authorities of the self-proclaimed republics continue to hinder OSCE observers from monitoring the withdrawal of military equipment.
She further stressed that at the last ministerial meeting on the conflict, Ukraine agreed to withdraw forces from the line of contact and increase the number of OSCE observers in the Donbas.
Nuland also pointed out that Russia and the self-proclaimed republics must fulfill their security responsibilities, adhere to the cease fire and allow OSCE observers to do their jobs,  rather than simply wait until Ukraine changes its Constitution (on decentralization) and amends the Law on elections in the occupied areas of Donbas.