Germany's "Deutsche Wirtschafts Nachrichten" published an article about a law (HR5859) that has been signed by U.S. President Barack Obama, claiming that the law will promote the privatization of the Ukrainian energy sector and the financing of Ukrainian military and mass media within the U.S. State Department's budget.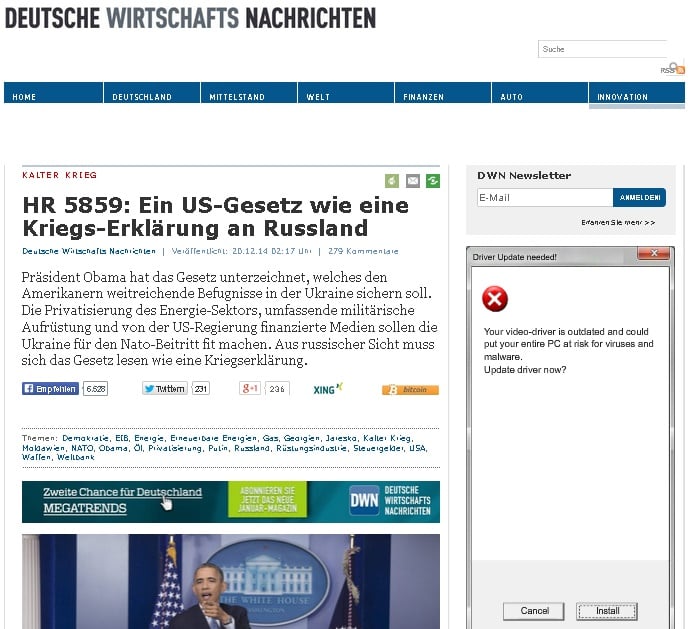 Following this, the Russian portal "ПолитНавигатор" ("Political Navigator") published a translation of the German article, with additional commentary and acknowledging the source, under the headline "Обама подписал закон о приватизации… энергетического комплекса Украины" ("Obama Signed the Law on Privatization… of the Energy Sector Of Ukraine"). Here, the journalists claim that the law signed by Obama will allow Americans to privatize the energy sector of Ukraine. "Thus, all industries, such as oil, gas, and renewable energy sources will be privatized… As a precautionary measure, the U.S. Government enters in this law the project of the creation of a mass media network, financed by State Department."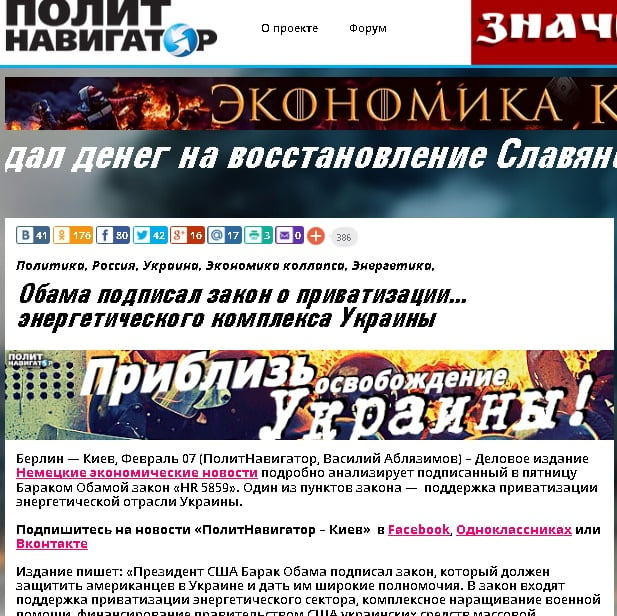 The law can be read here, and it clear that the claim by these journalists is entirely inaccurate. The law addresses the U.S.'s need to support the reduction of Ukraine's dependence on Russian gas, the creation of a more favorable investment climate, the increase of energy efficiency, the development of Ukraine's domestic oil and natural gas reserves, and the improvement and development of renewable and other energy sources in Ukraine.
But what is most absurd here is the claim by these journalists that the U.S. – or any other country – has the legal authority to produce directives on the privatization of sectors within the Ukrainian economy. The U.S. law only addresses the U.S.'s position to support the Ukrainian government's initiatives in these areas.
Furthermore, there is no mention in the U.S. law whatsoever about the creation of a network of pro-American mass media in Ukraine. The law only address the need to support Ukrainian public organizations. The document also stipulates that the U.S. should support public organizations in Russia.
Both the German and Russian editions have also neglected to indicate that the law addresses further sanctions against Russia, including sanctions against the Russian energy, military, and financial sectors.