According to Russian sites vesti.ru, vz.ru, life.ru, tass.ru, rosbalt.ru and others the Night Wolves Russian bikers had a less than welcome reception on their Victory Day ride from Moscow to Berlin. The sites report that the center of Prague was lined with Ukrainian activists who tried to prevent the bikers from completing their plan.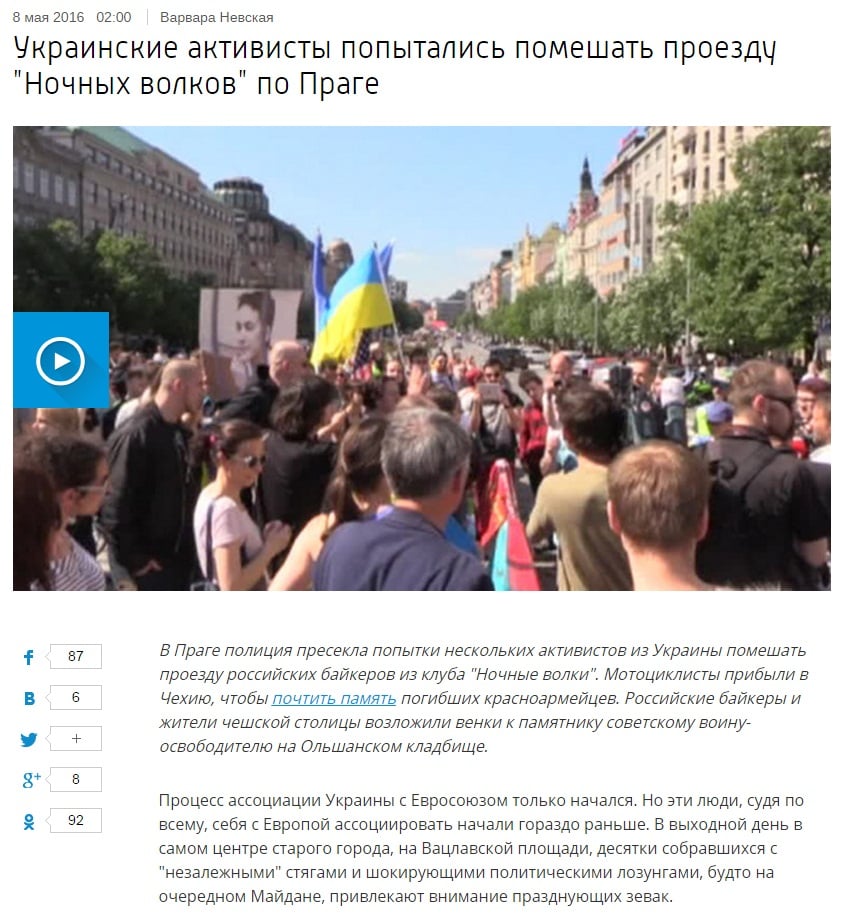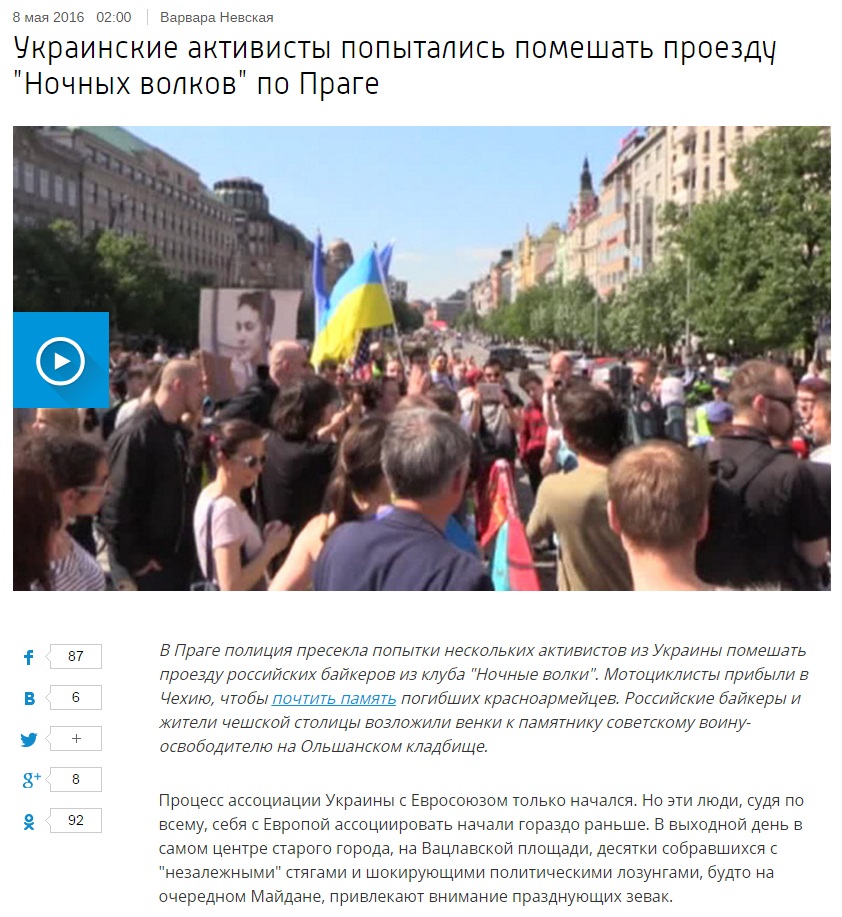 Sites such as gazeta.ru, Moskovsky Komsomolets, and ria.ru preferred to ignore the Prague protests against the bikers in their coverage of the Victory Day road trip.
Russian national channel Rossiya 24's coverage of the Night Wolves ride through Prague claims that only Ukrainians protested against the bikers as "they only spoke Ukrainian amongst themselves" and refused to speak to journalists with Rossiya 24 logos on their microphones. The report cuts only to pictures of demonstrators with Ukrainian flags and demonstrators refusing to speak with Rossiya 24.
Local Czech media saw and reported a somewhat different picture.
The Czech news site Novinky.cz reported that anti-biker demonstrators carried Czech, American, Ukrainian, EU and NATO flags as well as signs reading "Czechs know well, what friendship with Russian rulers means", "Czech Republic looks to the West, not a Russian union."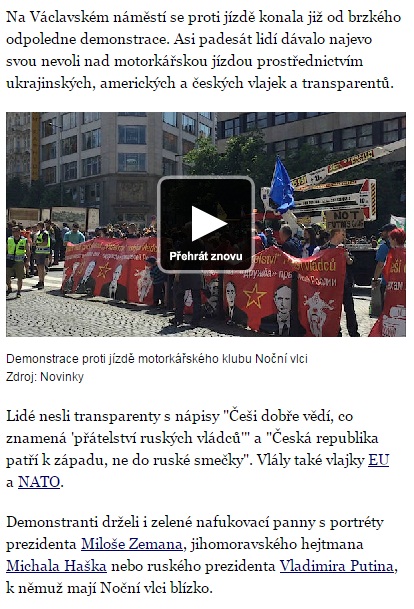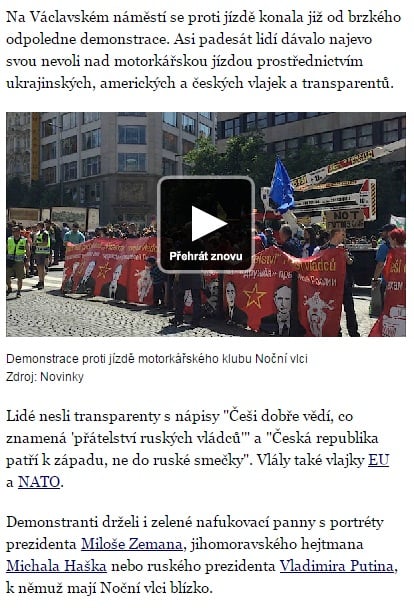 Among the demonstrators protesting the Night Wolves ride was Jaromir Stetina, a Czechmember of the European Parliament, who called the bikers' ride a part of the hybrid war that Russia is conducting against Europe.
The Czech information site idnes.cz reported that the demonstration against the Night Wolves was organized by the pro-democracy Kaputin coalition and the Czech anti-Kremlin propaganda activist group called the East European Information Centre (EEIC). One of the founders of the EEIC Tomas Pechynsky organized the Prague Maydan, a series of protests against the regime and policies of Vladimir Putin and in support of Ukraine. All the discussions surrounding the demonstration against the Russian bikers conducted on Facebook were in Czech and by Czech citizens.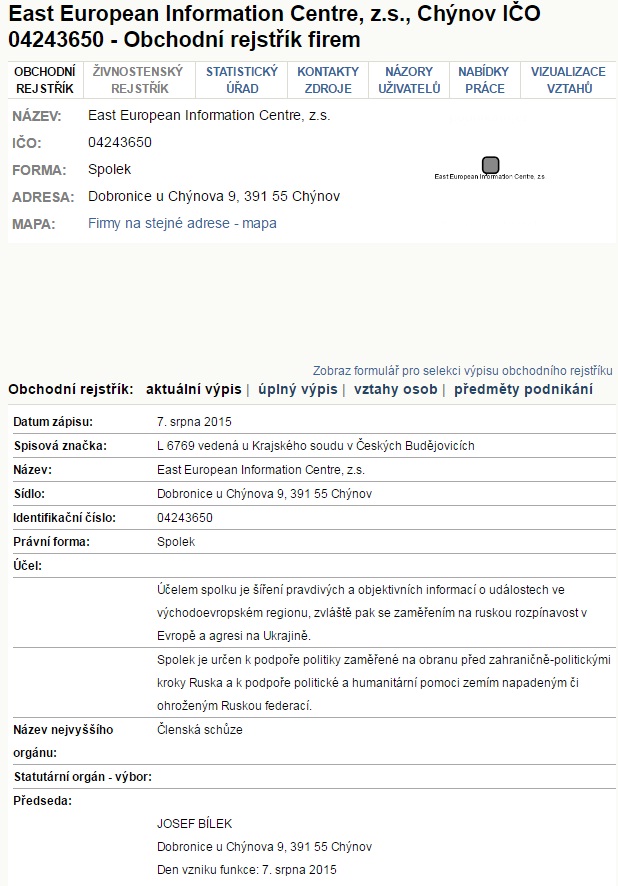 The Night Wolves are a pro-Kremlin biker club whose leader Alexander Zaldostanov has been honored by Russian president Vladimir Putin. Both Zaldostanov and the Night Wolves club are currently on Western sanctions lists.