Russia's Fund of Strategic Culture (FSC) published a story at the end of August claiming that Poland is trying to deprive Ukraine of profits from the transit of gas through its territory. Founded in 2005, the Strategic Culture Fund is a publication that adheres to an editorial policy closely mirroring that of the Kremlin. Alongside the story about Poland and Ukraine's alleged shrinking gas transit profits FSC features a story decrying falling Russian influence in Kazakhstan, another article suggests that the United States is behind the recent spate of Russian diplomats' deaths, (eight deaths over a period of ten months).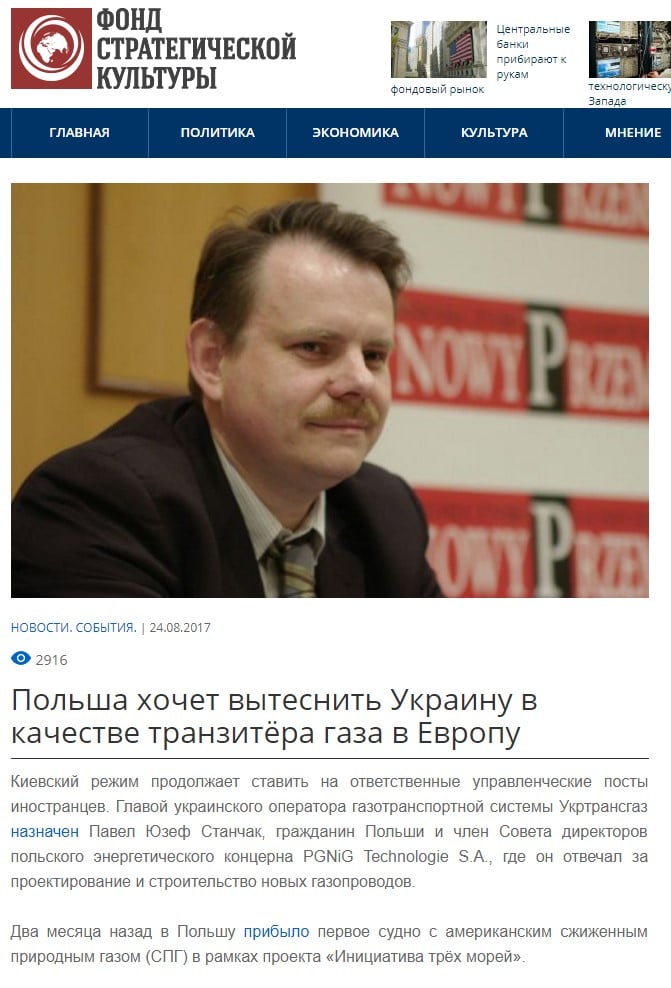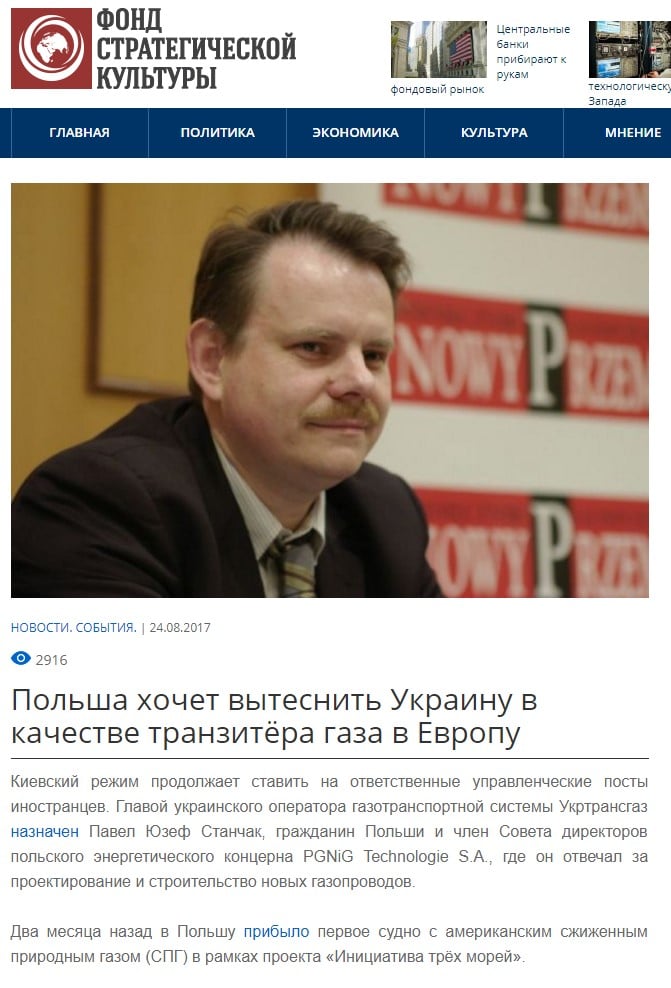 The article entitled  Poland Wants to Deprive Ukraine of Gas Transit Revenues to Europe does not stray from FSC's editorial policies and presents recent energy diversification steps that Poland and Ukraine have taken as politically motivated against Russia.  FSC implies that because  Polish national Pawel Stonczak, formerly of PGNIG, a Polish gas and transit company, was recently named CEO of Ukraine's gas transit company Ukrtransgas, he will work to protect Polish interests rather than Ukraine's. The recent arrival in Poland of a tanker carrying American liquefied natural gas as part of the Three Seas Initiative, a joint Polish-Croatian project aimed at strengthening trade, infrastructure, energy and political co-operation among countries bordering the Adriatic, Baltic and Black Seas, is proof FSC claims, that this anti-Russian coalition is intent on squeezing Russian gas out of Eastern Europe and replacing it with American gas that will be transported through Polish gas routes.
Poland is offering Ukraine a chance to participate in the Three Seas Initiative, reject Russian gas and consume more expensive American gas, FSC claims, Poland will win from such a deal, but Ukraine will lose its status as a gas transit state.
Wojciech Jakubik the editor in chief of Poland's leading energy and infrastructure portal Biznes Alert told StopFake that the Three Seas Initiative aims to deepen cooperation between eastern EU member countries, this is an internal EU initiative and not a geopolitical move. Hungary's president Viktor Orban, an ardent supporter of Russia and its president, also supports the Three Seas Initiative, Jakubik points out.
Poland is interested in gas sales in Ukraine, Jakubik says, but the ultimate goal is not to replace Russian gas with American gas, but to diversify the market as much as possible and create competition for gas availability from different sources.
With the decrease of Russian gas supplies to Poland, the transit of gas through Belarus and Ukraine is likely to decrease, but this scenario is part of Kyiv's projected energy strategy Jakubik points out, which includes diversifying its energy sources and reducing its economic dependence on the transit of gas from Russia.