The Politico newspaper, which Russian media claims published a story about an imminent peace treaty between the West and the Russian Federation, does not have a single article on this topic. Quite the contrary, the publication quotes many Western politicians who say that the United States and the European Union are committed to long-term support for Ukraine and do not see a possible to end the war in the near future.
Russian news sites as well as social media accounts feature stories claiming that the West allegedly seeks to conclude an urgent peace agreement with Putin because Ukraine "is in for a catastrophe." The stories and social media posts cite a Politico article as the source for this claim. "The article (Politico – editor's note) notes that, according to estimates by American analysts, to provide Ukraine with gas, more money will be needed than has already been given during the entire war. Therefore, the US intends to conclude a peace treaty with Putin before the onset of cold weather," the Novorossiya website writes.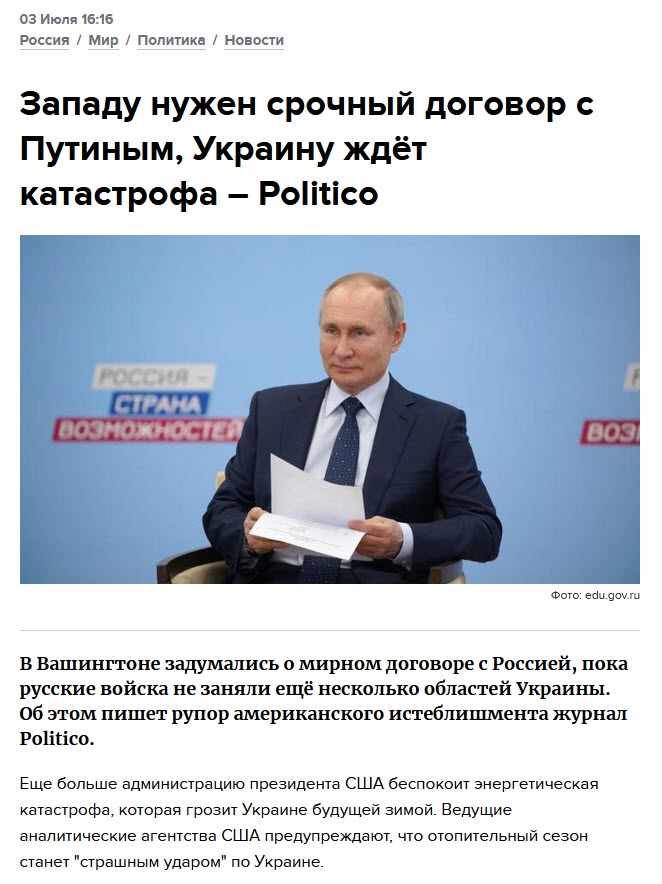 In fact, the Russian news stories about "the readiness of the West to agree with Putin on peace in Ukraine this summer," do not have a single reference to the Politico article. StopFake analyzed dozens of recent publications on the Politico website but did not find any articles about the "West" or the United States planning to seek a peace treaty with Russia this summer. On the contrary, the publication features many stories about the United States and the European Union planning to support Ukraine "until victory", the conditions for which can only be determined by Kyiv.
The recent Politico story "Ukraine gets top billing at NATO, but questions mount over West's resolve" raises concern that domestic political and economic problems could complicate Western efforts to keep weapons and aid  flowing to Ukraine through the winter – and beyond. However, even in this article there is no mention of any imminent peace treaty with Russia. "The war is unlikely to end any time soon, and the governments assembled (at the NATO summit in Madrid – ed.) seemed determined to support Ukraine even in the face of internal dissatisfaction with some of the economic consequences of the war. "I don't think the major position of the United States will change about Ukraine," Slovakian Defense Minister Jaroslav Nad told Politico, "I think it's quite clear to the whole democratic world what is actually happening in Ukraine and that we need to help the Ukrainians, so I don't expect any significant changes, whatever happens after the midterm election."
In another article entitled Ukraine wants to win today, the West is looking at 2023, Politico authors note that Western leaders are increasingly more inclined towards a long-term perspective of the war, talking about building up Ukraine's stocks of ammunition and training programs for what they see as a protracted struggle that will last at least until next year. This view directly contradicts Russian media claims that the West allegedly plans to sign a peace treaty with Russia in the near future.
"One Western diplomat told a group of reporters before the Madrid summit that "we need to think longer term, beyond just what's in front of us right now. We're very much into that stage of thinking about next year and beyond, what Ukraine needs to recapture some of the initiative" by next spring. "The sooner that the Ukrainians can turn the Russian tide, the better," the diplomat said, but there isn't a clear time frame for when that might happen. "Whether that's before the winter or not we can't predict, but what we are seeking to do is get them the weapon systems now that they need — including before the winter — but also help them to build during those winter months" for renewed offensives once the weather warms up," Politico writes.
In yet another story entitled "Biden: War will not end with a Russian defeat of Ukraine in Ukraine" Politico points out that military assistance to Ukraine from Western partners will continue for as long a necessary. Politico quotes US President Joe Biden who said that Russia's invasion of Ukraine "will not end with a Russian defeat of Ukraine in Ukraine."  According to Politico, "Reiterating his commitment, Biden said American drivers would be forced to bear the costs of increased gasoline prices brought on by Russia's invasion for "as long as it takes." Russia, he added, "cannot, in fact, defeat Ukraine and move beyond Ukraine. This is a critical, critical position for the world."
We did not find a single article on the Politico website suggesting that the West is looking for a quick peace wit the Russian Federation because Ukraine "is headed for a catastrophe". Russian media continues to indulge in wishful thinking and untruths.
StopFake continues to debunk fakes about Russia's war against in Ukraine, in stories such as Manipulation: UN concerned about humanitarian law violations by Ukraine military, Fake: German tabloid Bild reports Russian military captured German PzH 2000 Howitzer, Fake: Duda said Baltic to become NATO's inland sea.