The results of a poll conducted by the Estonian-Ukrainian program Resilient Ukraine delivered results that are completely different from those being disseminated on social media networks. The survey actually found that only 17.6% of Odesa respondents have a positive attitude towards Russia.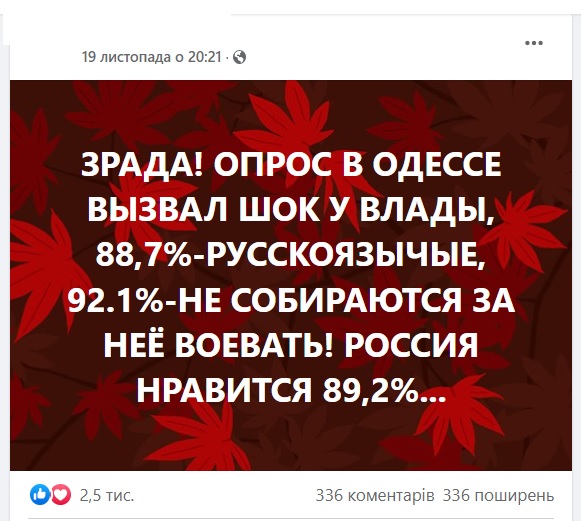 Social networks are awash with posts claiming that 89.2% of Odesa residents like Russia, 92% will not fight for Ukraine and 88.7% are Russian speakers. The figures are seemingly the result of a recently conducted poll. "Betrayal. The Odesa poll shocks Ukraine's authorities" various social media users claimed, without providing any additional information as to who conducted this alleged survey and when.
StopFake was unable to find a poll with similar questions or results. However, just a few days earlier, on November 17 the Estonian-Ukrainian programs Resilient Ukraine presented the results of its latest survey conducted in Odesa. It was this National resilience characteristics poll that social media users presented in a completely convoluted and falsified way. The Resilient Ukraine poll results do not coincide with the figures presented by propagators of fakes on social media.
The Resilient Ukraine poll shows that only 17.6% of the Odesa residents surveyed have a positive attitude towards Russia.
Most Odesa residents have a negative attitude towards Russia – 45.1%. 5% said they were ambivalent about Russia, 14.4% said they were neutral, 17.6 said they felt positive towards Russia and 17.9 were undecided.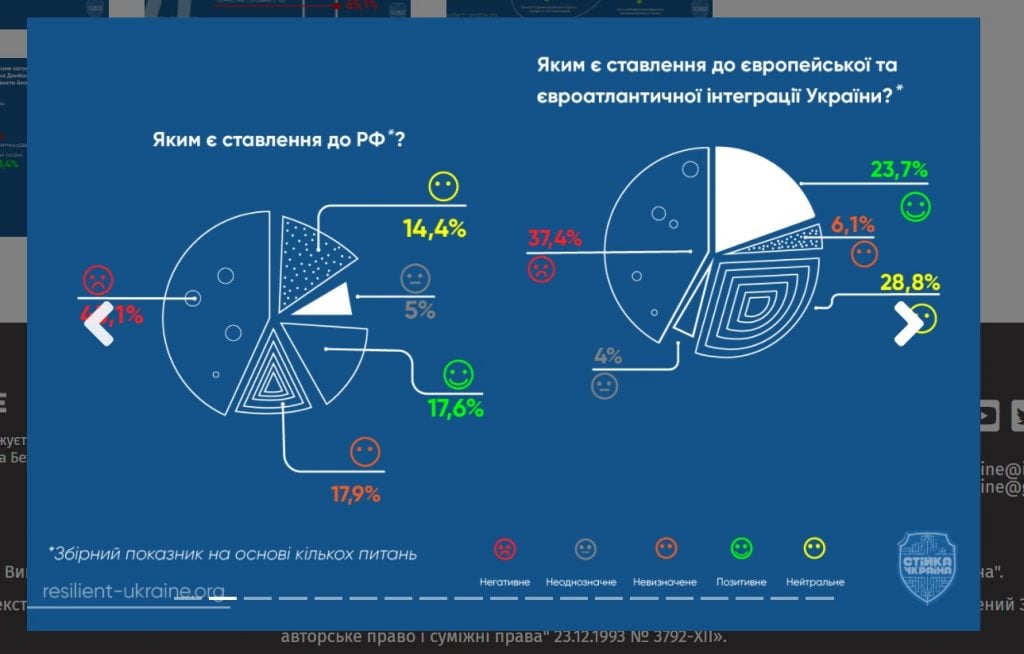 65.9% of Odesa respondents chose Russian as the language of everyday communication, 25.3% use both Russian and Ukrainian depending on the circumstances. 5.1% mostly use Ukrainian while 3.8% use a mixture of Ukrainian and Russian the survey found.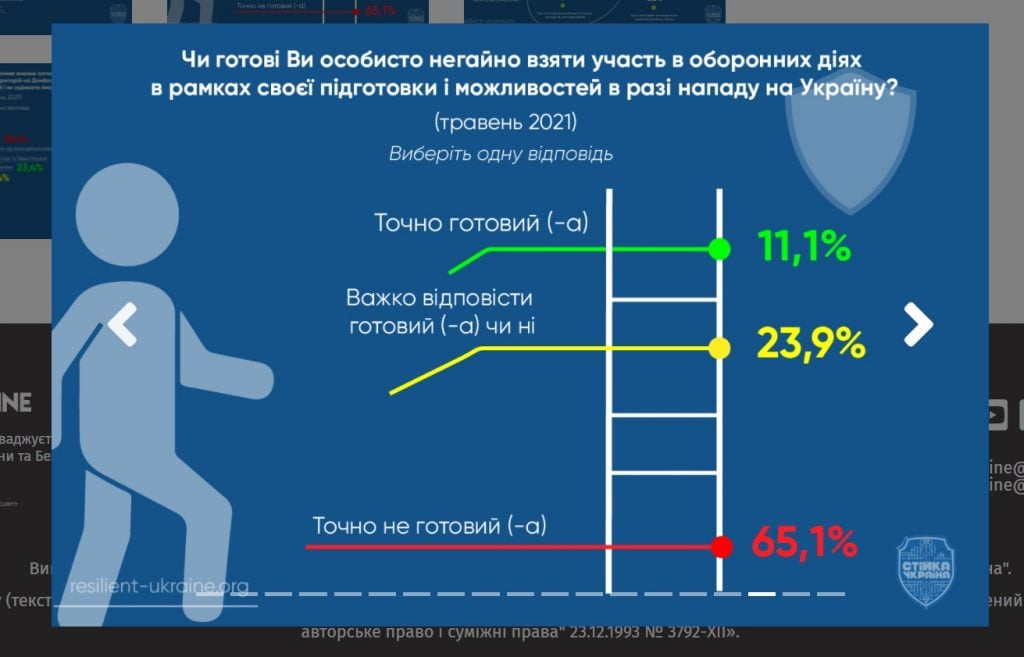 As for the readiness of Odessa residents to fight for Ukraine, the figures presented on social media are close to the actual poll results, but with one caveat. Most Odesa residents are not ready to fight if the need arises "immediately."
According to the poll 11.1% confirmed their personal readiness to immediately defend their country in the event of an attack on Ukraine. 65.1% noted that they are definitely not ready, and 23.9% found it difficult to answer this question.
Details on the survey methodology can be found on the Resilient Ukraine website. Resilient Ukraine has conducted similar polls in Mariupol and Zaporizhzhia, major cities in eastern Ukraine.
It is worth noting that in September the Rating polling group published the results of their all-Ukrainian survey on Ukrainian attitudes towards Russia in different Ukrainian cities. In that poll Odesa residents also did not declare in an absolute majority that they liked Russia.