On August 20 the largest Russian service specializing in the translating foreign news and articles published the material of a Chinese website haiwainet.cn, titled "The Limit of Putin's Patience," which contains several false statements.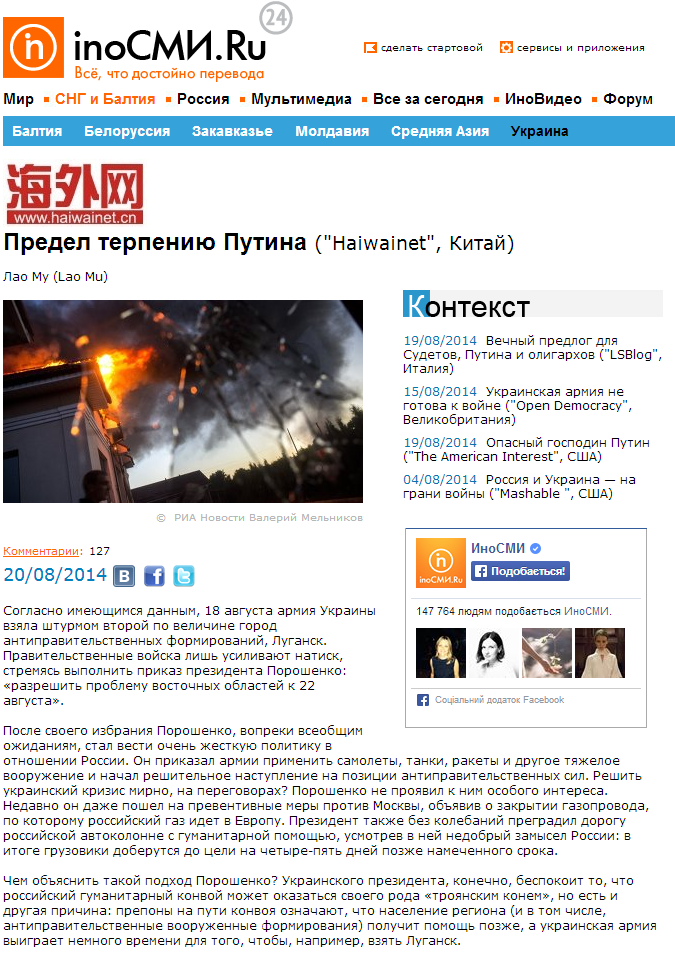 In the first paragraph the author, Lao Mu, argues that Poroshenko gave orders "to solve the problem of the eastern regions by August 22" and says that this is the reason government forces have increased their pressure.
In fact, neither the President of Ukraine nor any other Ukrainian official set the objective of achieving victory over the separatists in such a short time. Moreover, in early August, the Donbas battalion commander, Semen Semenchenko, predicted that two or three months will be necessary for the liberation of Donetsk and Lugansk regions.
In the second paragraph, Mu says: "Recently he (Poroshenko. Ed.) even took preventive measures against Moscow, announcing the closure of the pipeline through which Russian gas is carried to Europe."
This is also not true. Ukraine is not going to stop the transit of Russian gas through its gas transportation system and spends its own gas for technological pumping.
Moreover, according to Ukrainian Energy Minister Yuriy Prodan, there is reason to believe that Russia may soon stop the transit of gas to Europe, accusing Ukraine of the illegal syphoning of gas from the pipeline.
On June 16 the Kremlin completely stopped gas supplies to Kyiv; since that time Ukraine has received no gas for its own needs, but only pumps Russian gas through its territory.