Russian media is manipulating a Reuters global foreign currency exchange rate graphic to claim that the ruble has become the strongest currency in the world. The graphic does not indicate the world's strongest currencies, but only notes their rise and fall against the US dollar since the beginning of 2022. The first place on this chart is not occupied by the ruble, but by the Brazilian real.
Russian media and social networks are disseminating stories claiming that the Russian ruble has become the strongest currency in the world. "According to the Reuters ranking of world currencies, the result of a short three-day week is the ruble coming out on top" Russian sites write. The second and third places also belong to similarly "strong" currencies, the Brazilian real and the Mexican peso, respectively.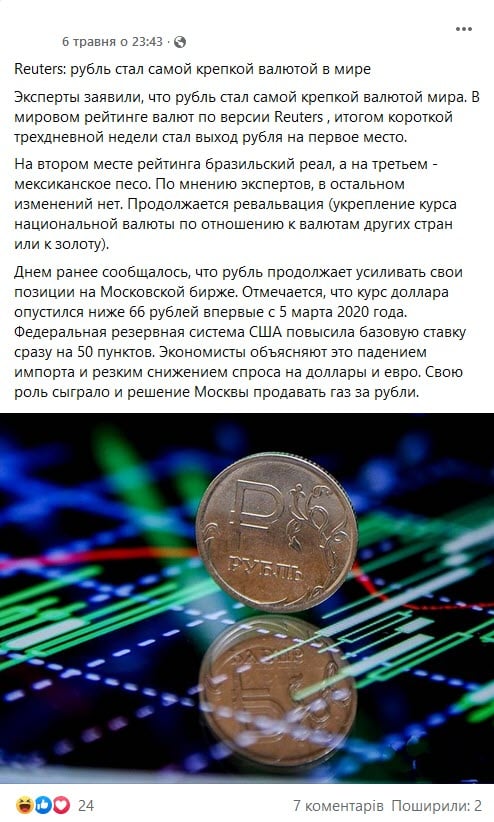 The Reuters table is not a list of the strongest world currencies, it is simply a chart that tracks the rise and fall of various foreign currencies against the US dollar and shows the exchange rates since the beginning of the year. Currently it is not the Russian ruble that is in first place, rather it is the Brazilian real, which has strengthened 9.7% against the dollar since the beginning of 2022. The ruble is in second place with an increase of 8.4% with the Mexican peso coming in third with an index of 1,7%. None of these three currencies are considered stable and certainly not the "strongest" in the world, as Russian media claim.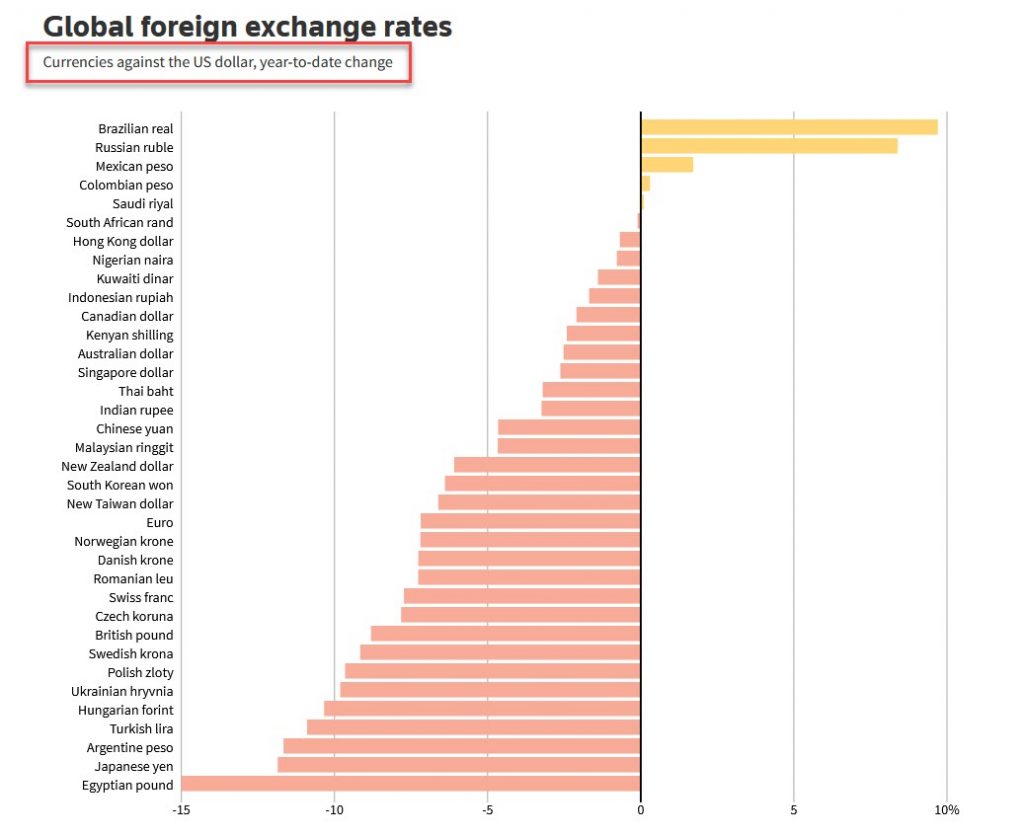 Reuters also notes that the Russian ruble jumped to more than a two-year high against the dollar and the euro in early May, maintaining support from tighter capital controls as the European Union proposed a new package of sanctions against Russia because of its war in Ukraine. The ruble closed 6.6% higher against the dollar at 66.30, the highest since March 2020. It gained 5.8% against the euro to trade at 70.44, having previously touched 69.80, its strongest position since February 2020, Reuters writes.
After the ruble fell to a record low in early March, when Western countries hit Moscow and its financial system with unprecedented sanctions, market watchers are wondering if the current exchange rate is sustainable in light of the restrictions. Reuters experts also note that lower rates support the Russian economy by making loans cheaper but also could spur inflation and make the ruble more vulnerable to external fluctuations.
After Russia invaded Ukraine on February 24, the ruble fell to 117 against the US dollar, that is a drop of 41%. This decline was a consequence of the sanctions the West imposed on Russia because of its aggression against Ukraine. Since then, the Russian currency has somewhat strengthened in relation to the dollar and the euro, but it certainly has not become the strongest currency in the world. Russia's wishful thinking is once again presented to its public as fact.
StopFake continues debunking Russian fakes about its war against Ukraine in stories such as Fake: NATO biolab found in Mariupol, Fake: Ukrainian military shot a convoy of refugees in Kharkiv region, Manipulation: Russian literature will be removed from Ukrainian libraries."