Since 2016, under the supervision of leading international experts, Ukraine has successfully modernized five of the six power units at the Zaporizhzhia Nuclear Power Plant (NPP), extending each unit's service life by 10 years on average.
The Russian media continue to publish disinformation about Ukrainian nuclear power plants, scaring the world with a "nuclear disaster caused by Ukraine". In yet another apocalyptic story, Kremlin "experts" report that the Zaporizhzhia NPP seized by Russia "requires not just an overhaul, but urgent intervention by Russian engineers". The Zaporizhzhia NPP is "barely operating" Russia media claim, because the service life  of the power units "expired back in 2015-2018 and continued use of rusty equipment threatens with a catastrophe". 
Russian claims that the Zaporizhzhia NPP is in a "catastrophic condition" and that its operating life "ended in 2015" is pure disinformation with no substance whatsoever. Ukraine, under the supervision of leading international experts, has successfully modernised 5 of the 6 power units at Zaporizhzhia NPP since 2016, extending the life of each unit by 10 years on average.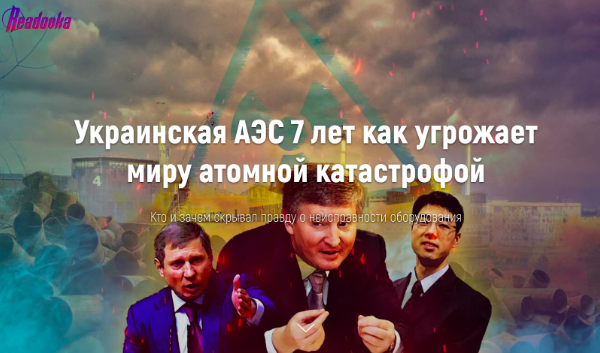 By the end of 2021 4 out of 6 at Zaporizhzhia NPP units were converted to nuclear fuel from alternative supplier Westinghouse. Ukraine's nuclear fuel diversification program has always been the target of massive disinformation attacks from Russia, which strongly opposes Ukrainian energy independence. This case was no exception and the Kremlin attacked the arrival of Americans at the Zaporizhzhia NPP with a storm of disinformation. You can read about it in the StopFake article Russian Media on Enerhoatom's Memorandum with Westinghouse.
The practice of extending the service life of nuclear power plants is widespread throughout the world, and Ukraine is not a pioneer in this case. A number of European countries, the U.S. and Canada have experience in extending the lifespan of nuclear power units. Russia itself is not an exception though it spreads "catastrophic" fakes about Ukrainian "old" power units.
In 2016, Zaporizhzhia NPP began a large-scale modernization process to extend the power units' working longevity. In September 2016, Ukraine's State Nuclear Regulatory Inspectorate decided to extend the life of Unit 1 through 2025, and in October 2016, Unit 2 until 2026. In subsequent years it was decided to extend the operating life of other units. As of now, 5 Zaporizhzhia NPP power units have already had their operation prolonged for 10 years.
The decision on extending the design life of the NPP power units is not made randomly, as the Russian "experts" say. A power unit, whose service life is about to expire, undergoes a thorough review and safety justification for extending its design life. A comprehensive analysis  of modifications' impact on safety, equipment and structural ageing, as well as numerous other technological parameters – a total of 14 safety factors – is made. This analysis is carried out once in 10 years and it is performed not only in accordance with Ukraine's normative documents, but also with the recommendations of International Atomic Energy Agency (IAEA) and the Western European Nuclear Regulators Association. 
All Zaporizhzhia NPP units, whose service life was approaching its end, underwent this safety analysis to extend their service life. After a number of large-scale reconstructions and upgrades, installation of modern equipment and implementation of innovative systems, all units received the appropriate licensing to operate from regulatory authorities. As of late 2021, ZNPP Power Unit No. 6 was in the process of extending its design life. After Russian occupants seized the plant in March 2022, all work to modernize the unit and preserve its safety stopped.
Ukraine has always remained open to international experts in the nuclear energy field. At the Zaporizhzhia NPP, as well as at other Ukrainian nuclear power plants, IAEA specialists conducted inspections regularly. The International Agency has repeatedly organized various activities in Ukraine aimed at promoting leadership, safety management and safety culture at nuclear installations and regulatory bodies, including leadership and management expert missions to ensure safety at Zaporizhzhia NPP. All international inspections of Ukrainian nuclear facilities have been successful (p. 94 of the IAEA report).
In addition, inspections were also carried out constantly by Ukrainian regulators. The last inspections were successfully carried out at the Zaporizhzhia NPP in late 2021 by Enerhoatom and Ukrainian State Nuclear Regulatory Inspectorate. In addition, as of January 2022, ZNPP completed a planned repair campaign – all six power units of Zaporizhzhia NPP were operating stably and at full capacity.