Russia's Defense Ministry claims to have shot down more planes and helicopters than Ukraine ever had. According to official data, all branches of Ukraine's Armed forces combined were armed with a much smaller number of aircraft than what the Russians claim to have shot down.
Russian propagandist media, citing the Russian Defense Ministry, are massively disseminating fakes about the terrible aviation losses Ukraine has allegedly incurred. "Since the beginning of the Special Military Operation, 234 aircraft and 137 Ukrainian helicopters have been destroyed" the Russian Defense Ministry said in a July 7 report.
Among the media who disseminated this fake are RIA Novosti, TASS, Zvezda, Lenta.ru, OSN, Ukraina.ru, and others.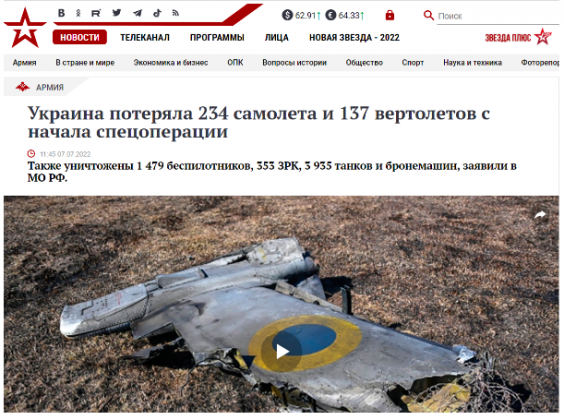 The Russian army could not possibly destroy 234 aircraft and 137 Ukrainian helicopters because the Ukrainian Armed Forces simply never had that many aircraft in service. The figures announced by the Russian Defense Ministry exceed the actual number of aircraft and helicopters – in this case, by 42 and 15 units, respectively.
StopFake learned that at the beginning of 2022, a total of 192 aircraft and 122 helicopters of all types and models were in the service of all the branches of Ukraine's Armed Services.  Of these, 98 were combat aircraft and 112 helicopters. This data is provided by the information site FlightGlobal.
The World Air Forces 2022 report from FlightGlobal also indicates the number of aircraft belonging to each branch of the Ukrainian military.
In particular, the Air Force is armed with 192 aircraft and 15 helicopters. 98 of the aircraft are combat aircraft: 43 MiG-29s, 12 Su-24s, 17 Su-25s and 26 Su-27s. The 15 combat helicopters are all the same model – Mi-8.
The Ukrainian Air Force also owns 33 transport and special aircraft of various models and 61 training aircraft.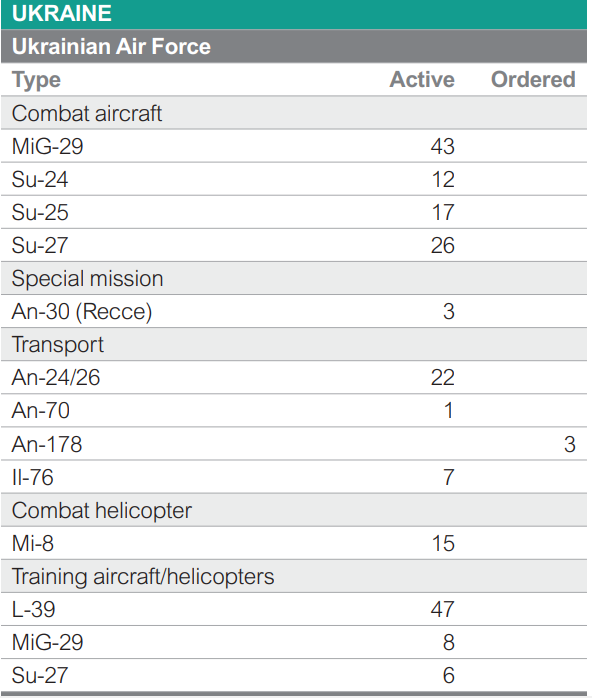 Ukraine's Army aviation is armed with 88 combat helicopters, 54 Mi-8 and 34 Mi-24, and 10 Mi-2 training helicopters.
Ukraine's Naval Forces are armed with a total of 9 combat helicopters. Of these, 4 are Ka-27 models, 1 – Ka-226 and 4 – Mi-14. Also in service of Ukraine's Naval Forces are two transport An-26s and two Be-12 amphibious aircraft.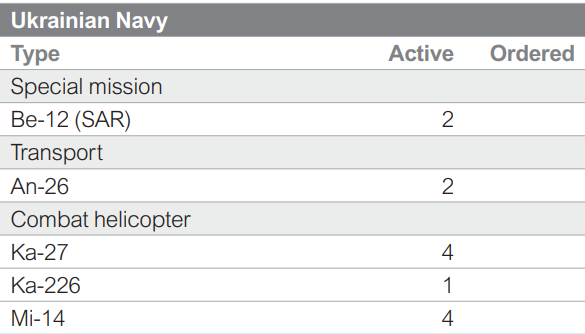 On March 23, 2022, a month after the start of Russia's full-scale invasion of Ukraine, the Russian Defense Ministry already reported the destruction of 183 Ukrainian aircraft and helicopters.
Screenshot – flightglobal.com