On January 2 the Latvian news portal Vesti.lv published a purported interview with the secretary of the Russian Security Council Nikolay Patrushev in which he allegedly advocates the introduction of Russian troops in the Baltic States.
"If the alliance [NATO] will support Ankara then the most logical answer from our side is the introduction of our troops into the Baltic States. And all of the Baltics will be ours. Completely and without any losses. Relatively quickly. NATO pays for its support of Turkey with the loss of the Baltic States", – writes Vesti.lv, allegedly quoting Nikolay Patrushev.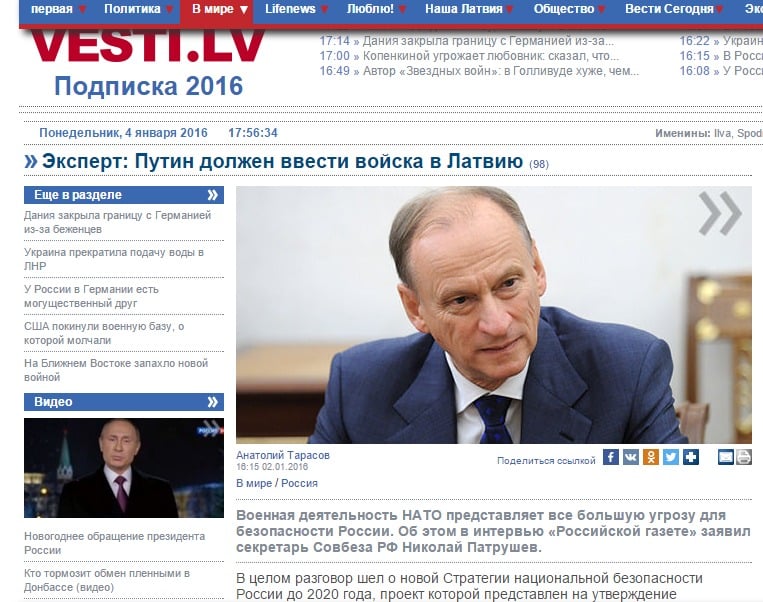 The Vesti.lv story was quickly reprinted on nepravda.in.ua. The news also gained considerable traction on social media networks Facebook, Vkontakte, and Twitter.
Refat Chubarov (the head of the Mejlis of the Crimean Tatars) partially reposted this news from the Latvian site on his Facebook page.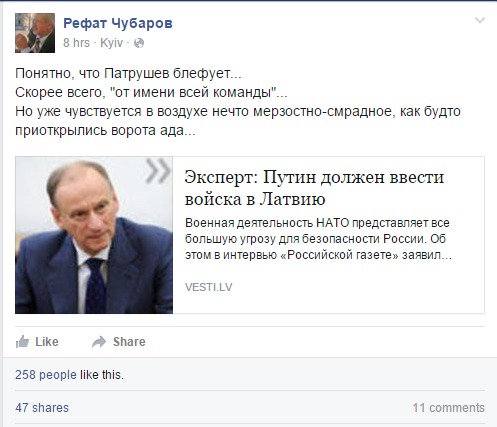 However, Nikolay Patrushev did not call for the sending of Russian troops into the Baltic States and he was not interviewed by the Vesti.lv site.
In fact, Vesti.lv reprinted an interview from  a Russian site called Svobodnaya Pressa (Free Press) from December 23, 2015 and simply omitted the paragraph stating that the interview was conducted with Mikhail Alexandrov, an expert of the Moscow State Institute of International Relations Center for Military and Political Studies.
A resume of an interview with Patrushev in which he explains Russia's revised military doctrine from another site preceded the Alexandrov interview on the Vesti.lv world events page. The call to send Russian military into the Baltics was issued by a Russian academic and not the National Security Council secretary.