On October 1, 2018 the deputy commander of the self-proclaimed Donetsk People's Republic (DPR) operational command Eduard Basurin announced that as a result of a Ukrainian mine detonating near the eastern mining city of Horlivka one Ukrainian soldier was killed and two others gravely injured. This fake story made the rounds in Donetskoye Agentstvo Novostey, Russkaya Vesna and Ukraina.ru.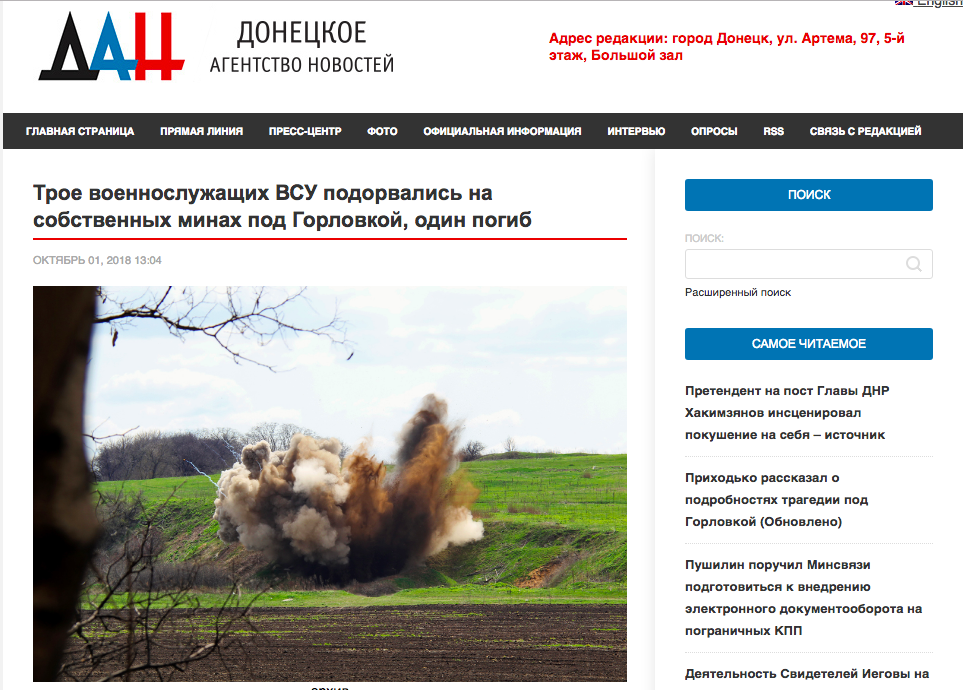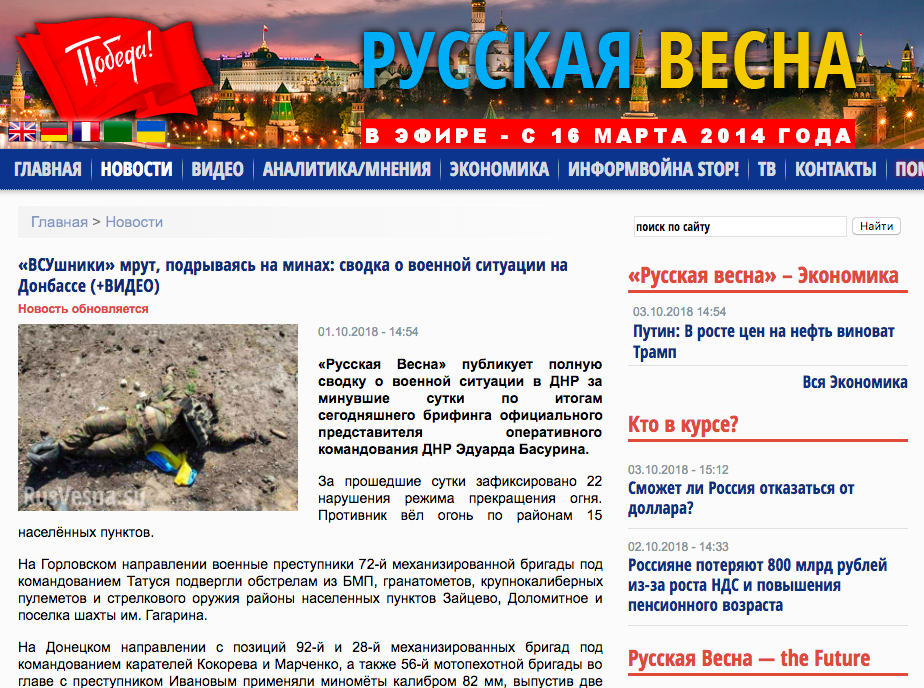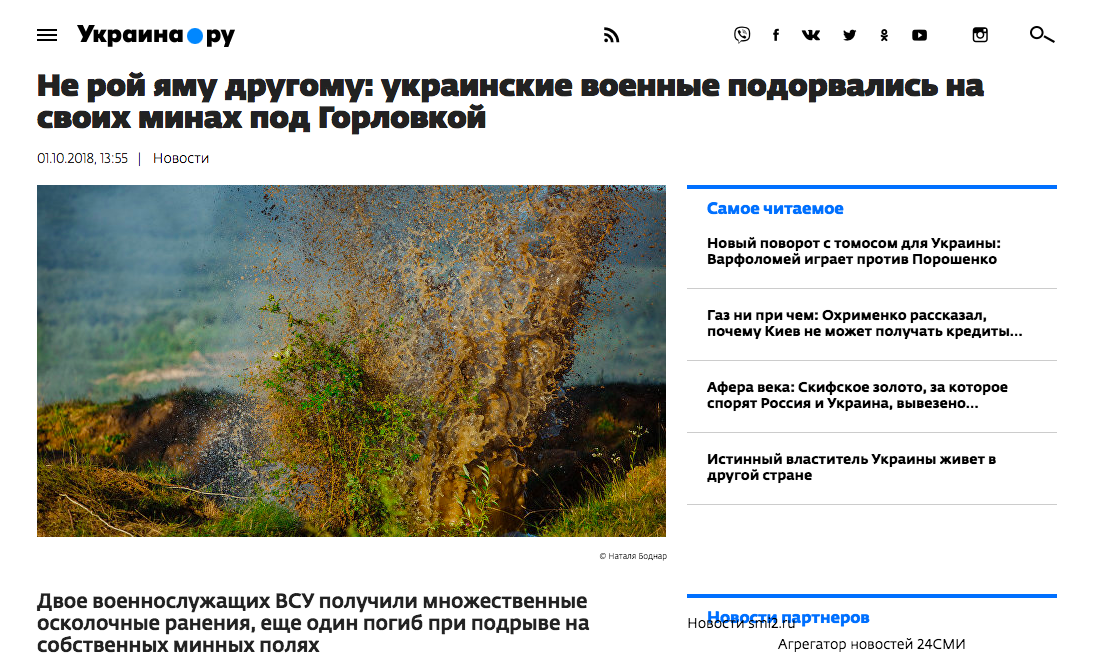 "Soldiers from Ukraine's 58th motorized infantry brigade 15th battalion were victims of their commander's criminal negligence, two were wounded, one was killed as a result of an explosion in their own minefield," Basurin said. Basurin made this claim during a briefing devoted to the DPR's alleged military successes of September 30, he hid not specify when the alleged explosion killing and injuring Ukrainian soldiers took place.
According to Ukraine's United Military Command, Ukraine's military did not suffer any casualties on September 30, Horlivka and its surrounding area was peaceful during this period.
https://www.facebook.com/pressjfo.news/videos/312573405993052/
The 58th Brigade did not report any casualties during this period either, there were no reports of soldiers killed or injured in the city of Konotop, where the 15th battalion is based.
Shortly before September 30 pro-Kremlin media began circulating another misleading story centered on the tragic mine explosion in Russian separatist controlled Horlivka as a result of which three teenagers were killed and a ten-year old boy severely injured.  DPR acting foreign minister Natalia Nikonorova blamed the deaths on Ukrainian mines.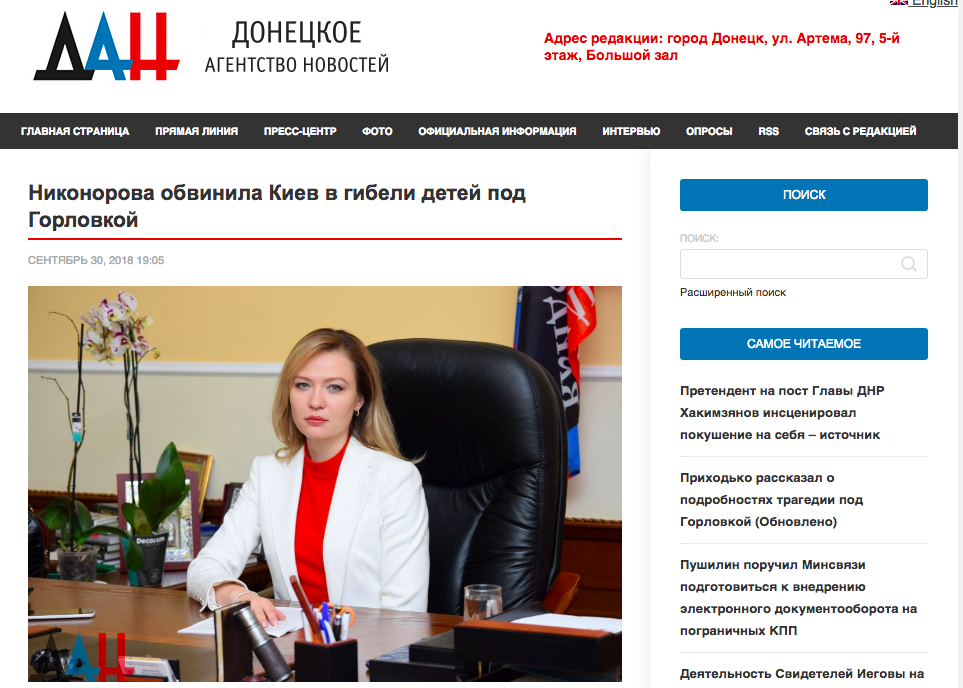 Meanwhile Russian state television Rossia 1 in its 60 minutes program cited Horlivka mayor Ivan Prykhodko who claimed that children are dying from "Ukrainian artillery" and not exploding mines.
The contact line was never on Horlivka territory so the Ukrainian military had no access to that area, explains Parliamentary Human Rights Commissioner for Donetsk and Luhansk regions spokesman Pavlo Lysiansky.  "The militants don't want to accept the blame for the death of these children. But local residents know exactly whose mine this was and they don't believe the militants' claimsLisiansky said during a Radio Liberty interview.
In a Facebook post Ukraine's Presidential Humanitarian Envoy to the Minsk peace talks MP Iryna Herashchenko stressed that Kyiv strictly adheres to the Ottawa Convention, which requires states-parties to destroy their stockpiled anti-personnel mines. Ukrainian forces have disarmed many illegal mines found on territory they recaptured from the separatists, she noted.
https://www.facebook.com/iryna.gerashchenko/posts/1906938449393959
In November 2017 StopFake reported on a wave of reports in Spanish-language media accusing Ukraine's military of the death and injury of several Donetsk children. This claim was a complete fake generated by Russia's official foreign language service Sputnik.