On August 23 Komsomolskaia Pravda website posted an untrue news piece titled "SSU Head's Daughter Arranges 'kolorads' Shooting Tours with Howitzers".  This information was further spread by a number of websites and social networks.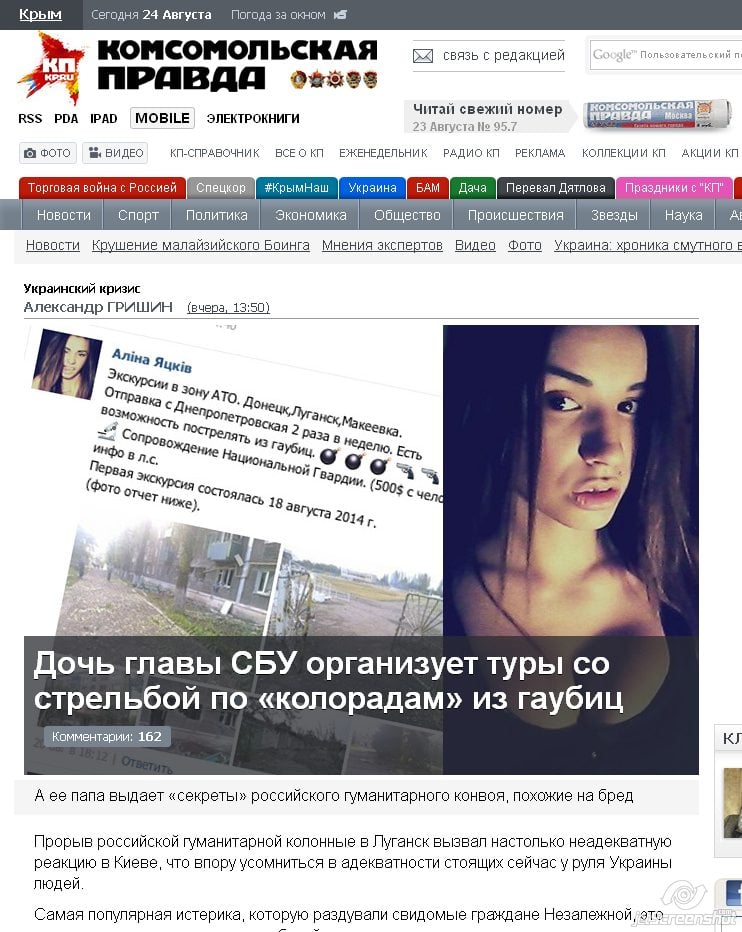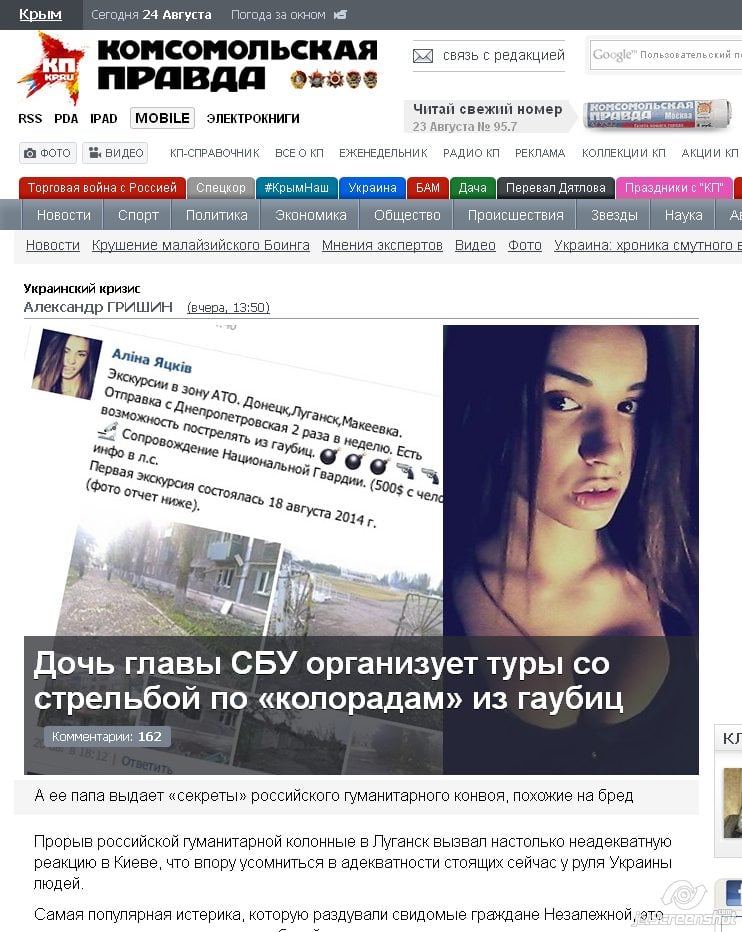 "Valentin Aleksandrovich, the man who uncovers plots against Ukraine and catches hundreds of enemy spies and saboteurs," writes the journalist Aleksandr Grishin, "better check what his precious daughter is doing.  She offers thrilling tours to combat zone to all willing. For mere 500 US dollars".
"A driver will pick you from Dnepropetrovsk on armoured vehicle 'PRIVAT-Bank security car'.   You will be given equipment and protective means.  You will be taken to the base, marked with 'Б', where the National Guard is.  There you will meet an agent for further instructions.  All details are discussed there… the car from Dnipropetrovsk goes there two times a week, she wrote on her social network page.  And adds. —  can even shoot a howitzer."
"Without mentioning how much it costs, though.  Yet, if you 'can', it obviously means additional payment.  Safe to assume there are people willing to shoot the 'kolorads' from safety.  The first 'excursion', as this lady wrote, was on August 18."
"Or is the daddy aware of his daughter's business?  Apparently.  Since his daughter's partner is the 'PRIVAT' company group, which belongs to Mr. Kolomoiskii.  By the way, Nalivaichenko's daughter is 26 year old, she already worked for SSU, headed by her father and for Kolomoiskii group.  Now she works at the National Bank of Ukraine."
The article is illustrated with the screenshot of a VK webpage of the SSU head's "daughter".  According to the page, Nalivaichenko's daughter is named Alina Iatskiv and she is 26 year old.  She worked for SSU and National Bank and how helps managing the webpage of… Kiev DJs.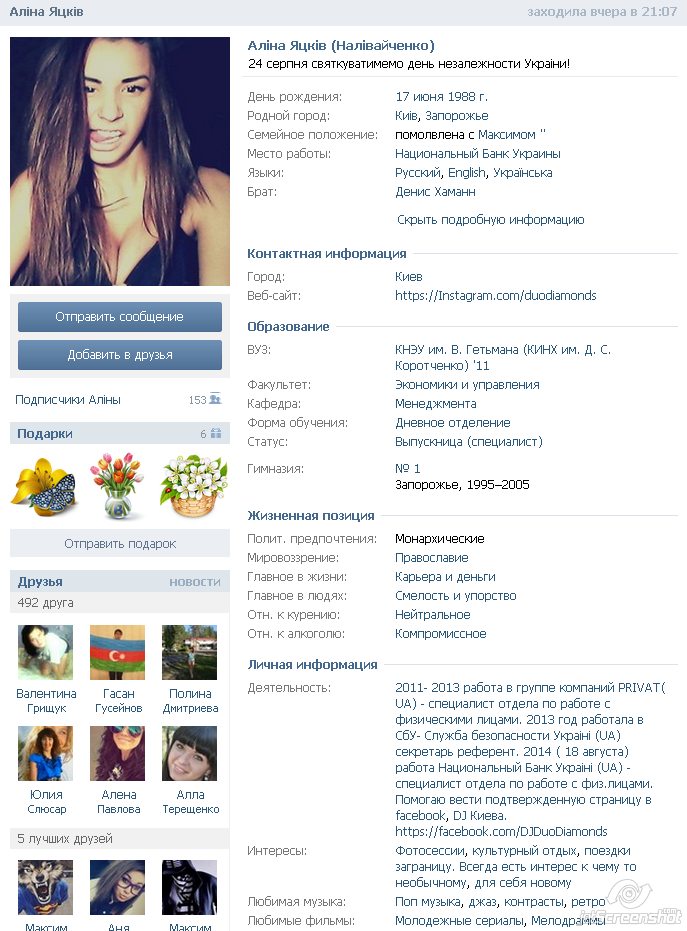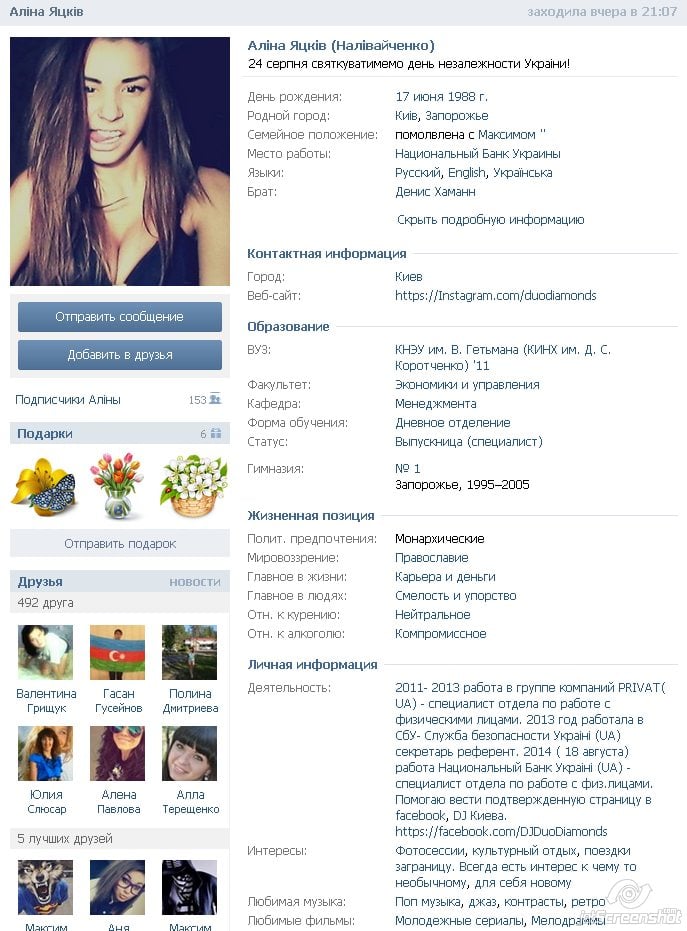 As a matter of fact, Valentin Nalivaichenko's daughter is named Olga and she looks different.  This information is available in SSU head's bio and in Wikipedia.  Here is her picture (interview for Segodnya newspaper).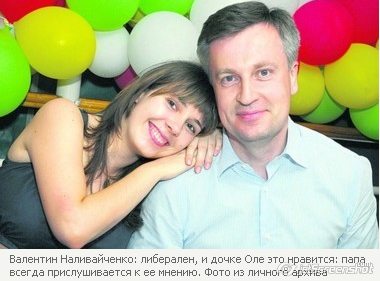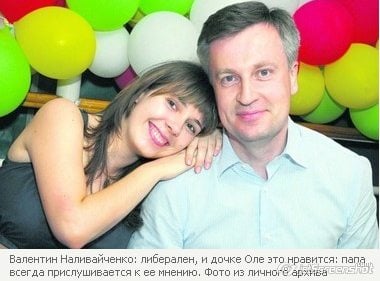 It is interesting to note that the page of "Nalivaichenko's daughter" does not show up in search results if the search query is entered in Ukrainian.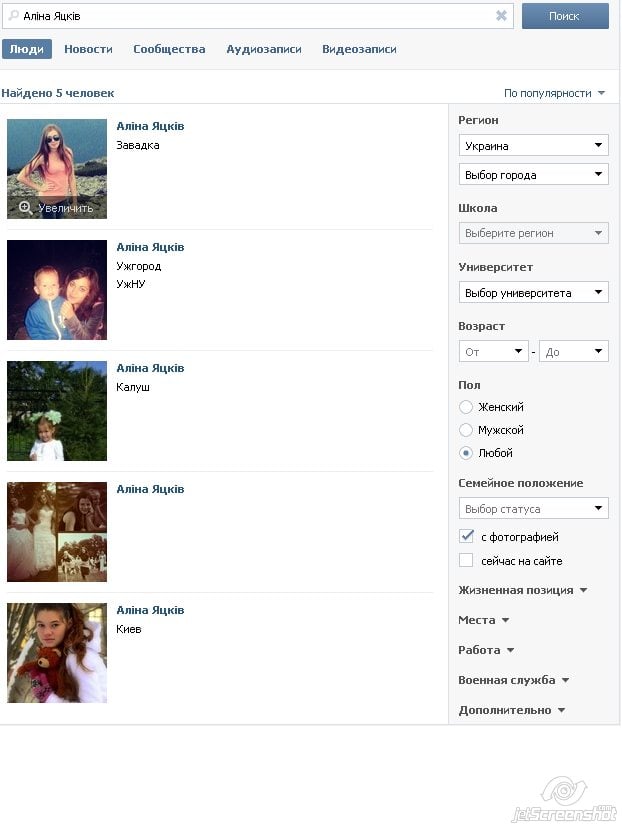 However, if you switch to Latin alphabet and enter her name with Latin letter "i", the hero of the article turns out to be the only person with such name and surname.


In brackets there's the surname "Налівайченко".  However in Ukrainian it is spelled with "И": "Наливайченко".  "Alina" has five "best friends", they all live in Moscow and St. Petersburg.  The page also states that Alina is engaged with Maksim from St. Petersburg.  Among presents on the page are eight St. George Ribbons.  All this information indirectly hints that "Alina" "was born" in Russia.  Her first entry on the webpage is dated July 19 2014.  Some of her posts are in Ukrainian with plenty of mistakes.


The photo used in the article can also be found on the website "Prostitutes of Kirovograd".


On August 24 the author of the article updated it, stating he had been misguided by his source:
"There has been a mistake in the article 'SSU Head's Daughter…'.  As the author, I trusted my source too much and made a mistake.  The person, arranging 'shooting from howitzers' is not Nalivaichenko's daughter, though they have common life facts, birth place, etc.  Different name was explained to me as the change of Russian name Olga to Ukrainian Olina." (note, it is Alina in the text).
No explanation why surnames are different.  Instead of this Aleksandr Grishin wrote:
"Yet, I want to add such tours still exist in Ukraine and security cars are used in them (armoured 'PRIVAT-bank' vehicles, it makes no difference to the civillians of the Donbas, who takes the bloodthirsty tourists to 'shoot' — a daughter, a son or a namesake".
He gives no evidence to back it.