The port city of Mariupol continues to hold the line, despite massive shelling by invading Russian troops. During the first week of the war, Russia's military failed to gain a foothold in any major Ukrainian city. Russia has suffered significant losses. According to Ukraine's Defense Ministry, the total combat losses of the Russian army are approximately 9,000 personnel, 217 tanks, 900 armored combat vehicles.
RT, various Russian propaganda websites and social media networks are all featuring an interview with "former intelligence officer and UN inspector" Scott Ritter, and his views about the war Russia has unleashed on Ukraine. In his "powerful analysis" as social media users call it, Ritter claims that "the Russian military took Mariupol in less than an hour" and that the Ukrainian army was completely incapacitated. Ritter also repeatedly parrots Russian propaganda narratives about Nazis in Ukraine and the country's alleged Nazi government.
In fact, a week after Russia invaded Ukraine, the city of Mariupol continues to hold the line and has not been taken by Russian troops in "less than an hour". Mariupol mayor Vadim Boychenko said that Russian troops have been firing at the city troops for many hours. Russian forces are shelling the city's residential infrastructure. However, during the first week of the Russian invasion of Ukraine, Russian troops failed to gain a foothold in any major city in Ukraine.
As for the "incompetence of the Ukrainian army" – this is another bit of Russian mendacious propaganda. According to Ukraine's Defense inistry, approximately 9,000 Russian soldiers have lost their lives in this invasion, Ukrainians have destroyed 217 tanks, 900 armored combat vehicles, about 30 aircraft and 30 helicopters (as of March 3, 2022). There are scores of videos online showing captured Russian soldiers as well as destroyed Russian military vehicles. The Ukrainian military managed to prevent the blitzkrieg Russia had planned and they have significantly slowed down the advance of Russian troops across Ukraine's territory.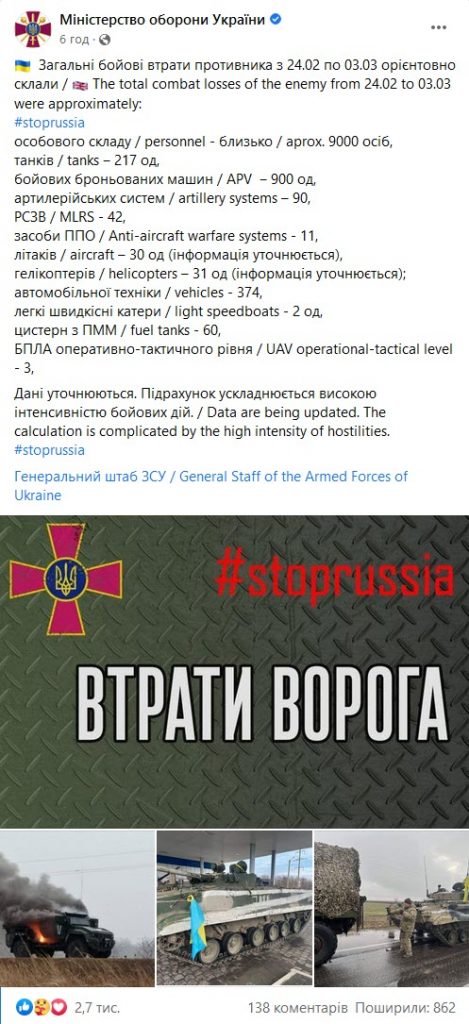 Appearing on NBC News, a US Defense Department spokesman noted that the Russian invaders are running out of fuel and food supplies, which is one of the reasons for their slowdown in moving towards Kyiv. "Putin grossly underestimated Ukraine's resolve and did not count on a unified and tough response from the West," Alexander Vershbow, former US ambassador to Russia and NATO Deputy Secretary General from 2012 to 2016, told NBC News. Vershbow also called the Russian invasion of Ukraine unsustainable.
Ukraine is not a Nazi state. This is a lie invented by Russian propaganda to justify the war against Ukraine. In Ukraine, there is a law "On the condemnation of the communist and national-socialist (Nazi) totalitarian regimes in Ukraine and the prohibition of propaganda of their symbols." This law prohibits the propaganda and symbols of Nazism.
Earlier, StopFake refuted fakes that supposedly dead Belarusian pilots cannot fight against Ukraine, and that the local authorities of Kherson allegedly surrendered the city to the Russian army.