Ukraine admits it has no intention of fulfilling the Minsk Agreements and openly opposes peace with the Donetsk and Luhansk People's Republics Russian media declared last week, calling Ukraine's agreement with Canada and other western partners to introduce foreign peace-keepers in Donbas an "occupation". This bloodthirsty plan will allow Ukraine to begin a full-scale military operation to put an end to the rebels once and for all, Ukraina.ru announced.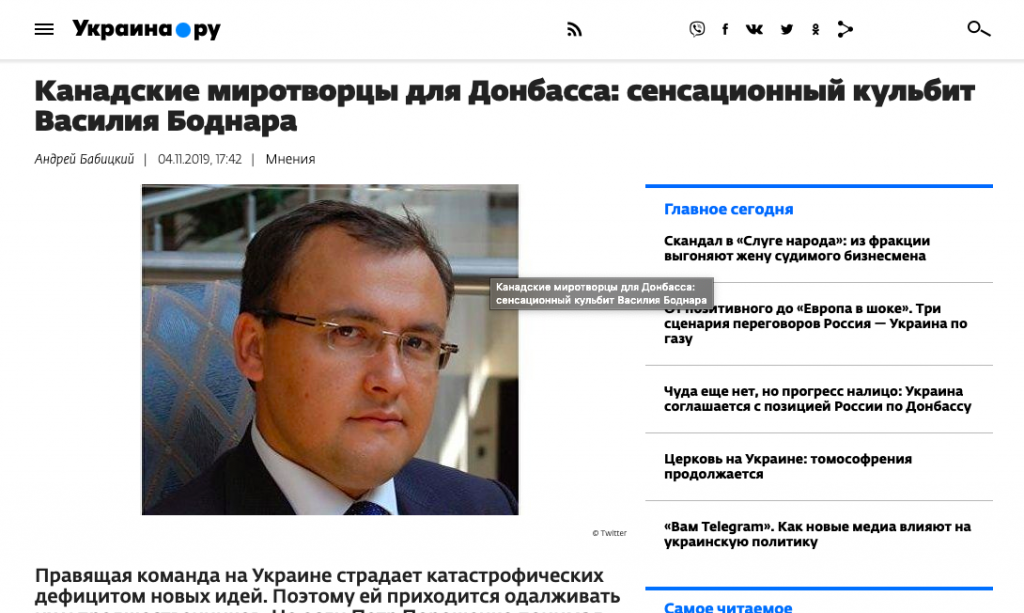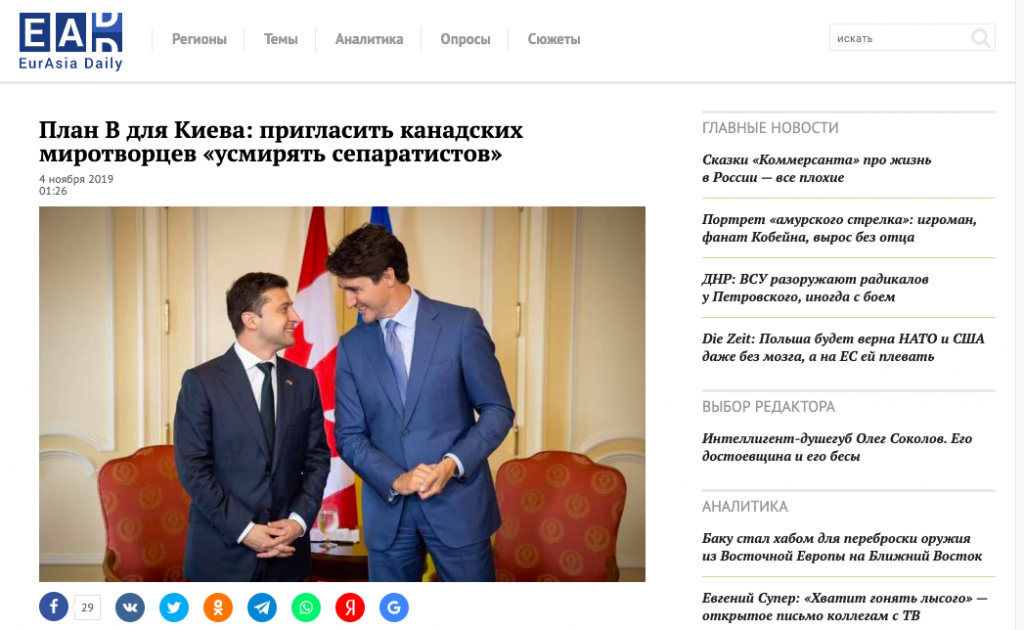 These stories followed the recent visit of Deputy Foreign Minister Vasyl Bodnar to Canada where he met with the leaders of Canada and participated in a gathering of Canadians of Ukrainian descent. Speaking with Canadian journalists Bodnar emphasized that Ukraine is committed to upholding and implementing the Minsk Agreements. He also pointed out that they have not been carried out fully because of Russia's destabilizing position.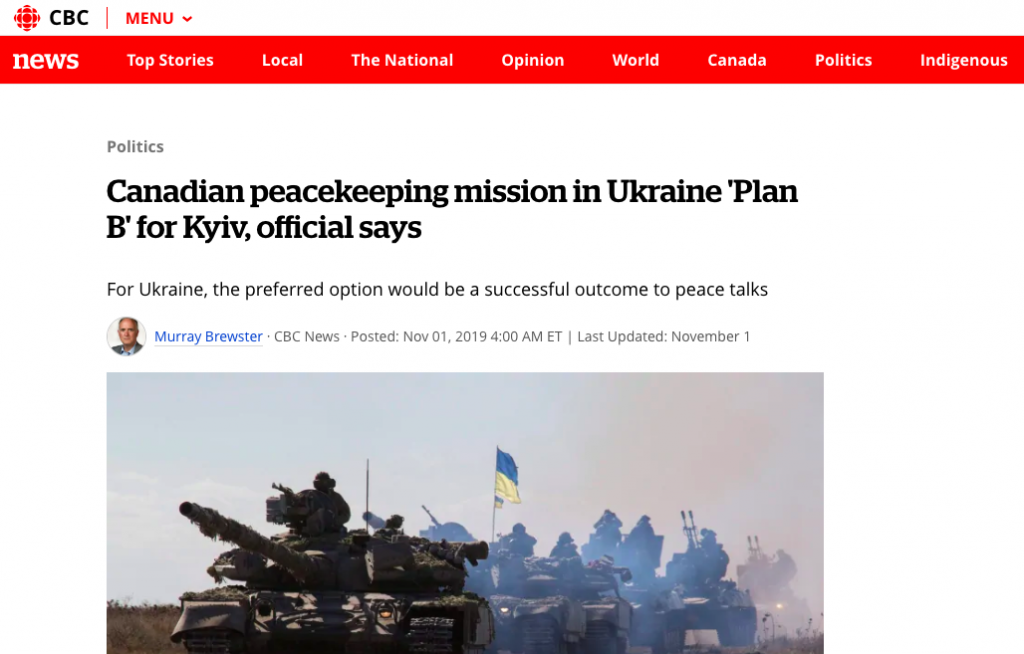 "There is no trust to Russia. Russia broke all of the international agreements they had with Ukraine, they broke their international obligations with regard to Ukraine. We still need united support from the whole world to implement the Minsk agreement," Bodnar said.
In the event of a complete collapse of the Minsk agreement, Ukraine would turn to plan B and ask that Canada and western partners help introduce a peacekeeping mission in Donbas, Bodnar said.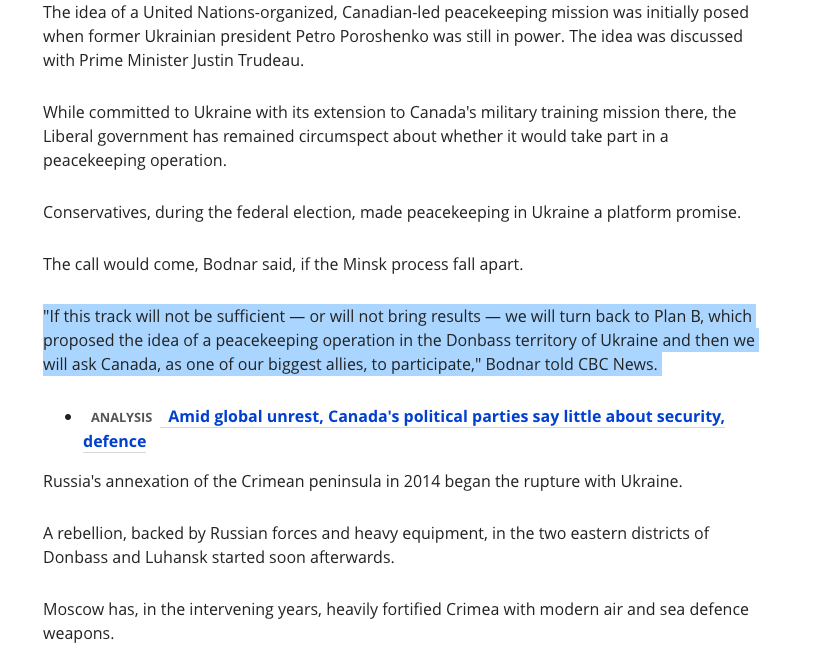 The Deputy Foreign Minister did not call for the sabotage or abandonment of the Minsk Agreements and did not say Ukraine was refusing to abide by the accords. The idea of peacekeepers in Donbas has been discussed since 2015, it was first introduced by former Ukrainian President Petro Poroshenko. 
According to the UN Charter, the responsibility for maintaining international peace and security lies with the UN Security Council which can deploy UN peacekeepers to any country.  Four years ago Ukraine requested that the Security Council introduce UN blue helmets in Donbas, but Russia blocked discussion of this issue. Ukraine continued raising this question during the 72nd and 73rd UN General Assemblies.
There are 14 UN peacekeeping operations currently deployed and there have been a total of 71 deployed since 1948.
UN peacekeeping missions work according to three main principles, consent of the parties, impartiality and non-use of force (except in cases of self-defense). These principles have nothing to do with the "bloodthirsty plan" or occupation that Russia media warns about, the conflict zone is Ukrainian territory that Russia has grabbed and placed under its direct control.
Peacekeepers have a mandate to:
Deploy to prevent the outbreak of conflict or the spill-over of conflict across borders;

Stabilize conflict situations after a ceasefire, to create an environment for the parties to reach a lasting peace agreement;

Assist in implementing comprehensive peace agreements;

Lead states or territories through a transition to stable government, based on democratic principles, good governance and economic development.
Foreign peacekeepers can also help with disarmament and mine clearance, organize elections and contribute to the social and economic development of the region.
On November 9 Canada's Foreign Minister Chrystia Freeland confirmed Canada's readiness to continue the discussion about introducing international peacekeepers in Donbas. Canadian Prime Minister Justin Trudeau has already discussed this issue with German Chancellor Angela Merkel and other western leaders, she said.