Many Russian and Ukrainian media reported this week that Ukraine is officially on the list of countries with the highest level of organized crime. At the center of this claim is the 2017-2018 Global Competitiveness Report published by the World Economic Forum, rating 137 economies based on 114 different criteria. Organized crime is but one of the markers estimating the level of loss that business and legitimate economic activity bear as a result of mafia activities, racketeering and extortion.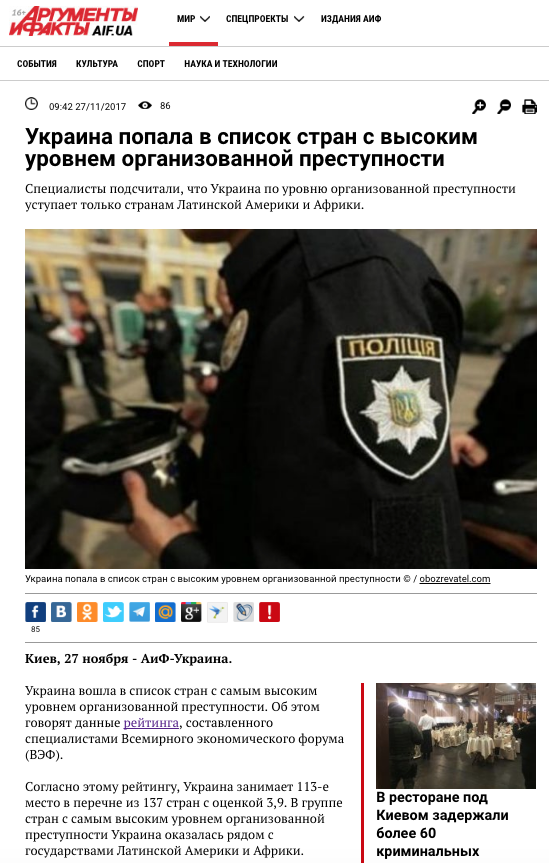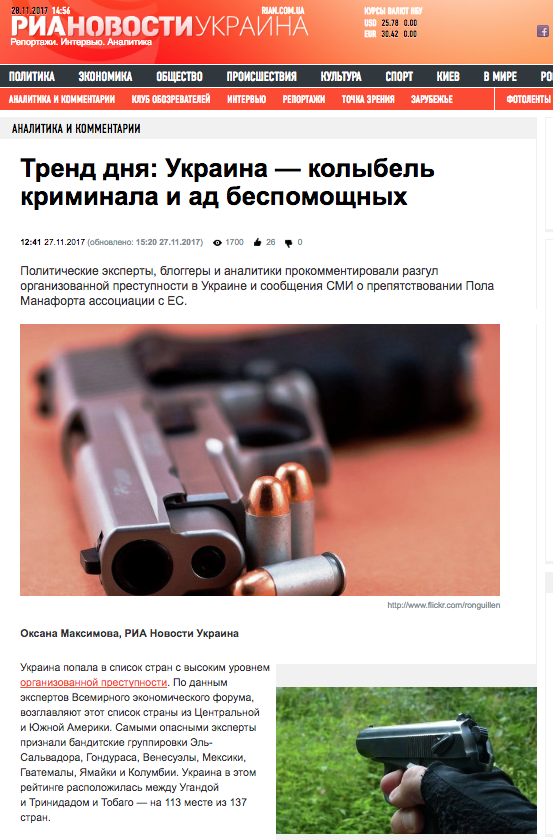 Ukraine, the cradle of criminality, Worse than Uganda, Ukraine a world crime leader, Mafia controls business in Ukraine, Organized crime spreads its wings in Ukraine – such were the blaring headlines focusing on only one indicator of Ukraine's overall economic picture as presented in the world Competitiveness report.
Vesti.ru, Sputnik, Izvestia, Politnavigator, Ura.news, Vzglyad and other Russian sites all ran this fake story as did the Ukrainian sites Podrobnosti, RIA Novosti Ukraine, Strana, Argumenty I Fakty Ukraina, Komsomolskaya Pravda in Ukraine, Vesti, Dnepr Info, Glavred, 112ua, 2000 and others.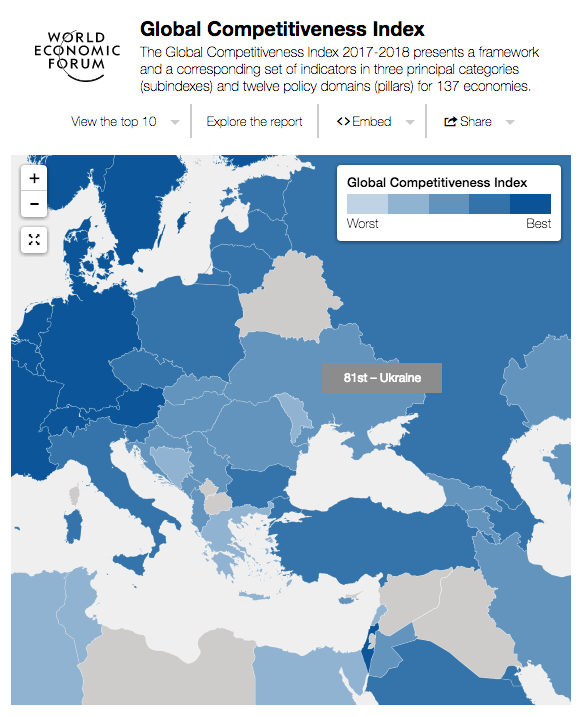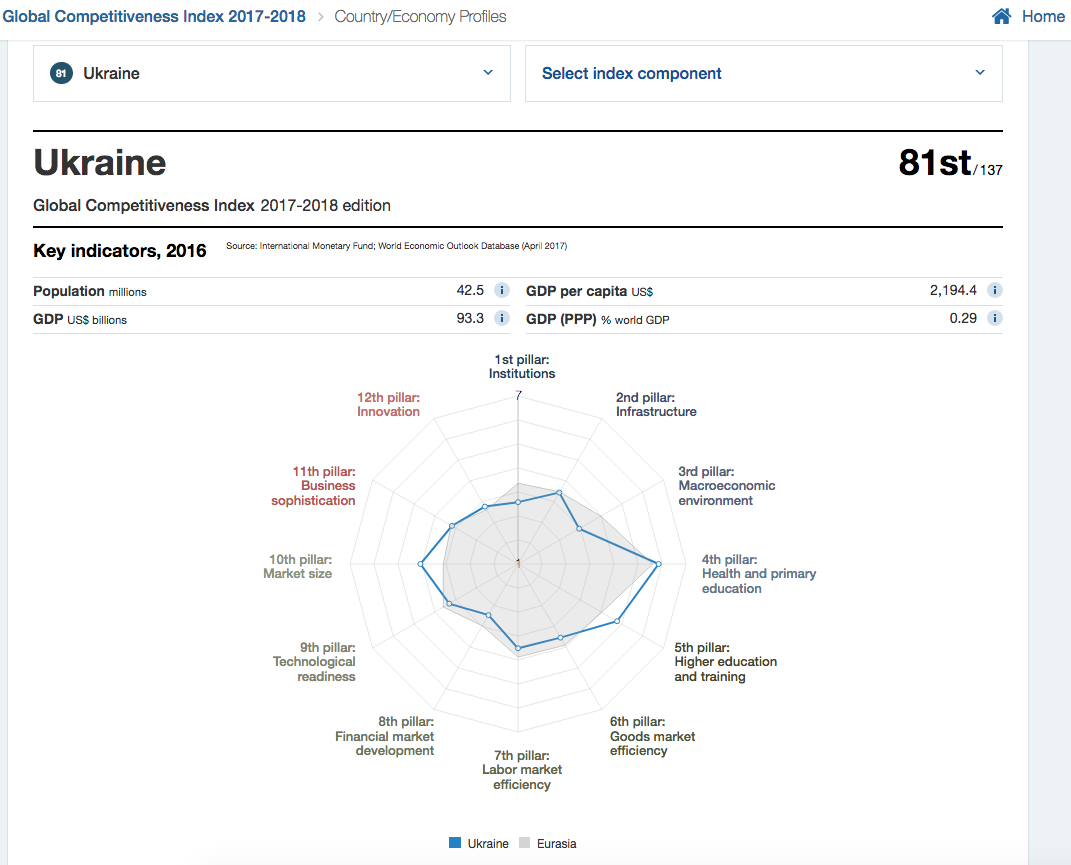 Of the 137 countries analyzed by the World Economic Forum for the latest Global Competitiveness Index, Ukraine's economy is in 81st place, moving up from 85th place from last year.
A country's standing in the index is based on its performance in twelve sectors, followed by numerous subcategories which gauge the ease or difficulty of doing business. In Ukraine the most problematic categories are inflation, corruption, political instability, tax rates and tax regulations. In many other categories however, Ukraine's performance continues to improve. Ukraine is in 35th place in the higher education category, 61st place for innovation, 35th place for market size. Two of Ukraine's best indicators in this year's report are 16th place for the quantity of higher education subcategory and 18th place for  the low number of bureaucratic procedures needed to start up a business.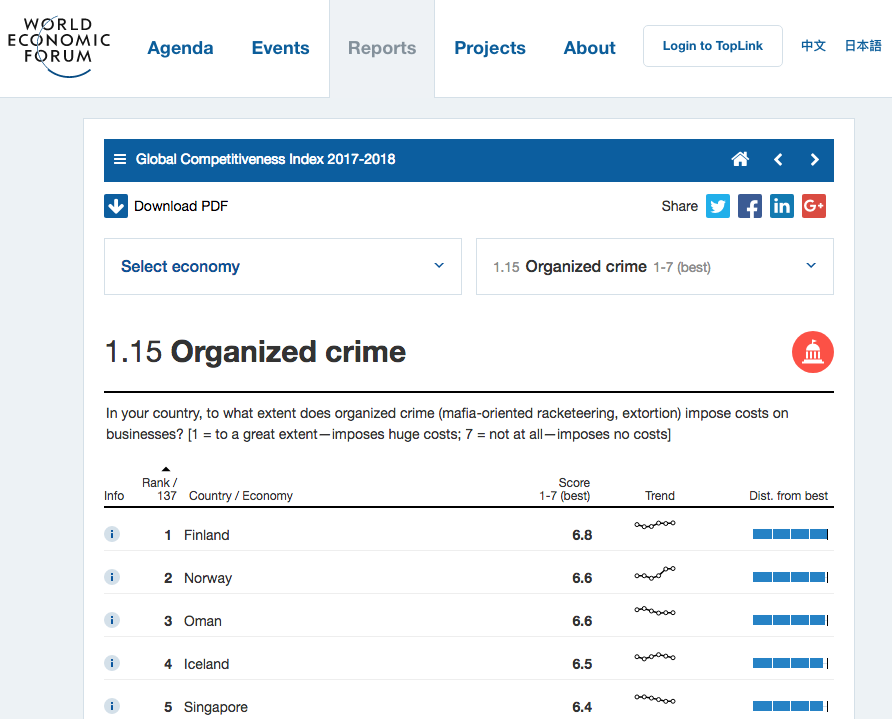 The organized crime subcategory in the Global Competitiveness Index assesses to what extent senior executives operating in a country feel organized crime impedes the conducting of business. A large number of respondents indeed felt that organized crime was an adverse factor. This subcategory does not assess the level of crime in the country as a whole and only a smallnumber of those questioned thought that crime was one of the biggest problems in doing business in Ukraine.