Russian propagandist site Ukraina.ru ran a story last week claiming that Ukrainian President Petro Poroshenko was saving a sinking American company, General Electric (GE) by purchasing the company's locomotives. Ukraina.ru cites an Interfax story as their source; Interfax in turn claims that Bloomberg has reported on the rapidly falling share price of GE stock. It is impossible to verify Ukraina's sources, as there are no links to any Interfax or Bloomberg stories.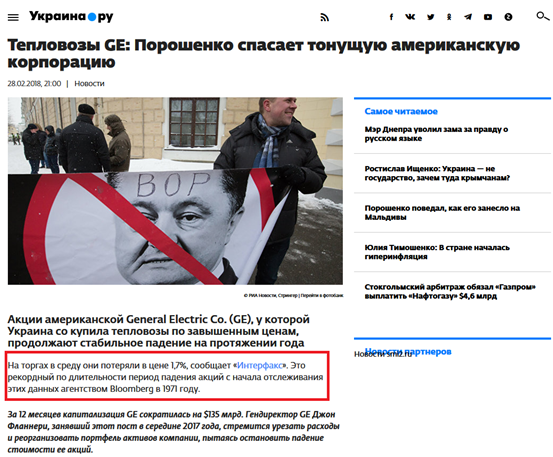 While GE is experiencing problems and its stock prices have been in decline for a year, the company is far from failing. A new board and a restructuring plan seek to make the company focused while maximizing value for its shareholders. Last week GE's shares rose 5.8%, so Ukraina.ru's claims of the company's imminent demise are rather premature.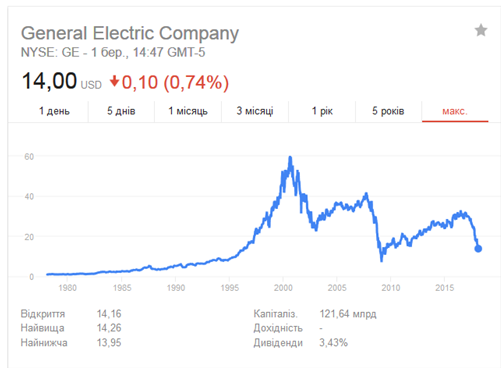 Citing unnamed experts, Ukraina.ru also claims that Kyiv is overpaying for the locomotives and could purchase analogous but cheaper ones from a plant in Kazakhstan.
50% of the company Kazakhstan Temir Zholy is owned by the Russian concern Transmashholding, the Russian company is under Ukrainian sanctions since October 2016. Kyiv insisted that the Kazakh company be excluded from the deal.
Under the Ukraine-GE agreement, the locomotives will be produced at GE's Erie, Pennsylvania plant.
Ukraina.ru further claims that by signing a contract with GE with the full support of its president, Ukraine is depriving its own high tech industry of growth and development and buying directly from American companies.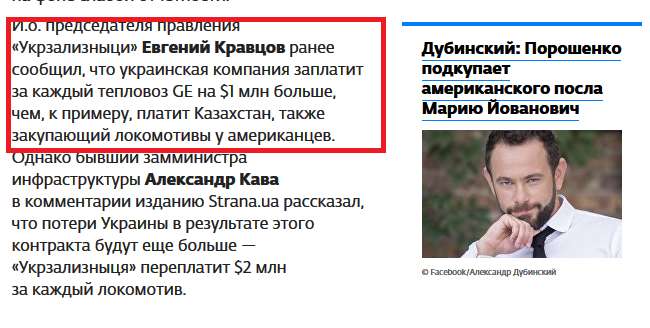 This is not the first time that Ukraine has cooperated with foreign companies in producing locomotives. In the early 2000s Siemens, together with the Dnipropetrovsk Electrolocomotive Plant launched a joint production of 18 electric locomotives, considered to be the most modern of its kind in the post-Soviet space.
According to Ukraine's state rail company Ukrzaliznytsia, of the some 1000 locomotives in the company's park, 70% are electric, 30% diesel. Looking to expand its diesel locomotive capacity, Ukrzaliznytsia concluded that other than General Electric, no other company could provide the quality and quantity of diesel locomotives in the time frame required by Ukraine.
While Ukraina.ru claims that it is President Poroshenko who is driving this purchase, the state rail company Ukrzaliznytsia is subordinate to the Cabinet of Ministers, and not to the President.
The Ukrzaliznytsia-GE billion dollar contract is for 225 Evolution series diesel locomotives to be completed by 2034. The contract also calls for long term maintenance of the locomotives.