Russian pro-Kremlin sites NewsFront and Regnum featured stories claiming that a war over rubbish was brewing between Hungary and Ukraine. Tysa River pollution flares up conflict between Ukraine and Hungary declared NewsFront's headline, while Regnum's announced Kyiv surprise blow: Ukraine declares trash war on Hungary.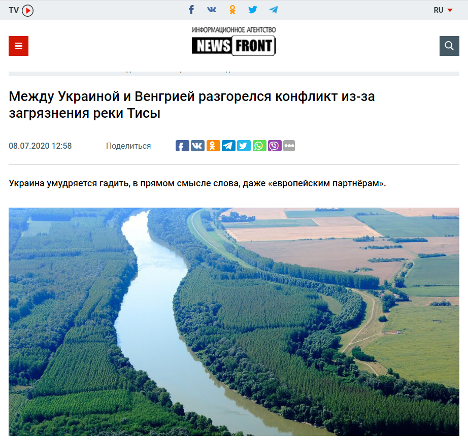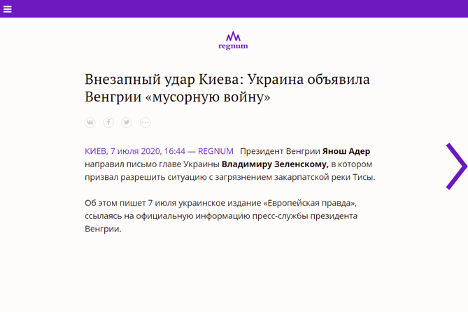 Despite these charged headlines the story is not about a 'garbage war' or deteriorating Ukrainian Hungarian relations because of environmental problems.
On July 3 two letters were published on the Hungarian President's official site.  President Janos Ader addressed one to Ukrainian President Volodmyr Zelensky, the second to Romanian President Klaus Werner Iohannis. In each letter Ader asks both presidents to pay attention to the pollution of Danube tributaries, the Tysa river flowing from Ukraine and the Somes river flowing from Romania. In his letter to Zelensky President Ados emphasizes that in other areas, Ukraine and Hungary cooperate closely.
The problem of pollution, particularly plastic rubbish in the Tysa River that flows through Transcarpathia has been a reality for many years. This year the situation was further negatively impacted by severe floods in five western Ukrainian regions.
In 2020 several official Ukrainian-Hungarian meetings have already taken place towards improving bilateral relations in the fields of healthcare and economy. Hungary has also publicly supported international assistance to Ukraine to help deal with the aftermath of the devastating floods. In March activists from Transcarpathia together with Hungarian volunteers took part in a project to clean up the river Tysa.
A week after the publication of Ader's letter, the director of Ukraine's Environmental Inspection wrote to Hungarian ambassador to Ukraine istvan Ijgyarto proposing that a road map be drawn up to prevent further pollution of Danube tributaries.