Kyiv is not going to saddle the Donbas with debt for Russia's policy of aggression towards Ukraine. Russia, which launched the war in eastern Ukraine and occupies Ukraine's territories, is responsible for the destruction of swathes of the Donetsk and Luhansk regions and the resulting financial and other losses Ukraine has incurred because of the war.
Russia's propaganda machine is circulating a fresh new fake claiming that Ukraine plans to hang a huge debt on the residents of Russian occupied eastern Donbas. The residents of the self-proclaimed Donetsk and Luhansk People's Republics will be saddled with a debt of $100 billion for Ukraine's financial losses resulting from the war.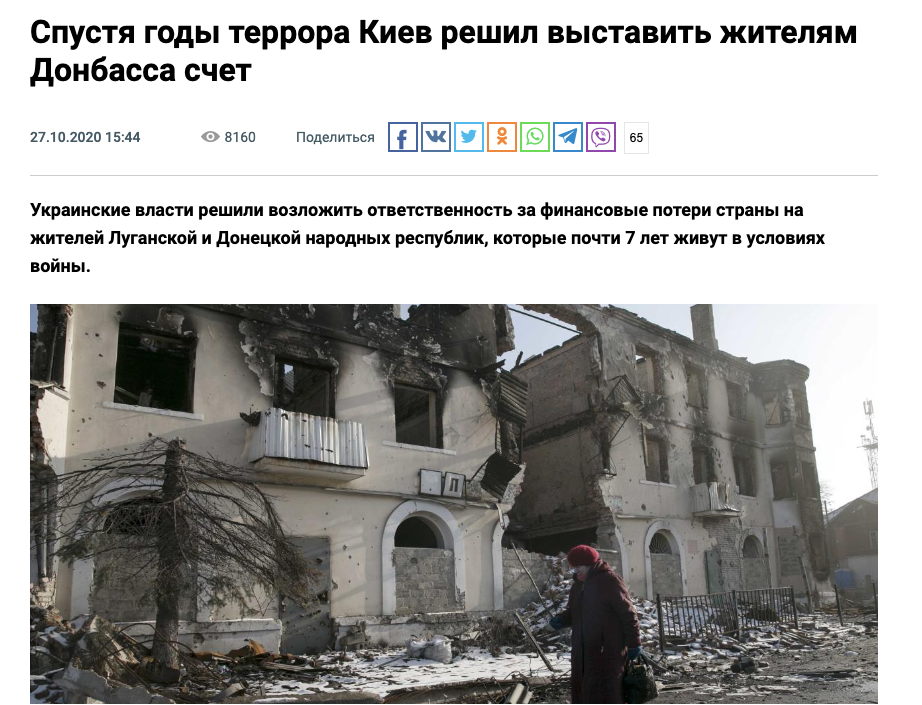 News Front, Novorosinform and Federalnoye Agentstvo Novostey all featured this fake story.
This fake narrative appeared in Russian media after Ukraine's Reintegration Minister Oleksiy Reznikov stated that Ukraine has suffered enormous economic and humanitarian losses due to Russian aggression. In an interview with the Ukraine 24 television channel Reznikov noted that 9.5 million Ukrainians were affected by the Kremlin's war, 7 million in Donbas and 2.5 million in Crimea, with 14,000 Ukrainians dying as a result of hostilities. Reznikov put a number on all those losses, $100 billion.  Just to physically rebuild Donbas after the region is de-occupied, a minimum of $22 billion is needed, Reznikov noted.

Reznikov did not just pull that $100 billion figure out of a hat, as Russian analysts claim. This summer experts from the Vienna Institute for International Economic Studies calculated that the reconstruction of Donbas will cost at least $ 21.7 billion or 16% of Ukraine's GDP. Furthermore, according to the American think tank the Atlantic Council, the price tag of Russian aggression in Ukraine is very high. In a special report by the Atlantic Council's Eurasia Center Kremlin Aggression in Ukraine: The Price Tag, Anders Åslund writes that if Kyiv loses occupied Crimea and the Donbas forever, the total asset value lost would be an estimated $98.4 billion for Ukraine. The $100 billion figure does not include humanitarian and political losses Ukraine incurred, Åslund noted. It was these estimates that Reznikov was referring to in his Ukraine 24 television appearance.
Crimea and the Russian occupied part of the Donbas region together provided 14% of Ukraine's GDP, says Åslund. Taking Ukraine's 2013 GDP as a basis, the value of lost assets in Ukraine is more than $100 billion, about $23 billion was lost in Crimea and $73 in eastern Donbas. In Crimea the losses are largely oil and gas resources, bank assets, companies, agricultural areas and more. Similar losses were incurred in eastern Donbas along with a massive destruction of the region's infrastructure.