Ukraine's official position is clear; it will not purchase the Russian Sputnik V vaccine. There is absolutely no evidence that a majority of Ukrainians want to be vaccinated with the Russian COVID vaccine.
Pro-Kremlin media continue disseminating propaganda about Russia's Sputnik V COVID vaccine, trying to convince Ukrainians that they have no other option but the Russian vaccine. Despite Ukraine's elites not wanting to be vaccinated with Sputnik, it will happen anyway, the publications predict, claiming that Ukrainians themselves are calling on the Ukrainian government to provide them with the Russian vaccine. Despite these mendacious claims, Ukraine's official position remains very clear, Kyiv is not going to buy the Russian vaccine and there is no evidence whatsoever that most Ukrainians want to be vaccinated with Sputnik V.
Russkaya Vesna, RT, Ukraina.ru, Vzglyad, Lenta.ru, Izvestia and other Russian publications disseminated various versions of this fake story.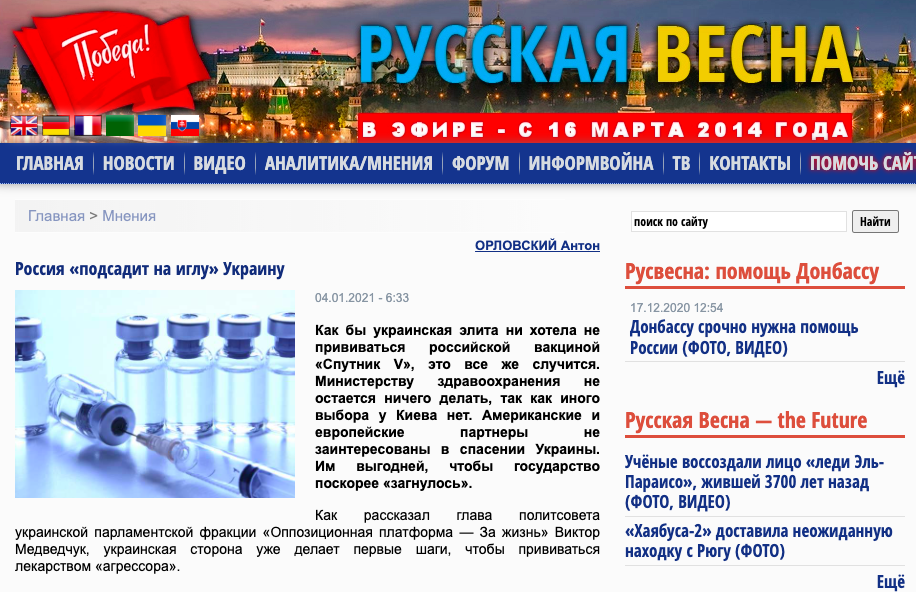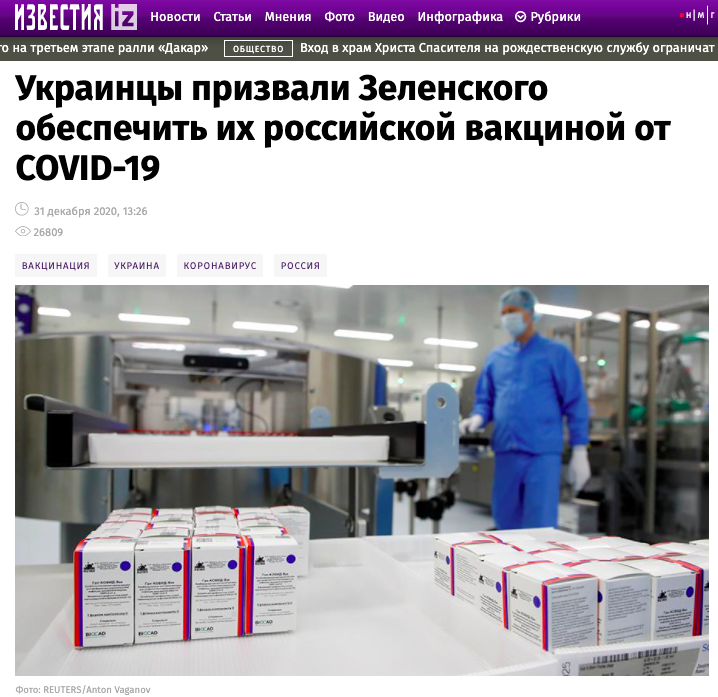 Ukraine's Health Ministry has no other choice but to buy the Russian vaccine, Russian media assert, claiming that Ukrainian President Volodymyr Zelensky has no valid explanation for refusing the Russian vaccine. Sooner or later Ukrainians will be inoculated with the Russian vaccine, it will be the same Sputnik but under a different brand purchased through a third party somewhere in Europe, Ukraina.ru claims, while Izvestia insists that Ukrainians' calls for the Russian vaccine are growing with scores of people creating petitions to that effect.
According to the Arsen Zhumadilov, the director of Ukraine's Medical Procurement Office there is no rational reason for buying the Russian vaccine when there are cheaper and more reliable vaccines available.
Ukraine's chief doctor Viktor Lyashko has consistently maintained that Ukraine will only use those COVID 19 vaccines that have successfully passed the third clinical trials phase. He also dismissed the rumors circulated by the Russian media about Ukraine purchasing the Sputnik vaccine as false.
RT also distorted a recent interview President Zelensky gave to the New York Times, claiming that Zelensky said it is impossible to explain to the Ukrainian people why Ukraine doesn't buy the vaccine from Russia when America and Europe are not providing Ukraine with any vaccine relief.
What Zelensky actually said was this:" Of course, it's impossible to explain to Ukrainian society why, if America and Europe don't give you the vaccine, you shouldn't take it from Russia – it is impossible to explain this to a person who is dying. But we can't allow Ukraine to take the Russian vaccine, which has not passed all the tests. You and I have no real evidence that this vaccine has a 100% positive effect. Moreover, I cannot take responsibility for a vaccine, the consequences of which we do not know. "
As for Russian claims that Ukrainian authorities are being bombarded by citizens' petition demanding the purchase of the Russian COVID vaccine, things are not quite as Russian media portray them. Anyone can lodge a petition on Ukraine's official presidential web site and several demanding the purchase of the Russian Sputnik vaccine have in fact been lodged, 19 in fact, all containing exactly the same text. One petition has gathered 348 signatures of support; the others average 40-50 signatures. To be considered a petition must have 25,000 signatures of support.