At the beginning of October pro-Kremlin publications Kryminform, Bezformata, Komsomolskaya Pravda, Novosti Kryma, Forepost Sevastopol and others featured stories claiming that Ukraine was the largest importer of produce from Crimea, the Ukrainian peninsula annexed by Moscow in February 2014.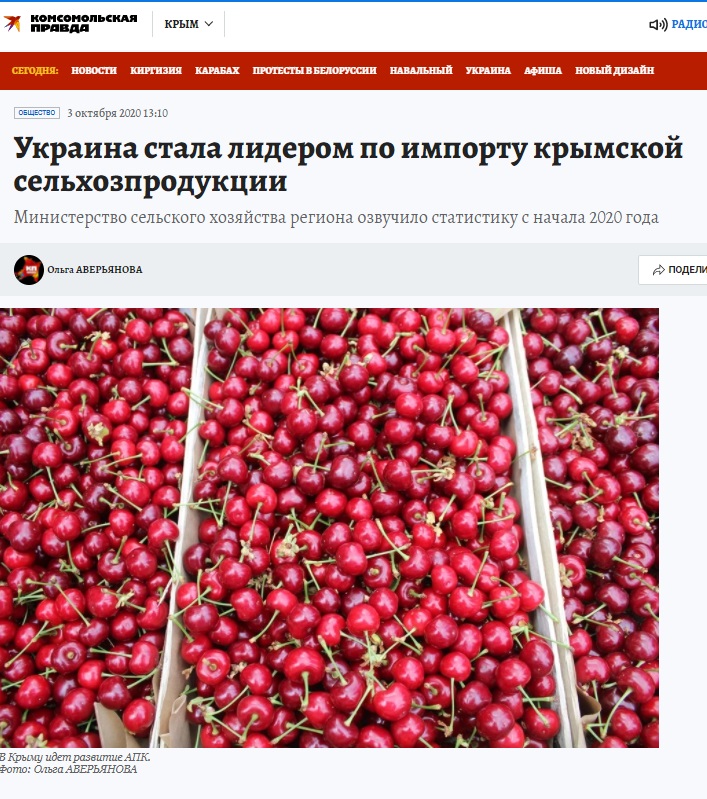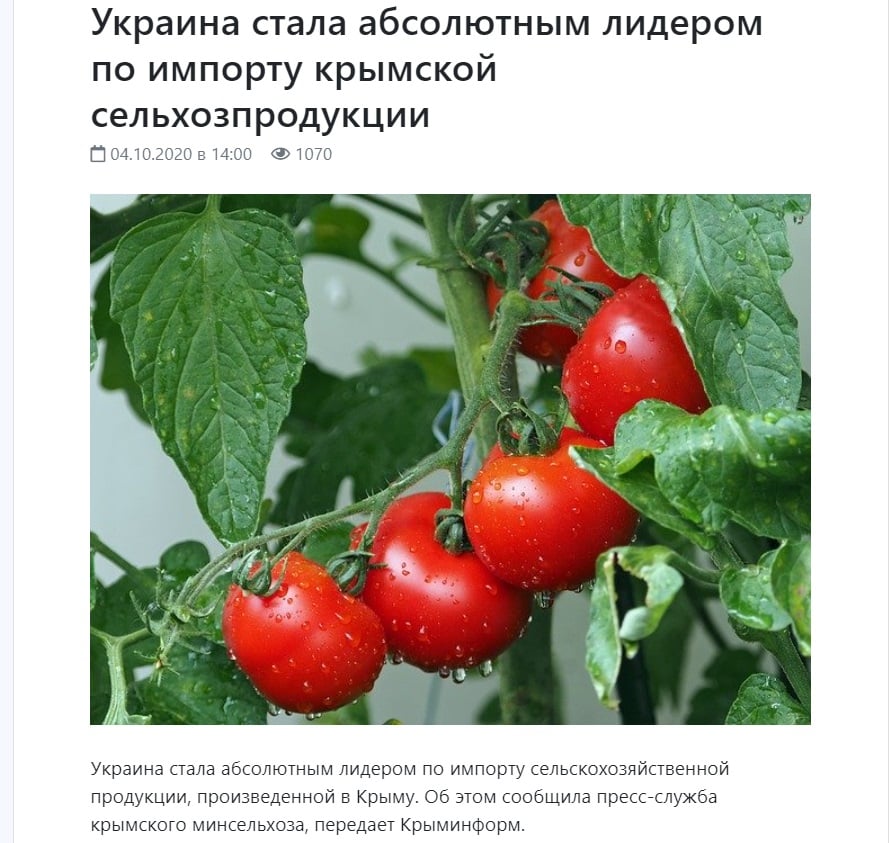 The source for this claim is the so-called Agriculture Ministry of occupied Crimea, whose press service claims that this year Crimean agricultural products were exported to 12 countries.  Eight million dollars' worth of produce was allegedly exported to Ukraine, 3.3 million dollars' worth went to China. Other countries buying food products from Crimea are Belarus, Kazakhstan, Kyrgyzstan, Abkhazia, Armenia, Turkey, Tadjikistan, Serbia and Israel.
StopFake reached out to the Ministry of Economic Development, Trade and Agriculture to check whether Ukraine was in fact buying produce and other agricultural products from Crimea. In an email the Ministry's communications department told us out that supply of goods from occupied territories to Ukraine is prohibited by Ukrainian Cabinet of Ministers executive order #1035 from December 2015, as is the transfer of goods from Ukraine to the occupied territories. The Ministry also pointed out that Ukraine's occupied territories economic activities are not included in the country's economic statistics.
We also asked Crimea expert Andriy Klymenko, the chairman of the board of the Foreign Affairs Maydan NGO if it was possible that goods from Crimea were entering Ukraine and not being officially tracked by state organizations. Klymenko said this is virtually impossible. He has encountered similar claims in the past, that goods from Crimea were being brought into mainland Ukraine, that Crimean agricultural products were being exported to China. Such claims are highly unlikely, Klymenko said. However, Crimean food stuffs could be supplied to the self-proclaimed separatist Donetsk and Luhansk People's Republics, he said. "We can assume that goods could be shipped via Russia and they will count them as exports to Ukraine, but there will be no statistical trace of such transactions in Ukraine" Klymenko noted.