The collapse of Ukraine and the disintegration of the country into various regions is the ultimate dream of Russian propaganda which has been successfully advancing this narrative over the last years. The mantra that some Ukrainian regions are poised to secede once again reared its head in the Russian Federation Council and was made news by all the main Kremlin media. There is absolutely no evidence to justify secession claims and according to recent polls the vast majority of Ukrainians (75%) consider themselves primarily citizens of Ukraine and self-identification as Ukrainian prevails in all regions of the country, 84% in southern Ukraine, 78% in central Ukraine, 76% in western Ukraine and 66% in eastern Ukraine.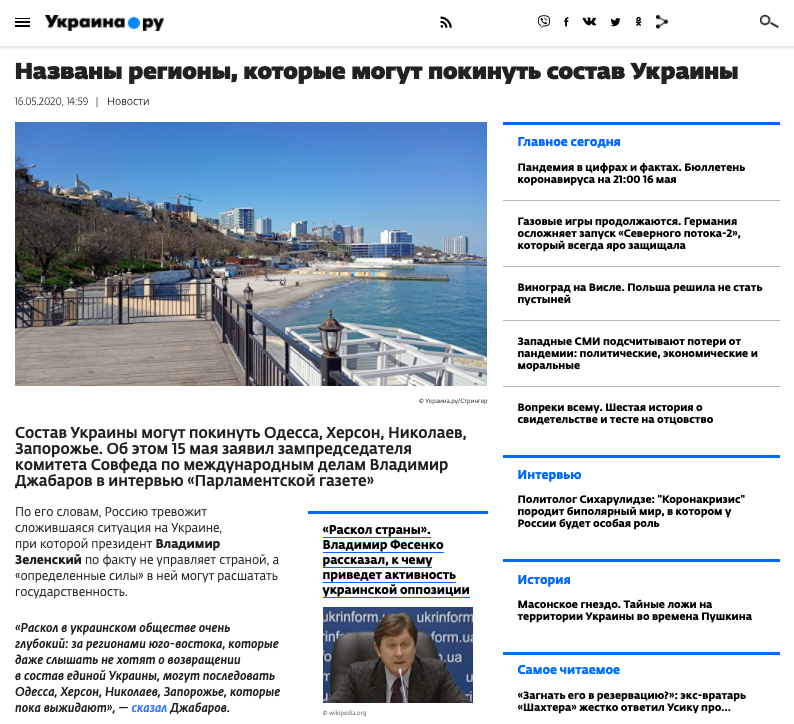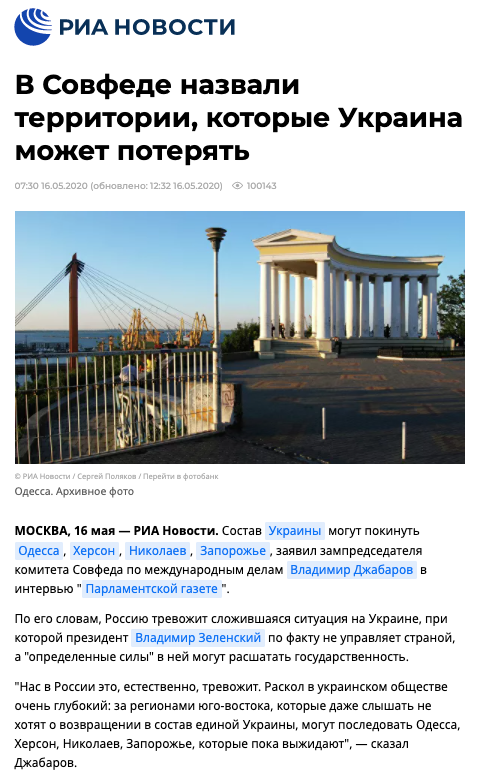 Ignoring the facts on the ground, Federation Council Committee on Foreign Affairs deputy chairman Vladimir Dzhabarov claims that "the split in Ukrainian society is very deep. Southeastern regions that don't even want to hear about returning to a united Ukraine can be followed by Odesa, Kherson, Mykolayiv, and  Zaporizhzhia, regions which for now are waiting".
RIA Novosti, Ukraina.ru, REN TV,360tv.ru, RBK, Gazeta.ru, Regnum.ru and others dutifully disseminated Moscow's dream about "the deeply rooted split in Ukrainian society" which would lead to Ukraine "losing several regions".
In December 2019 the highly regarded polling company Democratic Initiatives together with the think tank Razumkov Center conducted a survey on the topic of Patriotism, language and foreign policy priorities. 
According to the survey, the vast majority of the Ukrainian population (75%) first and foremost consider themselves citizens of Ukraine and only 16% chose regional identification (belonging to a region, city or village). Furthermore, national identification prevails in all regions of Ukraine: southern (84%), central (78%), western (76%) and eastern (66%). All of 7% of respondents in eastern Ukraine consider themselves primarily citizens of the former Soviet Union. Nationwide identification has significantly increased from 54% in December 2013 to 73% in December 2014.
Another survey by the peace-building think tank SeeD who examined Ukrainian society as part of the SCORE project (Social Cohesion and reconciliation) showed that polarization between Ukrainians is strongly diminishing.