Russian media have unleashed several fake stories this week claiming that Ukraine is planning a coronavirus provocation and intends to build several special camps on the border with Russian annexed Crimea, where people infected with the virus will be housed.
These fakes were featured by NewsFront, RIA Novosti Krym, Federalnoye Agentstvo Novostey, Politekspert and others.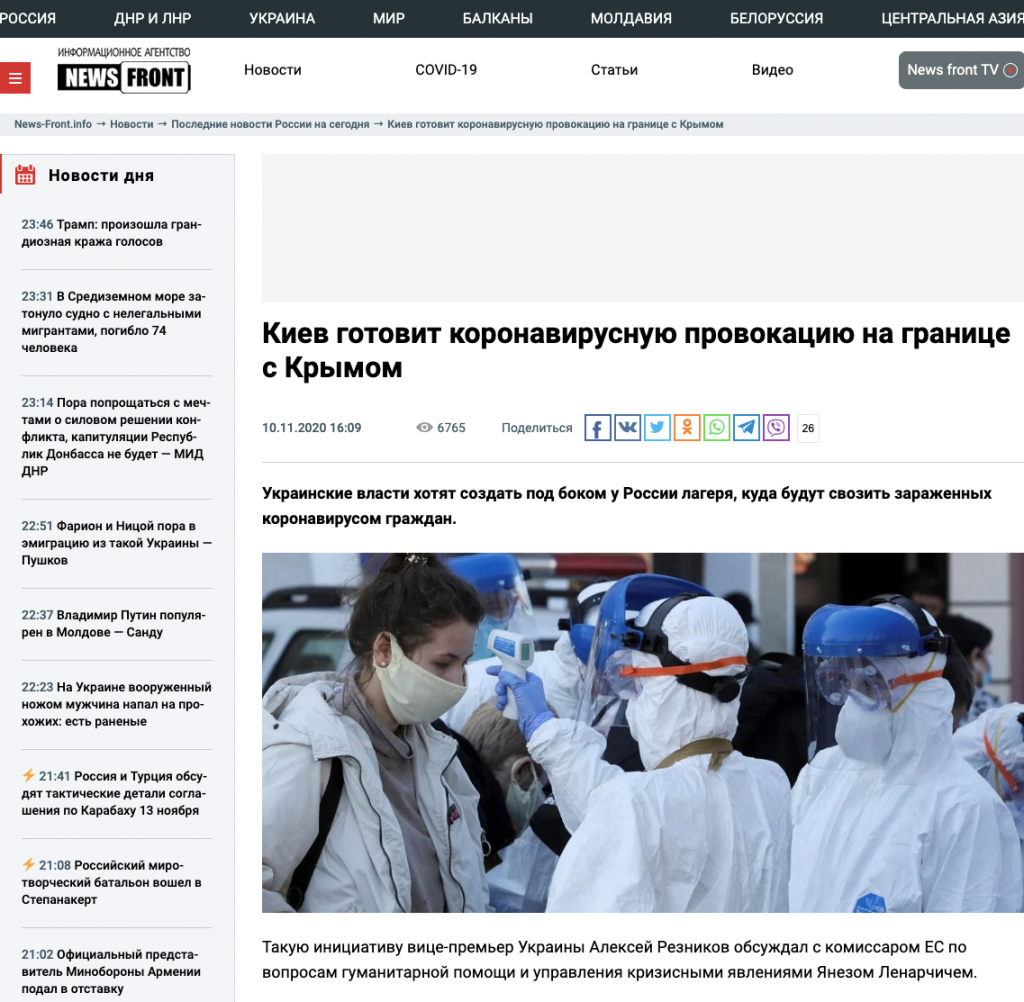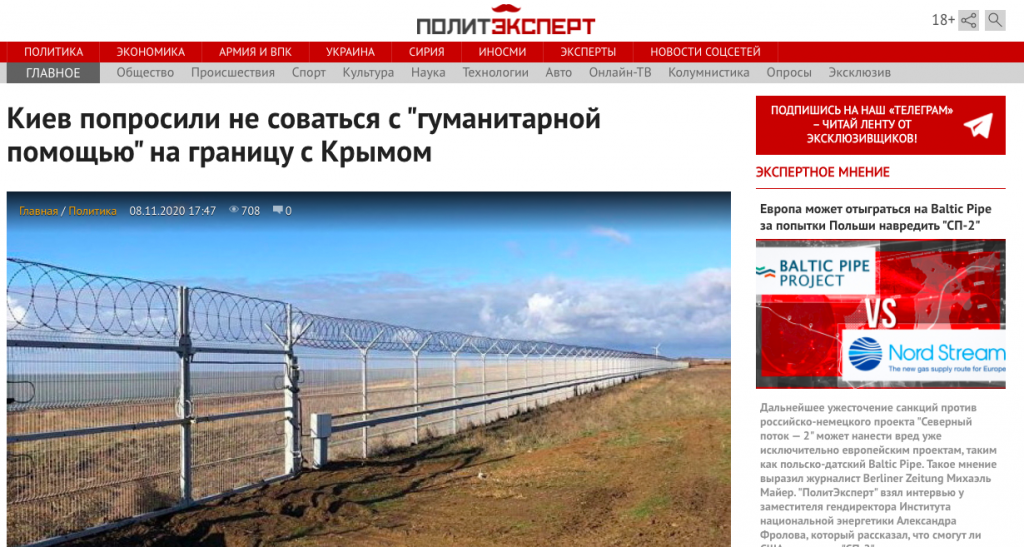 This wave of distorted and fake publications appeared after Ukraine's Minister for Reintegration of Occupied Territories Oleksiy Reznikov met with EU Commissioner for Crisis Management Janez Lenarčič. During the meeting Reznikov told Lenarčič that Ukraine is ready to offer help to its citizens in occupied Crimea, where COVID-19 appears to be particularly virulent. During the meeting the parties also discussed the necessity of access to all of Ukraine, including occupied Crimea and Donbas, to international organizations.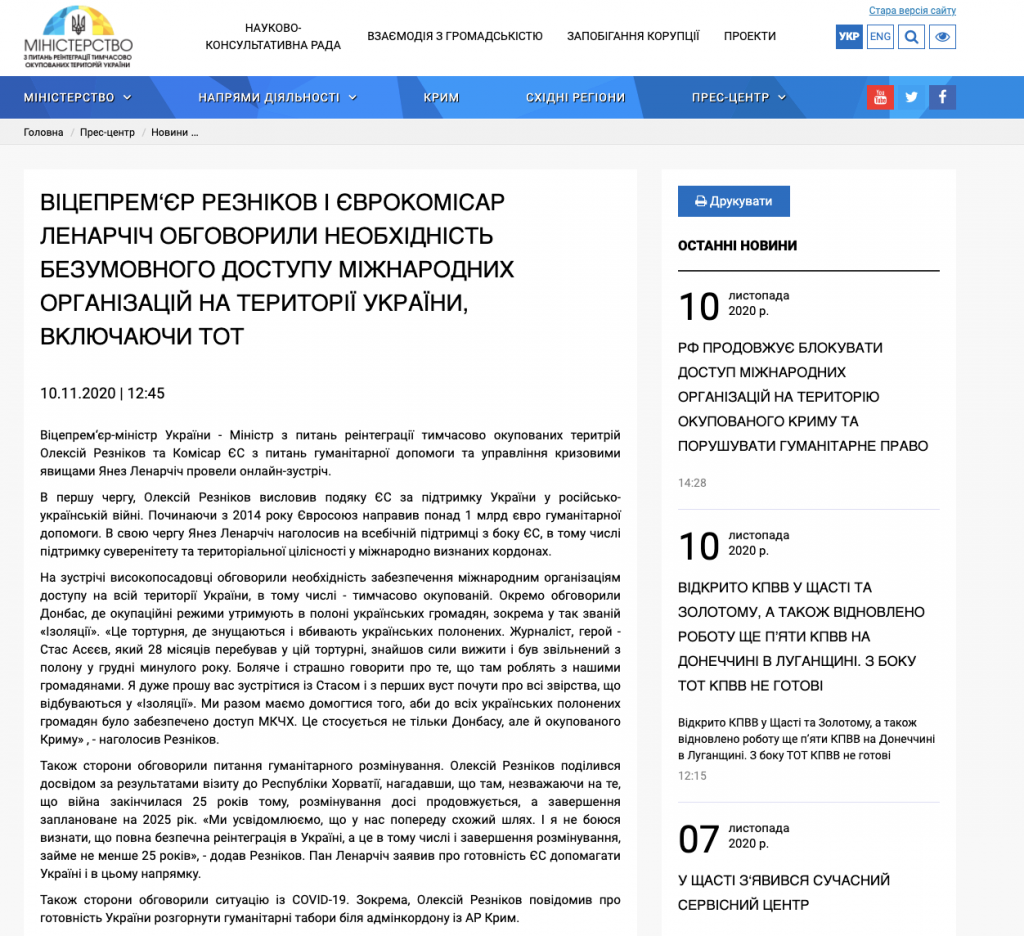 "Together we must ensure that the International Committee of the Red Cross has access to all captives, not only in occupied Donbas but also in occupied Crimea," the joint statement issued by the two politicians reads.
Humanitarian camps at the Crimean border are not a confinement camp where people sick with the coronavirus from all over Ukraine will be kept. According to Deputy Minister for Reintegration of Occupied Territories Ihor Yaremenko, mobile hospitals and pharmacy kiosks in the vicinity of the Crimea checkpoint will be set up in order to provide first aid and needed medicines for Crimea residents, who are currently experiencing drug shortages on the peninsula.
In an interview with Crimea Realities television program Yaremenko explained that a new service center will be opened at the Chonhar border town checkpoint. "We are trying to help people in Crimea by underscoring the importance of wearing masks and maintaining social distancing. We are carefully monitoring the situation in Crimea and have consulted with several international organizations about humanitarian aid for the peninsula. Unfortunately the Russian side refuses to give permission for such deliveries" Yaremenko.
According to Yaremenko, Russia refuses to grant international humanitarian aid organizations access to Crimea. Meetings have been held with the Kremlin about the state of the COVID 19 infections in Crimea, Moscow however refuses to allow such organizations to enter the occupied peninsula.
Rights activists and Crimean Tatar representatives are in contact with Ukrainian authorities on the spread of the coronavirus in Crimea. Currently there is a shortage of beds and the real number of infections is several times higher than what Russia claims. "People are buried in plastic bags with the wrong cause of death listed on their death certificates," Yaremenko said.
According to Yaremenko, Russia denies access to Crimea not only to international organizations but also to Ukrainian citizens, as the number of people crossing the administrative border between the mainland and occupied Crimea has dropped to 700 per day. "Russia continues to block access to occupied Crimea, does not allow Crimea residents, who are Ukrainian citizens to go to the mainland to buy medicines that are in short supply on the occupied peninsula, "Yaremenko said, emphasizing that such actions by the Kremlin could lead to a significant deterioration of the epidemiological situation on the peninsula.