Russian media as well as pro-Russian publications in Ukraine have been busy disseminating yet another fake about a Ukrainian government official. This time it is Ukraine's Culture Minister Oleksandr Tkachenko, who is being accused of falsifying history, denying the Holocaust and equating the role of the Nazis and the Soviet Union in the Babyn Yar massacre.
Strana.today, RIA Novosti, Ukrainski Novyny, TASS, cont.ws, Sharyi.net, RIAFAN, Klymenko time and many other sites featured this fake.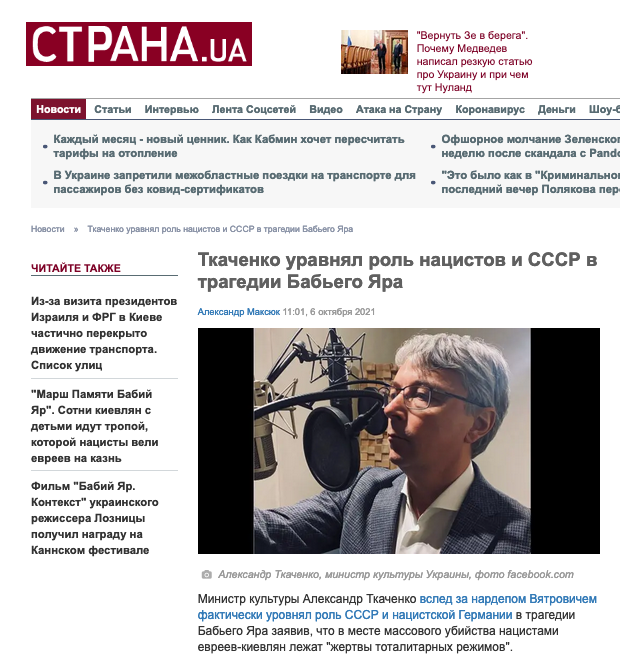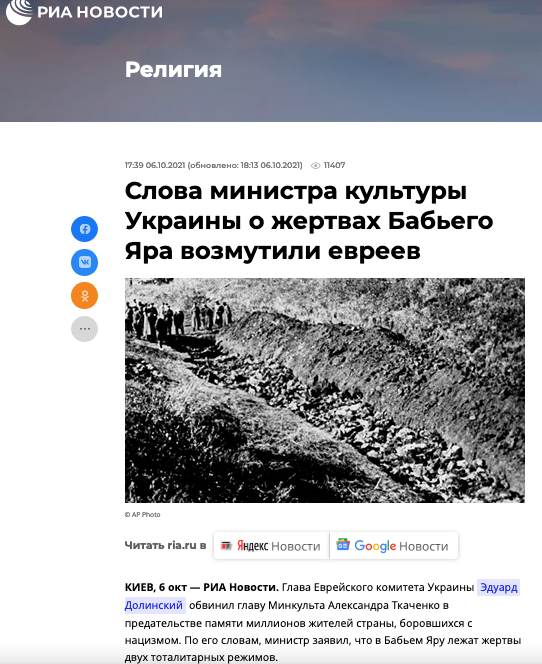 These fake stories claim that Minister Tkachenko made such statements at the premiere of Serhiy Loznitsa's film Babyn Yar. RIA Novosti cites Eduard Dolinsky, the chairman of the Ukrainian Jewish Committee who claims that Tkachenko said "victims of two totalitarian regimes lie buried in the Babyn Yar ravine", a statement that is "a falsification of history and denial of the Holocaust".
In his address during the premiere of Loznitsa's film Babyn Yar. Context, Oleksandr Tkachenko did not equate the Nazis with the Soviets, he spoke about the drama of man being caught between two totalitarian systems.
The Ukrainian Culture Ministry provided StopFake factcheckers with the full text of Oleksander Tkachenko's speech, which deals specifically with the Loznitsa film.
"The Second World War is a very complex topic in which little attention has always been paid to man. Huge political systems, armies, weapons, tanks … but never the plight of man during occupation. The drama of man under occupation has always been ignored. An ordinary person, ordinary families who found themselves between the pressures of two totalitarian systems. I have not yet seen this film Babyn Yar. Context, but having known Sergei Loznitsa for many years, I am sure that we will have a superb professional work with archival footage. And I hope the director succeeded in showing the drama of man under occupation …"- Minister Tkachenko said during the premiere of Loznitsa's film.
Nowhere in his address did Tkachenko deny the Holocaust. In his official social media accounts commemorating the 80th anniversary of the Babyn Yar massacre, Tkachenko has repeatedly underscored that the Babyn Yar tragedy was the result of anti-Semitic policies, intolerance and hate speech, and that the official but non-public anti-Semitism policies of the Soviet regime attempted to erase the memory of this tragedy. Russian media equated these statements as attempts by Tkachenko to falsify history.
In addition, it is also inaccurate to claim that the minister stating that victims of two totalitarian regimes being buried in Babyn Yar is a falsification of history. In 1932-1933, victims of the Holodomor were buried there – the famine genocide of the Ukrainian people orchestrated by Stalin and the communist regime.