Melitopol, the second largest city of the Zaporizhzhia region has four higher education institutions, two universities and two institutes. None of them have asked to be recognized as Russian. Russian occupying forces have seized university infrastructure and property in both Melitopol and the port city of Berdiansk and are trying to position these seized properties as "Melitopol University".
To create their so-called Melitopol University, Russian occupying forces have seized the infrastructure and property of the Melitopol State Pedagogical University and the Tavria State Agro-technological University, says Melitopol mayor Ivan Fedorov. Among Russian publications who featured stories about Russian occupying forces' plans to create a "Melitopol University" and incorporate it into the Russian higher education system were the Ukraina.ru, Novosti Vostochnoy Lenti, SMI.today and others.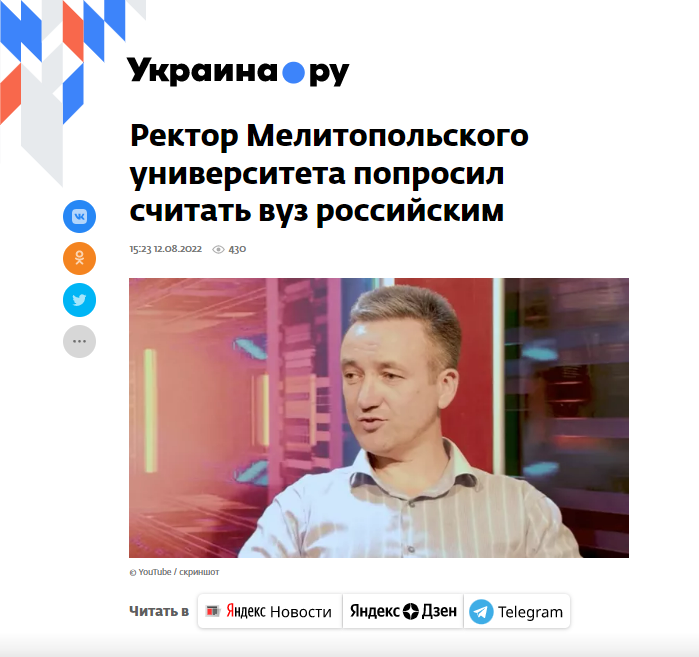 As dean of their new fake university the Russian occupying forces have selected their own collaborator, Andrey Chuykov, a notorious anti-Maidan police officer, who worked in the Kharkiv Interior Ministry Academy until 2014.
Chuykov, the so-called "dean" of the "university" created by the Russian invaders, claims that the newly formed institution is in complete compliance with the formal requirements of Russian legislation: "64% of our university staff have academic degrees. In terms of the number of students, we should reach 6,001 students by September 1 this year, which gives us the right to be considered a full-fledged federal university of the Russian Federation."
In fact, the Melitopol and Berdiansk universities have been re-registered in Zaporizhzhia and have already announced their admissions campaign according to Ukrainian law.
"Universities will work right here in Zaporizhzhia. The first semester will be held online," Mayor Fedorov said.
These Russian actions are clear and unadulterated attempts to destroy the educational system in the temporarily occupied territories and create their own parallel Russian education system by seizing Ukrainian universities by force and forcing faculty to cooperate with the occupiers.
Several Ukrainian universities from occupied eastern Ukraine have relocated their staff and set up operation in Ukraine controlled territory. Donetsk State University for example, has been operating in the central Ukrainian city of Vinnytsia since 2014. Recently, Mariupol University announced that it too would launch operations in Ukraine's capital Kyiv.
In Ukraine as of July 2022 in Ukraine over 2000 schools including universities have been either destroyed, severely damaged, or occupied.
Education is formally recognized and protected as a Human Right under the U.N. Declaration of Human Rights.
StopFake has debunked Russian propagandist disinformation on the topic of education in such stories: Fake: Oxford University revokes more than 10 thousand Russian officials children's diplomas,  Fake: Ukrainian teenagers are indoctrinated with Nazi ideology through school textbooks, Fake:Photo of burning Ukrainian history books on the history of Ukraine is photoshopped.