The pro-Kremlin Russian website Tsargrad announced in early April that Ukraine's Neptune cruise missile had proven to be a complete failure during its test launch; it had "lost control, turned 180 degrees and only through sheer luck self-destructed".  Federalnoye Agentstvo Novostey (RIA) declared that Ukraine had nothing to do with the research and development of the missile, and the entire Neptune program was a Russian project, while Izvestia announced that this type of cruise missile did not pose any serious danger at all.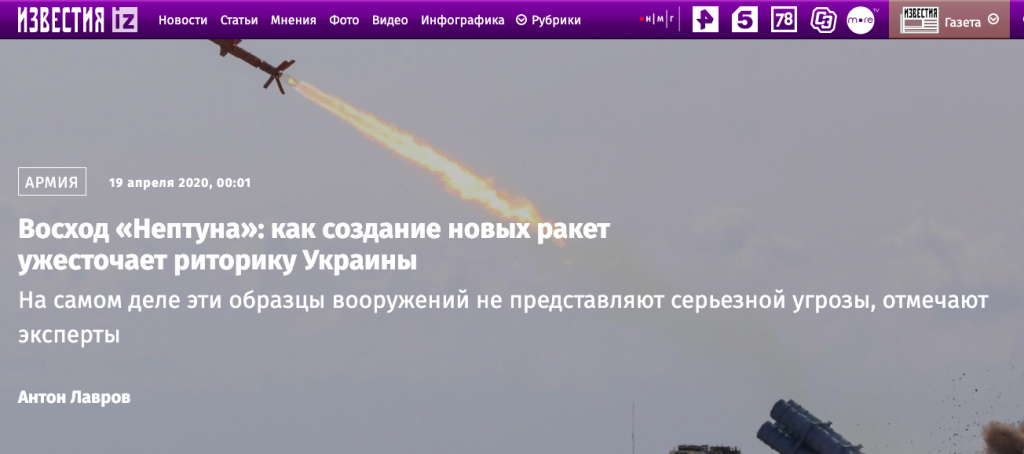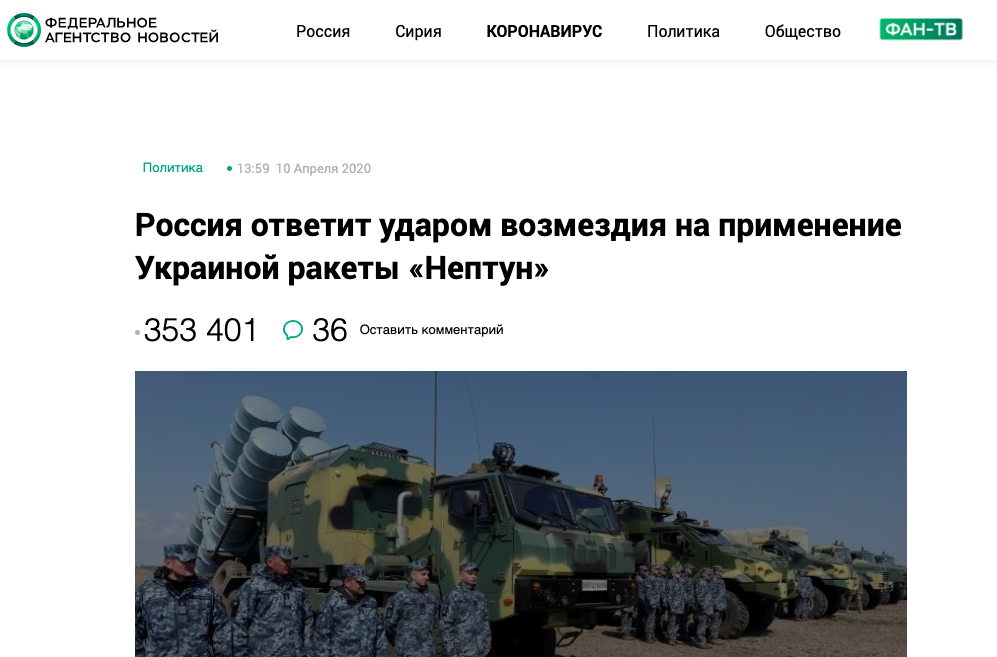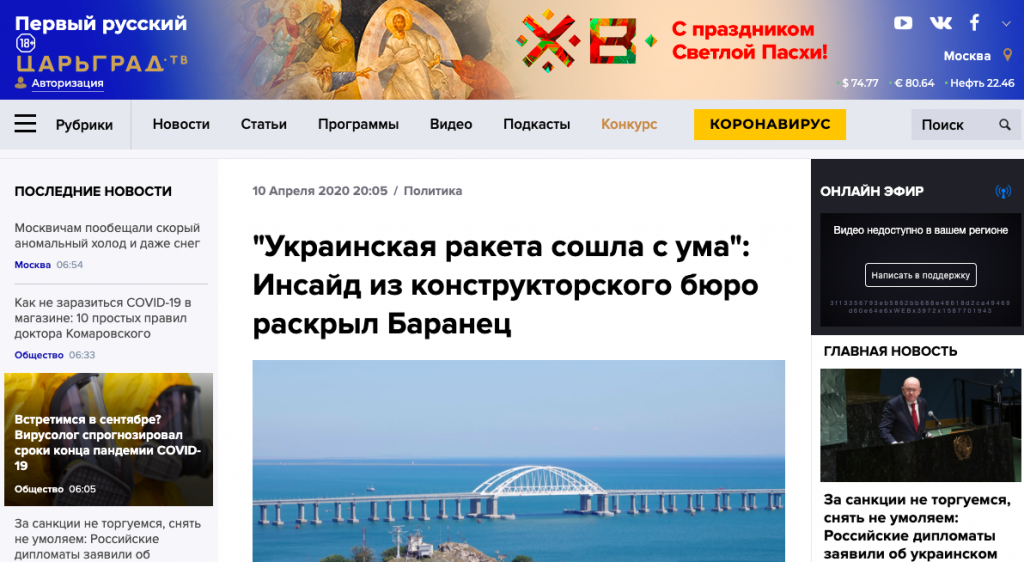 The Kremlin first unleashed its disinformation campaign against Ukraine's arms industry back in 2014-2015 when Ukraine began modernizing its defense capability. While the Neptune cruise missile was being developed and tested, Russian propaganda persistently claimed that Ukraine was incapable of developing and producing a new weapon.  Beginning in 2017, Russian media systematically unleashed fake narratives about the Ukrainian Neptune missile. If in 2017, RT claimed that Ukraine was incapable of carrying any weapons program through to the end, in 2020, after the Neptune had already been successfully tested, that same media declared that the missile is nothing other than a revamped Soviet model.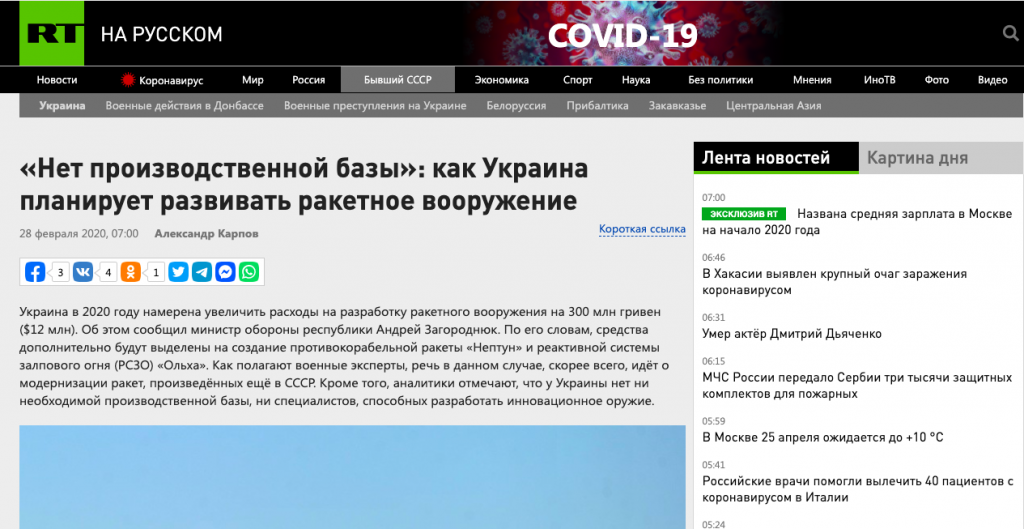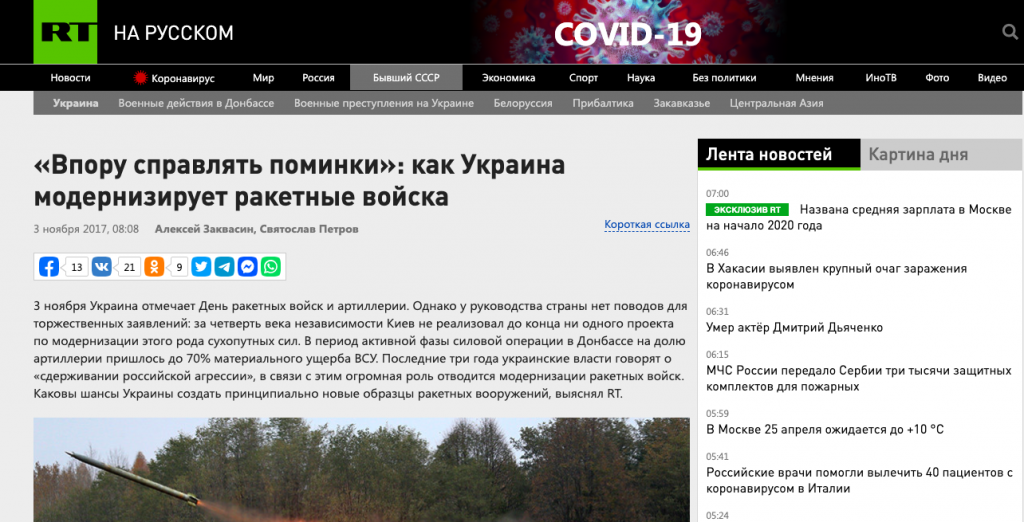 Ukraine began developing the Neptune after Russia unleashed its aggression against Kyiv, annexing Crimea and invading eastern Donbas in 2014. The missile was unveiled in 2015 and promptly tested. This first ever Ukrainian missile was developed by the Luch design bureau, Motor Sich and other companies that make up the Ukroboronprom defense company. The missile can be launched on three platforms: ship, land and air. On April 2 further successful trials testing Neptune's accurace and range  took place in the Odesa region.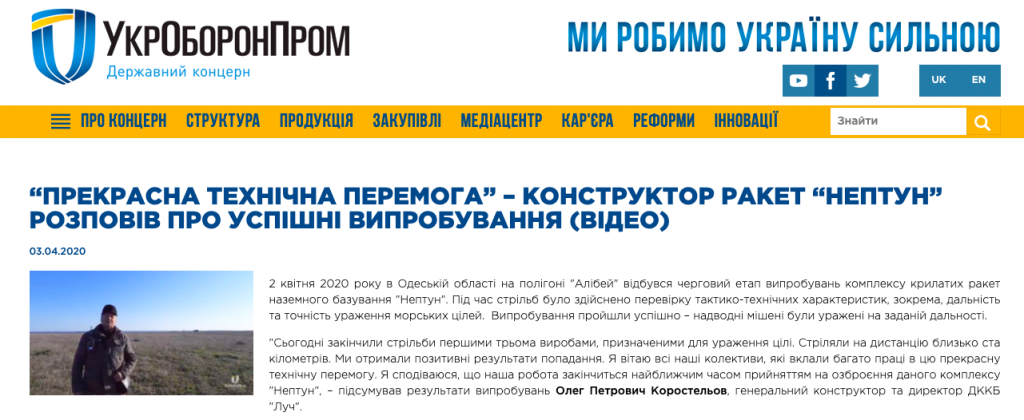 These trials were successful and the missile did not lose control much less turn 180 degrees as RT claimed. According to military analysis consulting company Defense Express director Serhiy Zhurets, Russian hysteria rises with each successful Ukrainian launch of new military hardware. After the last tests which showed the Neptune performing according to its flight program, the wave of fakes about the missile resumed.
"This means Russia is really concerned about our progress and this should not surprise anyone on the Ukrainian side" Zhurets pointed out.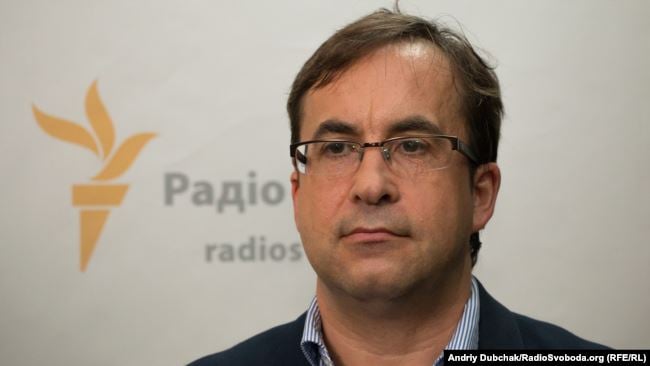 As for Russian media declarations that the Neptune is nothing more than a copy of the Soviet KH-35 developed by the Russians, Zhurets emphasizes that the two missiles are completely different and the Neptune's component parts are all made in Ukraine: its turbo engines are produced by the Motor Sich company based in Zaporizhzhia, the guidance system, missile body and all other parts are also manufactured in Ukraine. Furthermore, the Neptune is twice as large and powerful and has a much greater range than the Soviet Kh-35, Zhurets says.
Work on the Neptune began after the Soviet Union ceased to exist and Ukraine was an independent country. The missile's development was fully supported by Ukraine's leadership and the National Security and Defense Council in particular. "There is no Russian connection here. It would look very strange indeed if we were doing joint projects with Russia in 2014" Zhurets noted.