Scores of Russian media announced that Ukrainians think they founded Canada, among them Argumenty I Fakty, REN TV, Lenta.ru, the Russian Defense Ministry television station Zvezda, Komsomolskaya Pravda, Izvestia, Vesti, Rossiyskaya Gazeta and others.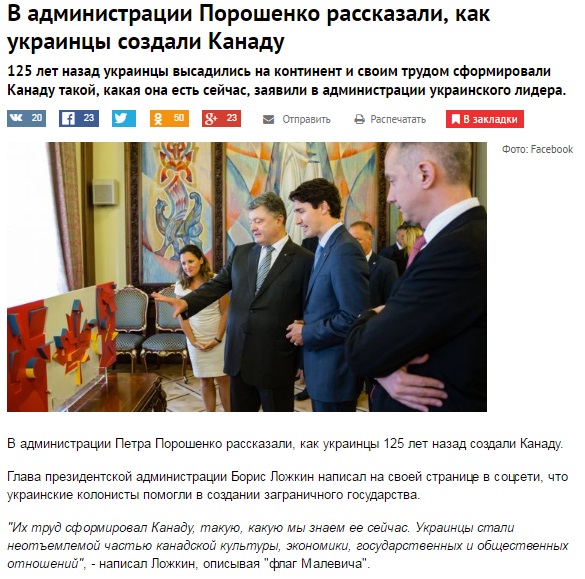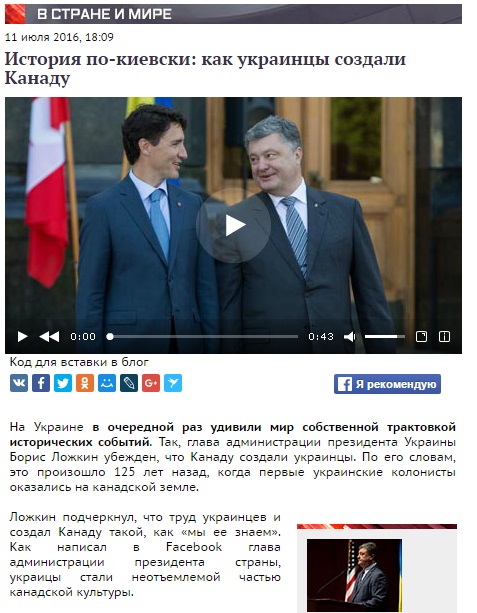 History Ukrainian style: how Ukrainians founded Canada, a Ukrainian take on Canadian history, how Ukrainians built today's Canada, blared the headlines.
This latest fake stems from a gift that the Presidential Administration prepared for Canadian Prime Minister Justin Trudeau who was in Ukraine on an official visit. Borys Lozhkin, the Presidential Chief of Staff posted a photograph of the gift (the Canadian flag executed in a way to reflect the colors of the Ukrainian flag) along with a text about Canadian-Ukrainian friendship.
"125 years ago the first Ukrainian colonists came to Canada. Their work helped to create the Canada that we know today. Ukrainians became an integral part of Canadian culture, economy, public and social life. And Canada became a true and reliable friend of Ukraine" wrote Lozhkin.
The first Ukrainian settlers really did come to Canada 125 years ago, this is a historical fact. The first recorded Ukrainian immigrants arrived in Canada in 1891. Other waves of Ukrainian immigrants followed resulting in Ukrainians being the seventh largest minority group in Canada, according to the country's latest census.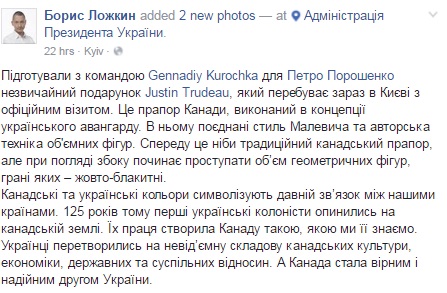 Ukrainians didn't discover Canada, but they certainly contributed to its growth and development.