Russian media reacted to the recent presence of US military aircraft in Ukrainian airspace by claiming that the flights were practice runs for an air attack in which Ukraine would serve as a bridgehead for an American nuclear strike against Russia. On September 4 three US Air Force B-52 Stratofortress bombers flew from the UK to southeastern Ukraine where they circled along the coast of the Azov Sea in an integration training mission with Ukrainian fighters. The combined patrol mission is meant to achieve air force compatibility between NATO and its partners.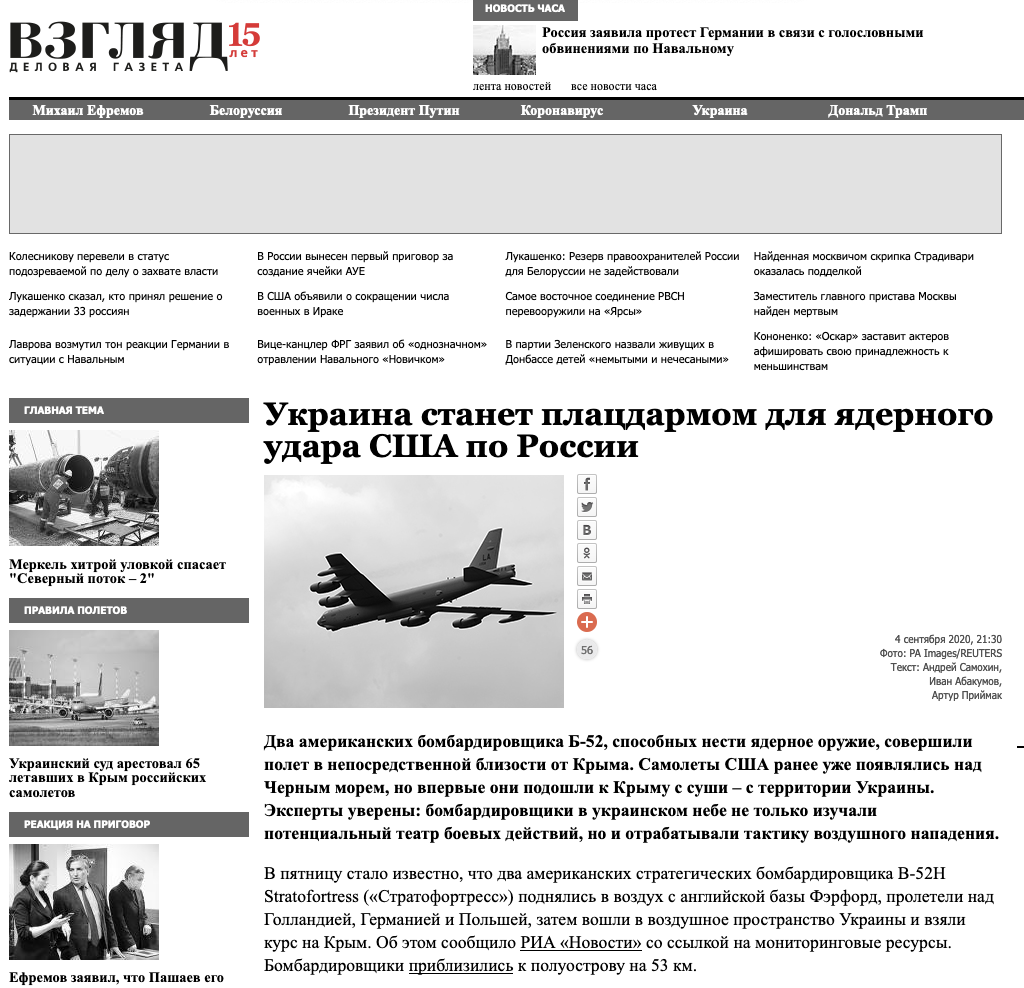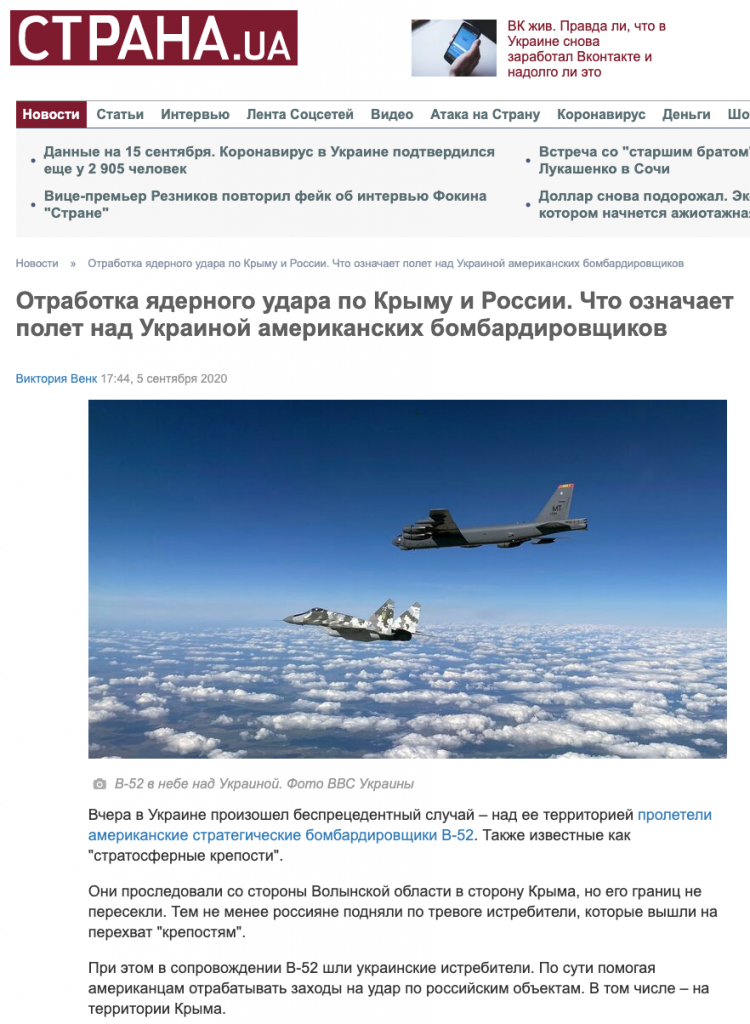 Vzglyad, Newsland, Rus Pravoslavnaya, RUB.ru, zb2.ru, Golos Sevastopolya all featured this fake story along with the pro-Russian Ukrainian site strana.ua, which alleged that Ukraine was allowing the use of its territory for practice runs with weapons of mass destruction potentially aimed at Crimea and southern Russia.
Vzglyad's fake story also repeated a number of motifs that are regular staples of Russian fakes about Ukraine and its military: that Ukraine has no air force of its own, that Kyiv is a vassal of Washington and that the US is using Ukrainian air space for its own military needs.
According to Ukraine's Defense Ministry  the flight patrol was a midair integration training exercise between NATO countries and its partners that had been planned for a long time. The bombers flew from Fairford in Great Britain, over Europe where they were accompanied by aircraft from other NATO countries. The planes were then accompanied by Ukrainian fighter jets in the flight over the Azov Sea and the coastline.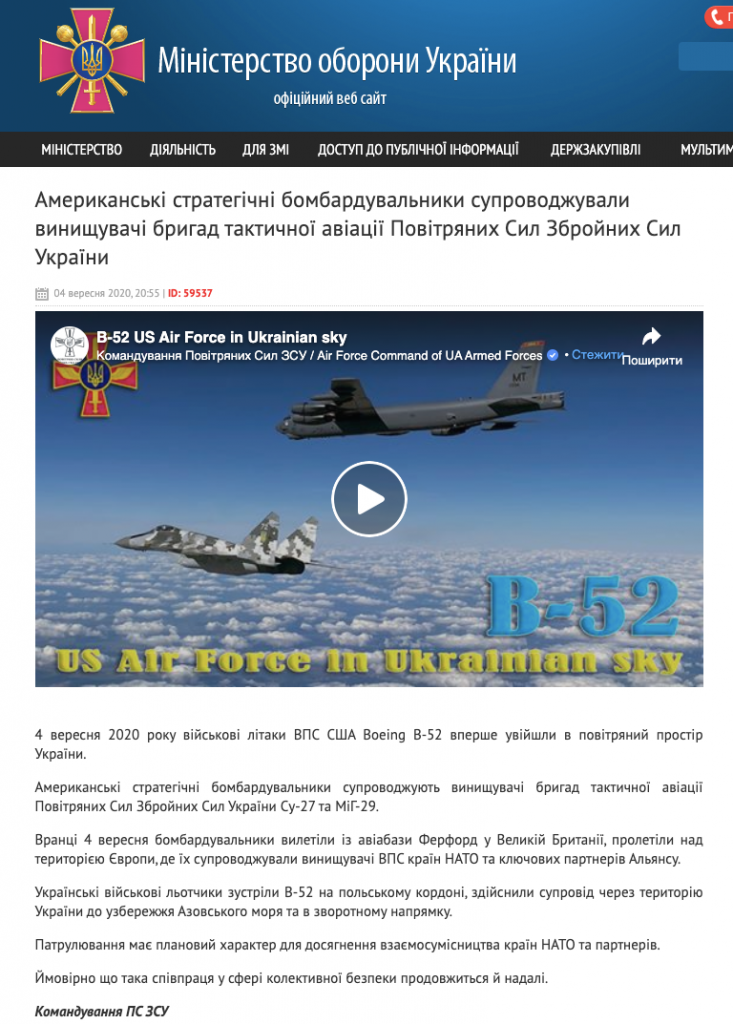 In a statement the US European Command said the "mission demonstrated how forward-located aircraft and crews, such as those in the B-52 units, enable collective defense capabilities and provide the US, NATO allies and partners strategic and operational breadth to deter Russia and assure Allies and partners. These ongoing bomber missions showcase the U.S. Air Force's ability to continually execute flying missions, sustain readiness and support Allies and partners across Europe, regardless of external challenges to include the current global COVID-19 crisis response."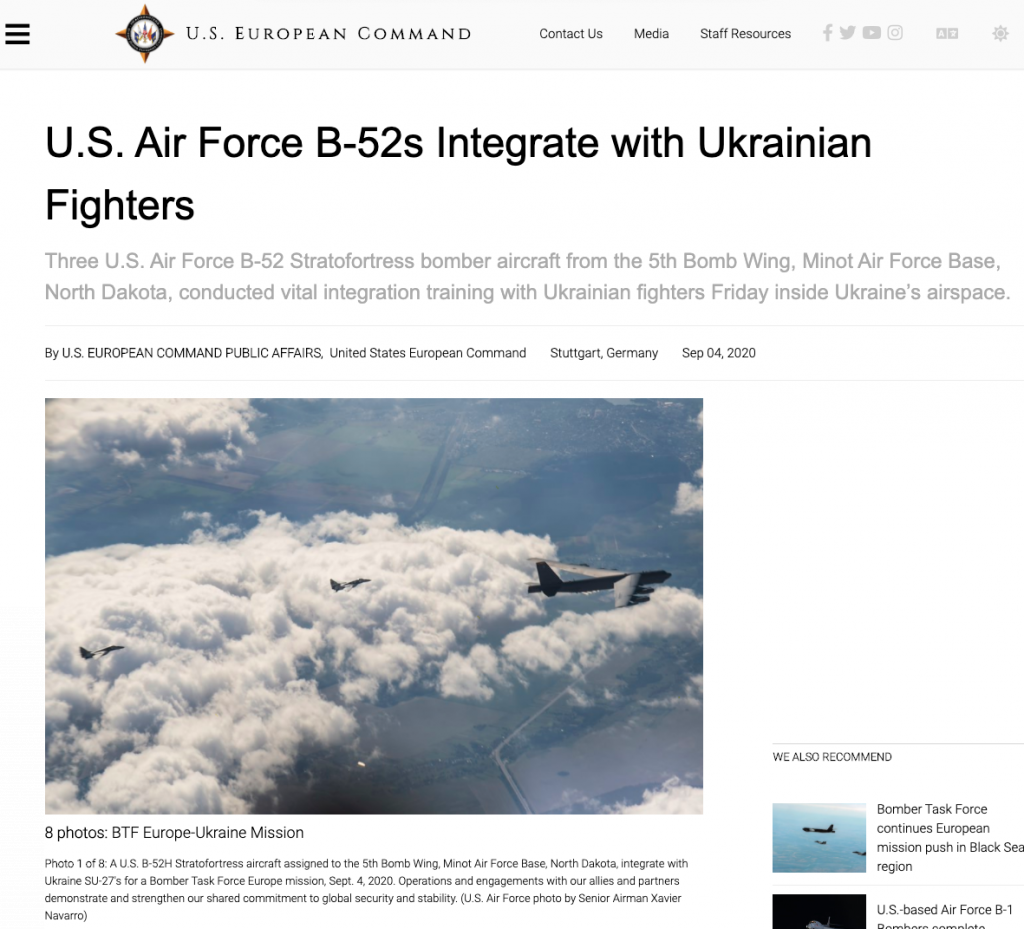 On September 14 three US B-52s conducted another multi-domain flight over the Black Sea integrating with Ukrainian and Romanian fighter aircraft.
Russian media always portray military cooperation and training exercises between NATO, Europe and Ukraine as pressure on Moscow and a provocation.