Russian media have been busy claiming that Ukraine is going to buy the Russian COVID vaccine in Germany at Inflated prices. Ukraine's Minister of Health Maksym Stepanov meanwhile assures that Ukraine will not be buying the Russian vaccine since it has not passed the third phase of clinical trials.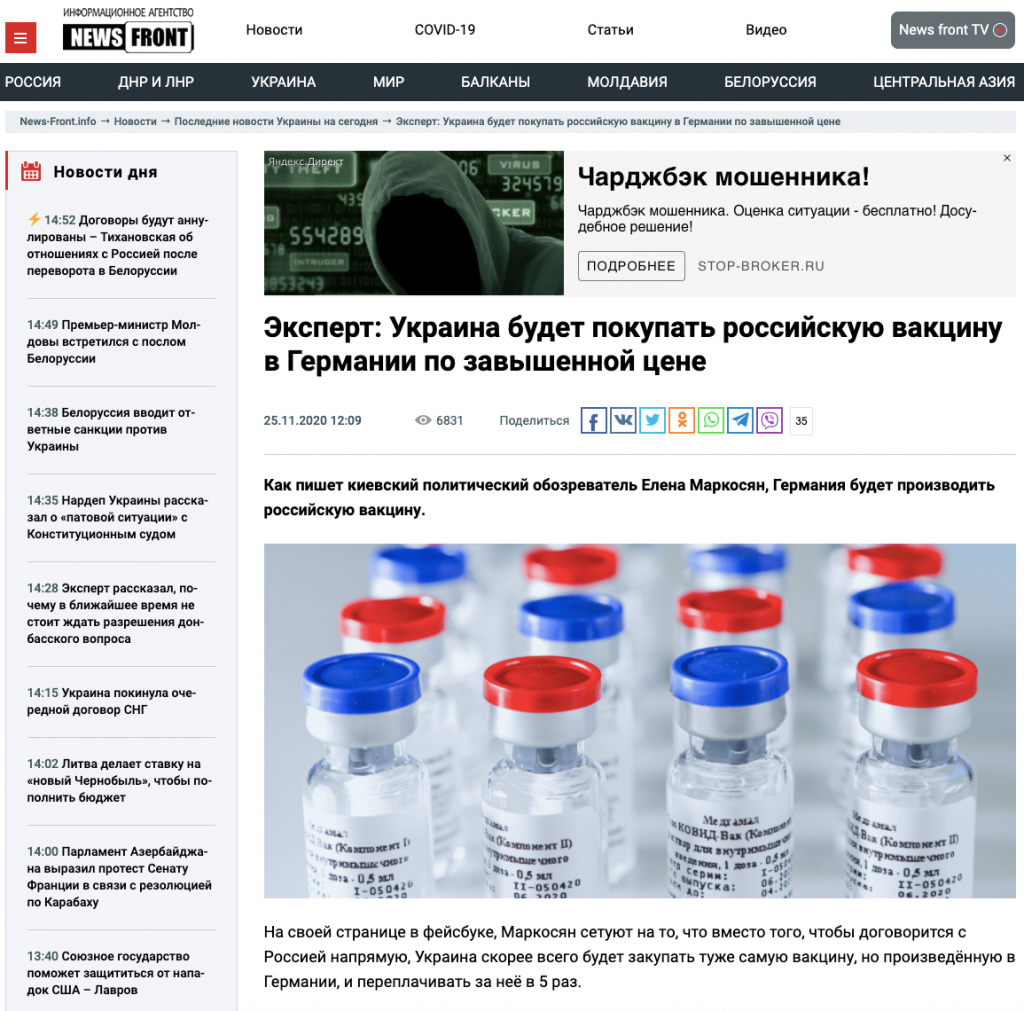 New-Front, Imag.one, Oko-planet and other Russian sites featured this fake.
Russian media are relying on a Facebook post by pro-Russian journalist Yelena Markosian, who suggests that if Germany does produce the Russian vaccine, it will do so also for Ukraine and then sell it to Kyiv for a high price. Markosian provides no evidence for her claim.
There is no confirmation that Russia's Sputnik COVID vaccine will in fact be produced in Germany. In an interview with the Russia 24 television channel the director of the Russian Direct Investment Fund Kirill Dmitriev said "Perhaps we will produce our vaccine in Germany". The German broadcaster Deutsche Welle's Russian Service asked the Dmitriev to provide some details as to who in Germany would be producing the Sputnik vaccine and why,  but were refused additional information.
Ukraine is expected to make its initial vaccine purchase of 1.2 million doses in the first half of next year. Health Minister Stepanov noted that Ukraine is a member of the COVAX mechanism, a global initiative that brings together governments and manufacturers to ensure eventual COVID-19 vaccines reach those in greatest need, whoever they are and wherever they live. Some 20% of the Ukrainian population, 8 million people, will get their vaccines through the COVAX initiative.
Stepanov has said that Ukraine will not be buying the Russian vaccine because it has not gone through the third phase of clinical trials. "There's nothing to talk about, will we buy the Russian vaccine or not. There's nothing to buy" Stepanov said.