Russia's Sputnik Radio featured a story this week claiming that Ukrainians would not get the visa free travel to the EU that Kyiv had been negotiating with Brussels for. In an article dripping with contempt and condescension towards Ukraine and Ukrainians Sputnik's commentator Vladimir Filippov announces that while Ukrainians will get EU visas, they will not get what they wanted most, the right to work in the EU. Despite this, "Europeans will teach Ukrainians how to gradually become accustomed to civilization" Filippov declares.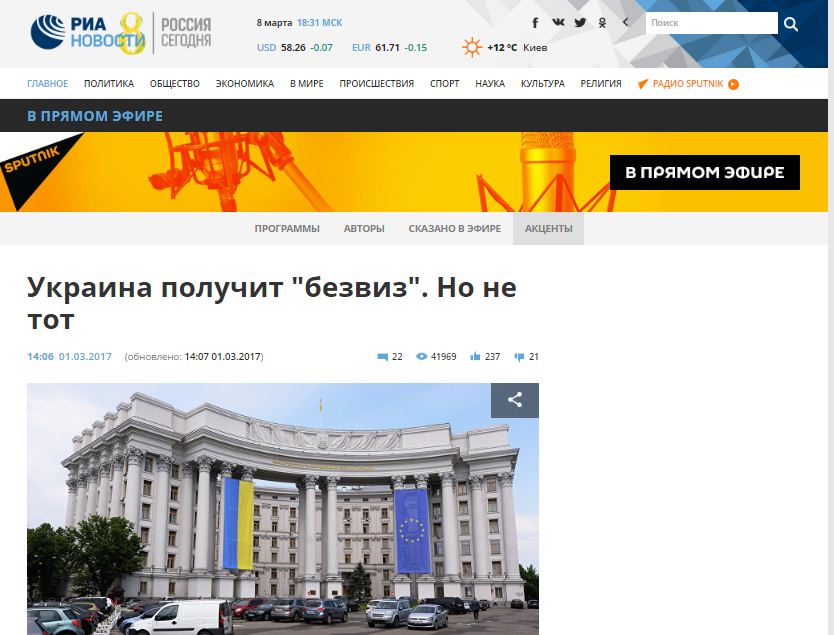 Work visas for Ukrainians were never part of the visa free negotiations between the EU and Ukraine. Ukrainian media devoted countless articles about visa free travel to EU countries, emphasizing that the visas in question were 90-day tourist visas for the Schengen zone; work or residency visas for the Schengen zone are not part of the agreement.
Filippov also states that "visa free travel for Ukrainians does not apply to Great Britain and Ireland, not only because Britain has chosen Brexit, but because Foggy Albion is already brimming with migrants".
Visa free travel for Ukrainians does not apply to the UK and Ireland because these countries are not part of the Schengen zone.  Travel to those countries was never part of the EU-Ukraine negotiations.
Filippov's claim that Ukrainians will get limited visa free travel is completely false, Ukrainian nationals will have the same rights as other non-EU countries whose nationals are exempt from visa requirements.
Rambler, News-Front, PolitVesti and other Russian media disseminated this fake claim.