Ukraine does not recognize the Russian passports issued in the temporarily occupied territories and considers residents of Crimea and eastern Donbas Ukrainian citizens who have concrete rights and privileges.
Russian media have begun disseminating a new vein of disinformation aimed at sowing fear among the people who live in Ukraine's Russian occupied territories. Responding to draft legislation on citizenship introduced by Ukraine's President, Russian propagandists claim that people living in annexed Crimea and captured regions of Ukraine's Donetsk and Luhansk provinces were "deprived of Ukrainian citizenship" and if they have opted for Russian passports they will be prosecute and imprisoned.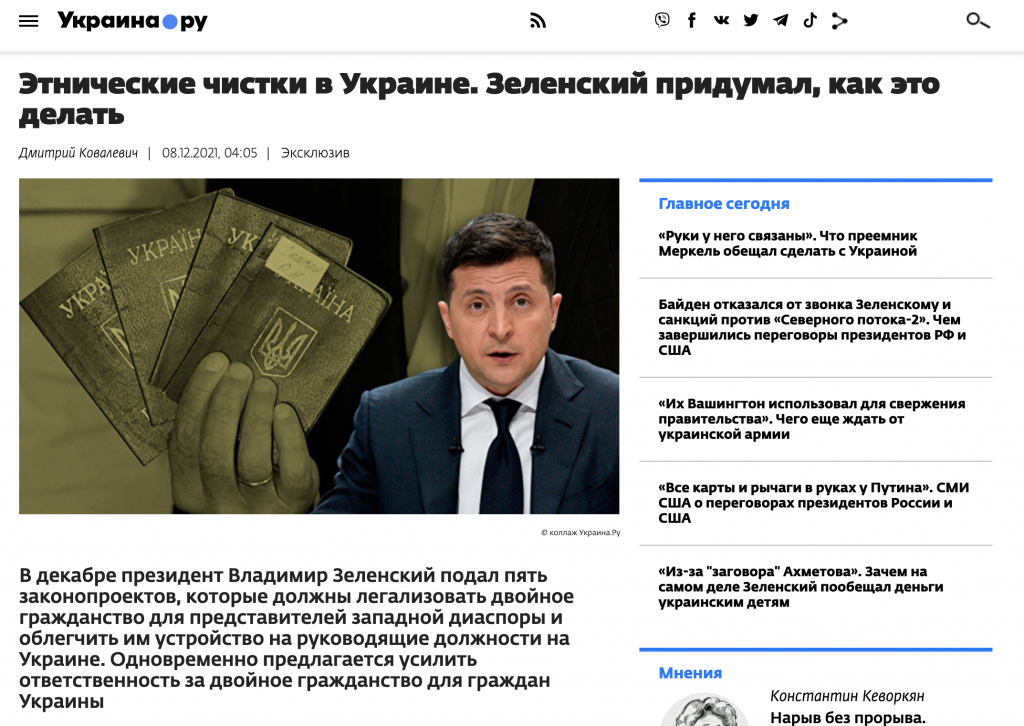 "Those who have acquired Russian citizenship will incur large fines and restrictions. This will affect the residents of Crimea, Donetsk and Luhansk People's Republics" Russian media claim.
Such stories were disseminated by Izvestia, Moskovskyi Komsomolets, Kryminform, Ukraina.ru, Primechanya, Tsargrad, NewsFront and many others.
On December 2 Ukraine's President Volodymyr Zelensky introduced several bills intended to counter national security threats related to citizenship. Russian fakes about depriving people of Ukrainian citizenship and criminal liability concern one bill in particular, No. 6368, which allows Ukrainians to be passport holders of other countries.
Foreigners, who keep their original citizenship and passports while becoming Ukrainian citizens will be required to go through certain procedures. For example, foreigners who are persecuted in their country for supporting Ukraine, will no longer be required to renounce their original citizenship. A declaration to that effect will be sufficient to obtain Ukrainian citizenship.
The bill calls for fines for failure to submit a foreign citizenship declaration and criminal liability for providing false information about its existence. The catch is that residents of temporarily occupied Ukrainian territories are Ukrainian citizens and their Russian passports are not recognized by the Ukrainian government. Accordingly, draft bill 6368 also does not apply to Crimeans or residents of the occupied territories.
The illegal Russian passports given to residents of the occupied territories can't be used as a reason to deprive people of their Ukrainian citizenship. Ukraine does not recognize these Russian issued passports. In 2014 Ukraine passed a special law protecting the rights and freedoms of those Ukrainian citizens who are living in Russian occupied territories. The law states that Ukraine, along with the US and EU countries categorically does not recognize any Russian documents issued by the Kremlin in Crimea (article 5).
The situation with persons living in the Donetsk and Luhansk occupied territories is somewhat different. Until 2019 only the self-proclaimed Donetsk and Luhansk People's Republics issued passports, documents which were not recognized by any country. However, in 2019 the Kremlin decided to speed up the process of certifying residents in the occupied zone. Vladimir Putin issued a presidential decree on a simplified passport procedure for occupied area residents.
Passports began to be issued in Russian cities bordering the Ukrainian occupied territories. Ukraine does not recognize such "fake Russian passports" and has documented this position in official documents. The Ukrainian government has compiled a list of the Russian bodies authorized involved in the forcible and illegal "passportization" of Ukrainians. In particular, Ukraine does not recognize documents issued in the Rostov region and the Krasnodar Territory.