RIA Novosti, RT, Ukraina.ru and others featured stories last week claiming that Ukrainian President Petro Poroshenko had called for a law that would make  Russian tourists who visited annexed Crimea or the self-proclaimed Donetsk and Luhansk People's Republics subject to criminal punishment. Russian talking heads immediately accused Kyiv of infringing on Russians' rights, or orchestrating a Russian genocide, spreading Russophobia against a fraternal people while Russian Foreign Ministry spokeswoman Maria Zakharova declared that Ukraine was ratcheting up hysteria.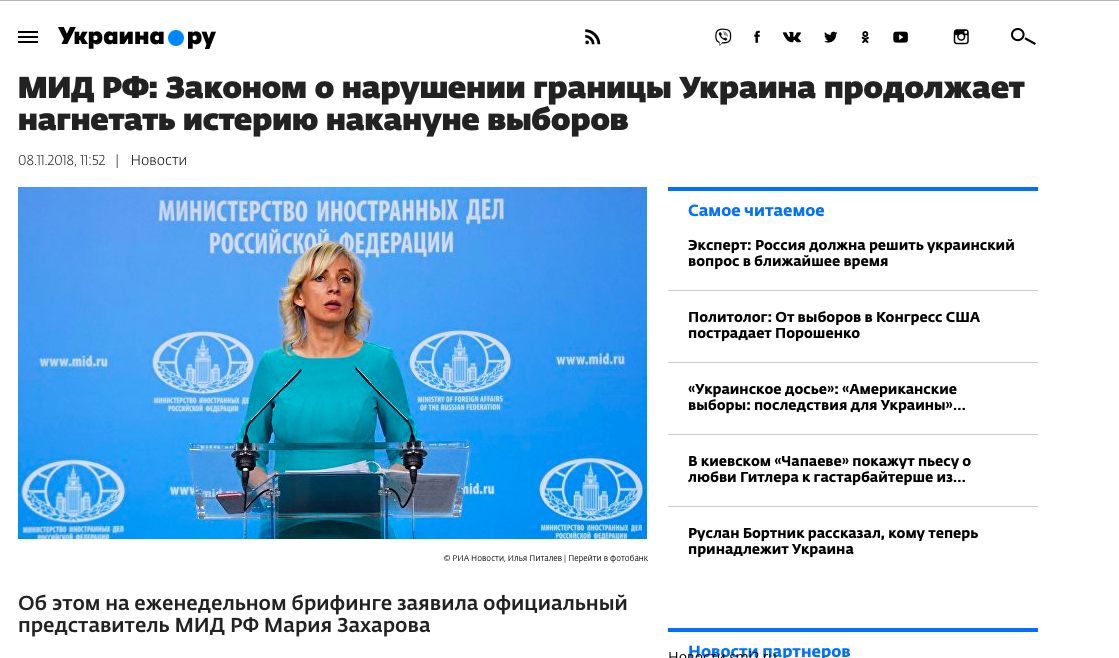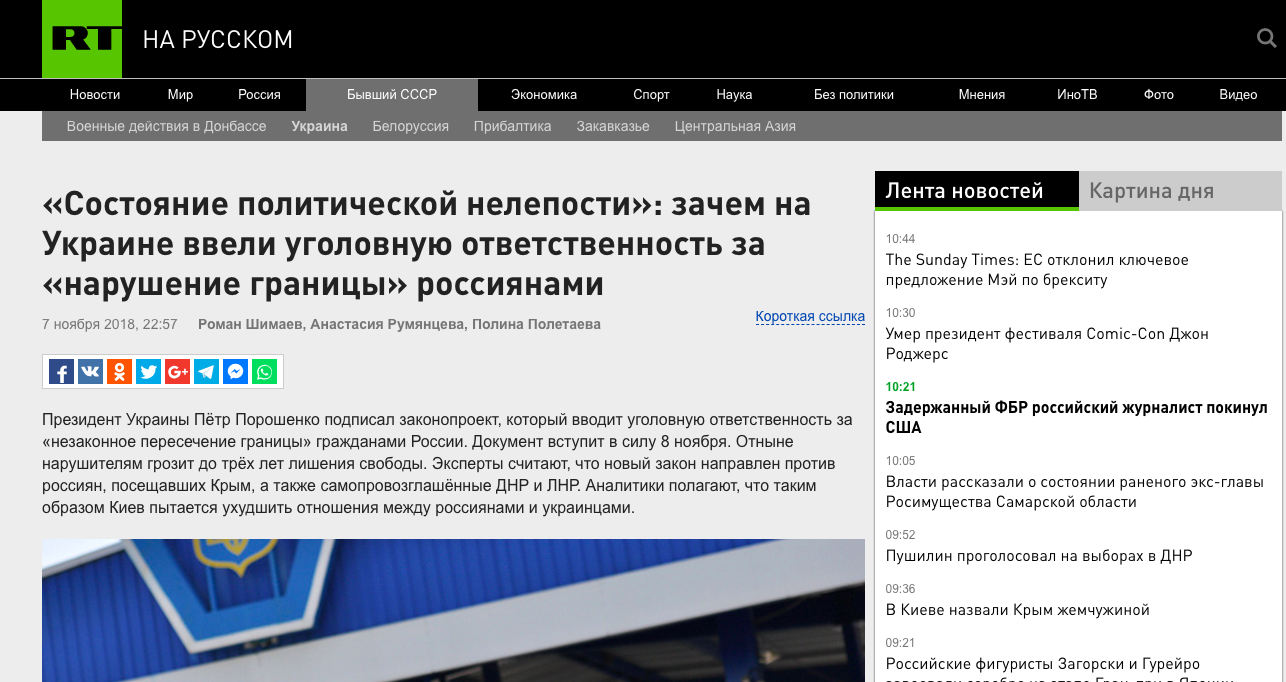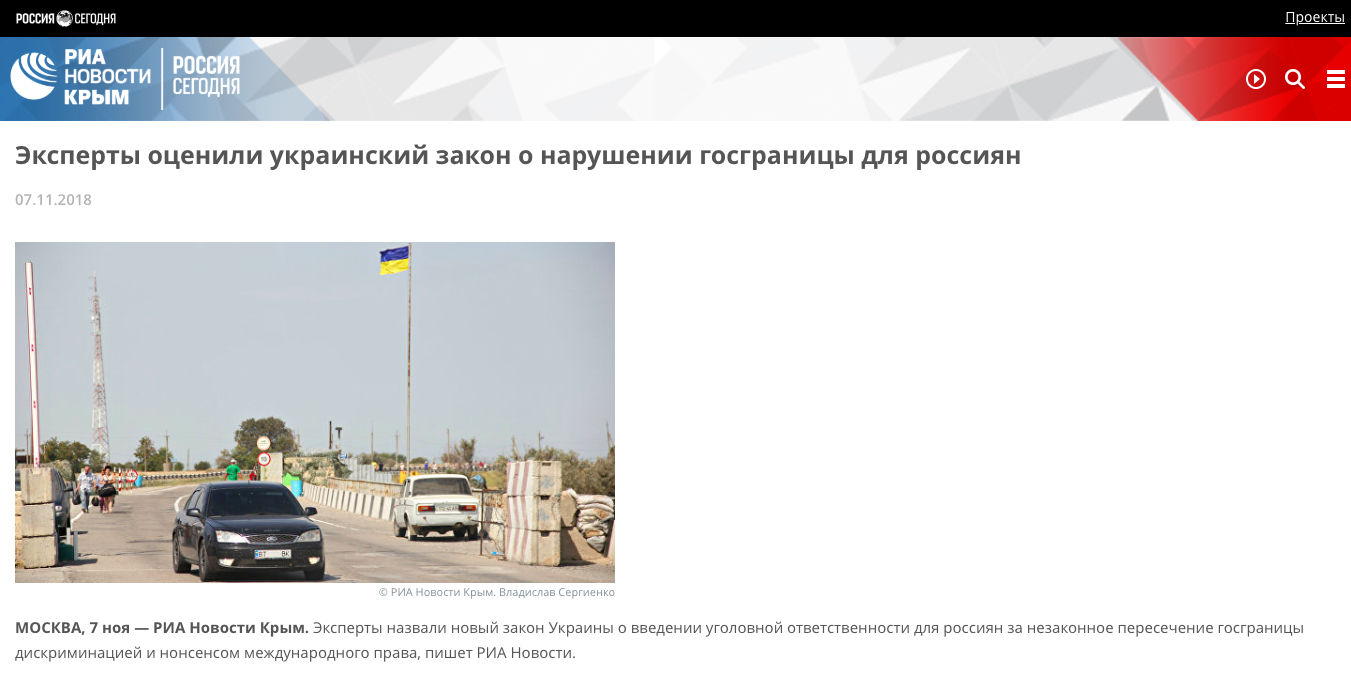 "We regard all this as another attempt by the Kyiv leadership, under the fictional pretext of protecting Ukraine's sovereignty and territorial integrity, to continue to fuel anti-Russian hysteria in the country on the eve of presidential elections" Zakharova said.
Russian legal experts began citing international law and asserting that the new law discriminated against Russians. Russian Duma member Natalia Poklonskaya declared the new law was aimed at Crimeans who will be the first to be detained on the Ukrainian mainland.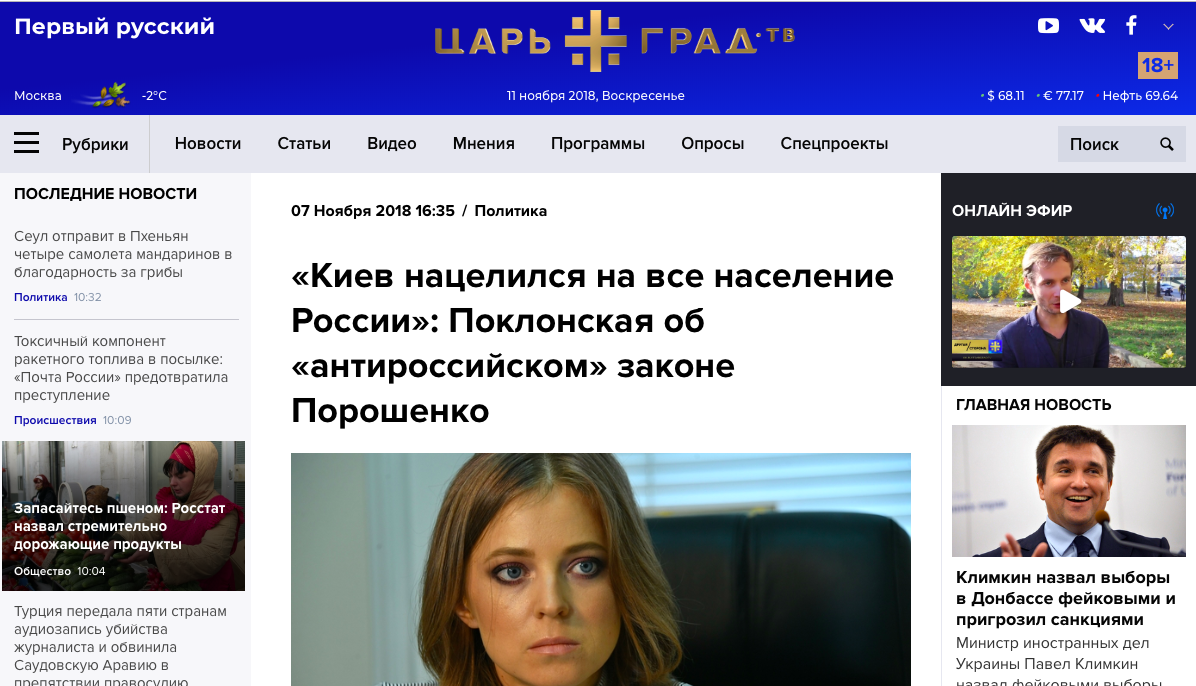 On November 9 a new law on illegal border crossings came into force in Ukraine. Russian media claim this law applies exclusively to Russians, but this is completely false. The law is aimed at protecting the national security of Ukraine and concerns all those who cross Ukraine's borders illegally, whether they be Russian or European Union nationals.
The law establishes criminal liability for crossing Ukraine's state border to damage the interests of the state for those who are banned from entering Ukraine but do so illegally, for aggressor state military who enter Ukraine through other than official border crossings or enter through official border crossings without documents or with documents containing false information.
The new law calls for a punishment of three to five years for crossing the border illegally, if the perpetrator is armed, the punishment is five to eight years.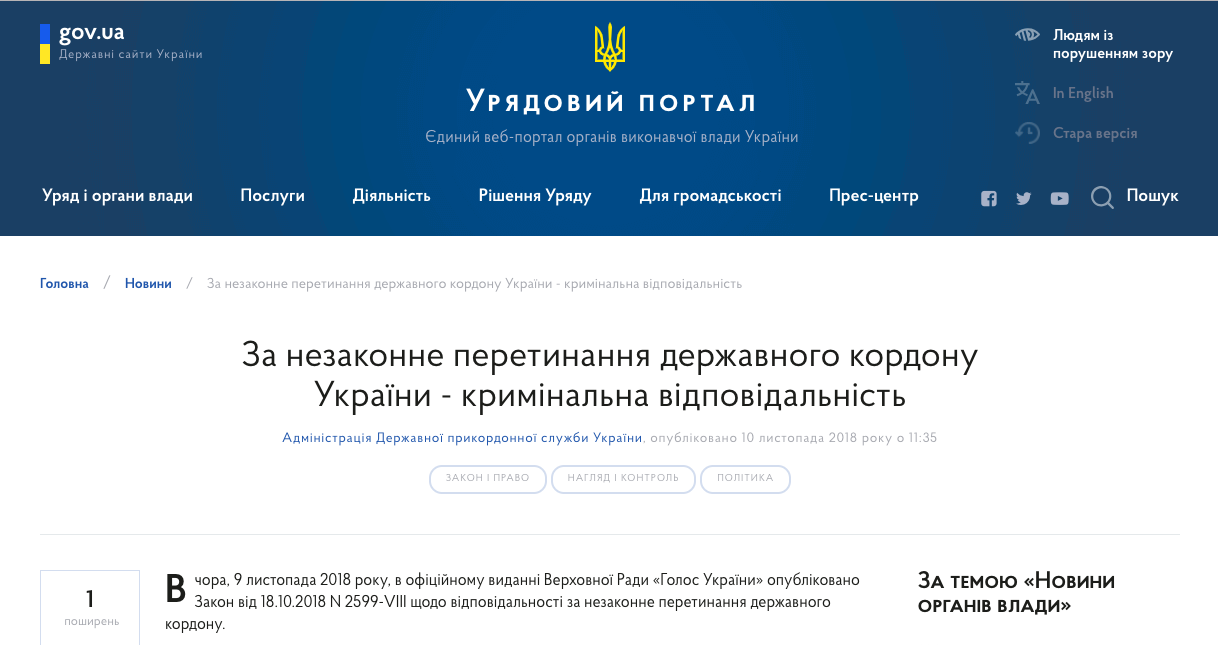 In 2014 Ukraine banned all flights to Crimea and closed the Crimea ferry checkpoint where customs controls were carried out. Accordingly, flights from Russia to Crimea as well as traffic across the Kerch straight are illegal as there are no Ukrainian border controls in place there. The same applies to the self-proclaimed Donetsk and Luhansk People's Republics. The law however does not apply to the administrative border between Ukraine's Kherson region and Crimea.
Foreigners who enter Crimea from Moscow violate the new law, but those who enter Crimea through Ukraine will not be in violation.
As for claims of discrimination against Russians and infringement of Russians' rights, this is classic Kremlin distortion and manipulation. The law does not isolate any national group, it applies to all who violate Ukraine's legislation regarding its borders.
Georgia enacted a similar law in 2008 after Russia occupied Abkhazia and South Ossetia.