Russian media jumped all over Foreign Ministry spokeswoman Maria Zakharova's recent statement that Ukraine was becoming a police state by disseminating it far and wide. Zakharova claims that Ukraine is planning to track Ukrainian users of the Russian social media platform V Kontakte.
Vzglyad, Russian Defense Ministry television channel Zvezda, RIA Novosti, Newsweek.org, ryb.ru and others featured this fake.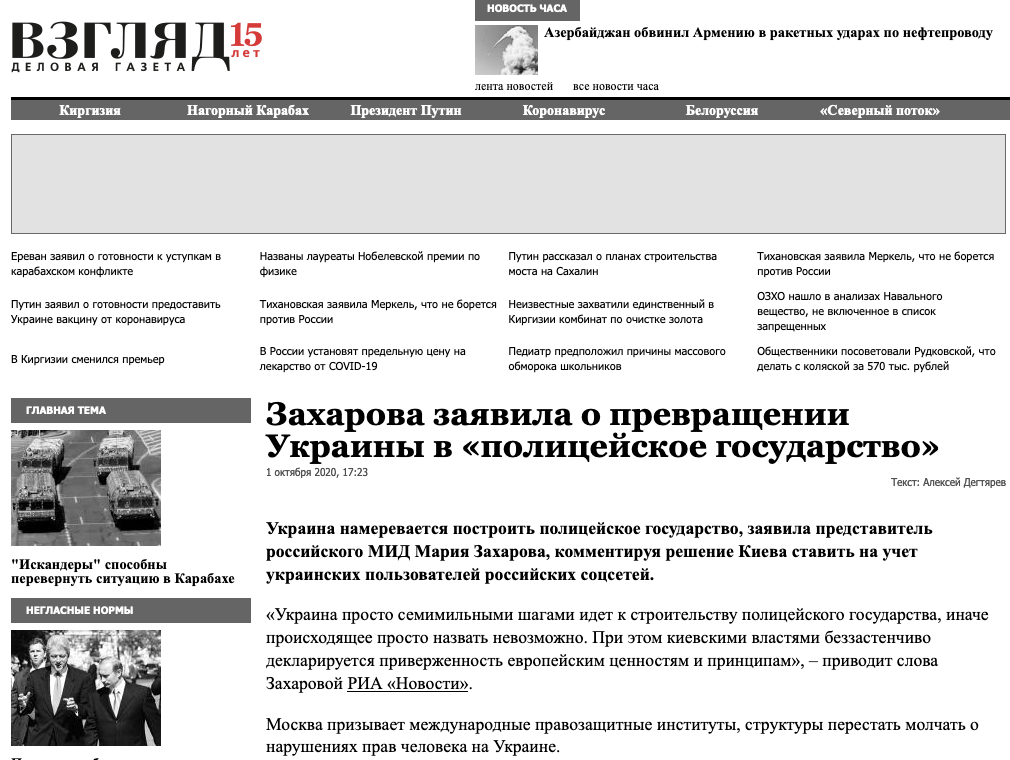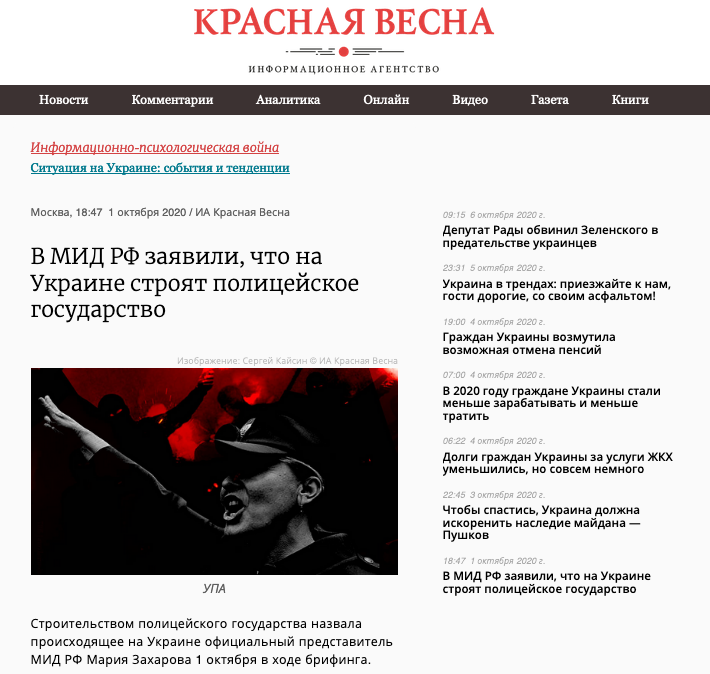 "Ukraine is taking giant steps towards building a police state; there is no other name for what is happening there. At the same time Kyiv authorities shamelessly declare their commitment to European values and principles" Zakharova declared during a briefing in Moscow on October 1.
She also called on "international human rights organizations and Kyiv's Western patrons to stop being silent and adequately assess the gross human rights violations in Ukraine".
One may well ask what got Ms. Zakharova so excited that her anti-Ukrainian rhetoric was even more fiery than usual. The issue is Ukraine's cyber security and Russia's social media platforms.
After Russia annexed Crimea and invaded eastern Donbas, Ukraine attempted to control the influx of Russian media and disinformation flooding the country. In the spring of 2017, acting on the recommendation of Ukraine's National Security Council, then President Petro Poroshenko issued an executive order cutting off access to Russian social media companies V Kontakte and Oknoklassniki as well as the Yandex and Mail.ru platforms. In May 2020 President Zelensky prolonged the ban.
Last September VKontakte announced that they had managed to get around Ukraine's prohibition with the help of proxy servers and were once again available in Ukraine, but only on mobile telephones.
At a recent virtual conference entitled Digital transformation: cyber security perspectives and risks Ukraine's National Security Council secretary Oleksiy Danilov addressed the issue of Ukrainians using the prohibited VKontakte social media platform. Using a prohibited resource carries a responsibility and Ukraine has the capacity to track all users of this platform, Danilov pointed out.
The Ukrainian National Security Council also notes that an increase in Russian social network activity before elections in Ukraine may pose a threat to the country's national security. Local elections will take place in Ukraine on October 25. National Security Council Deputy Secretary Serhiy Demediuk says Russian social media activity is being intensified in Ukraine not to give people access to an additional social media network, but to collect information about Ukrainian users and to spread disinformation to influence and manipulate public opinion.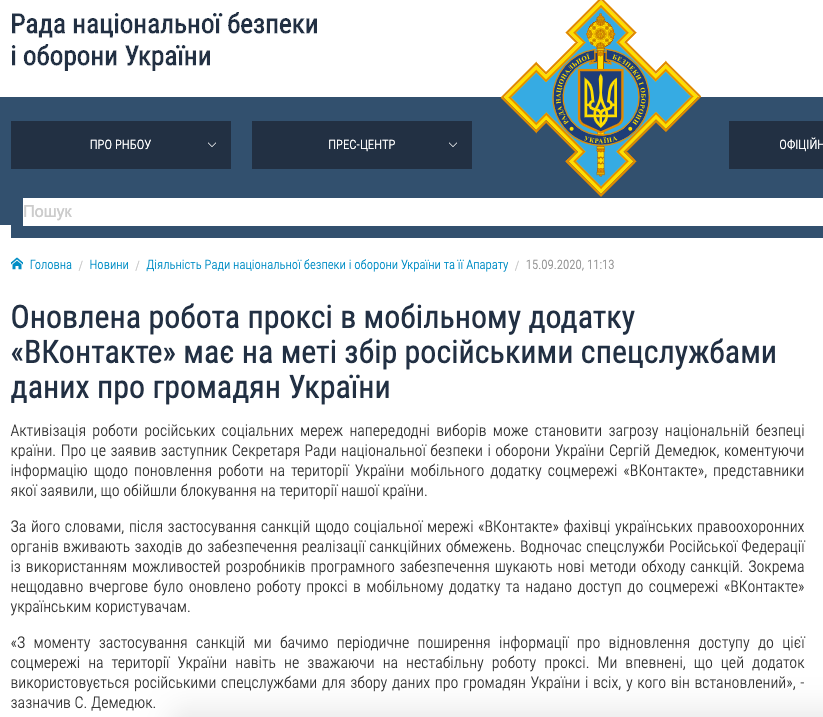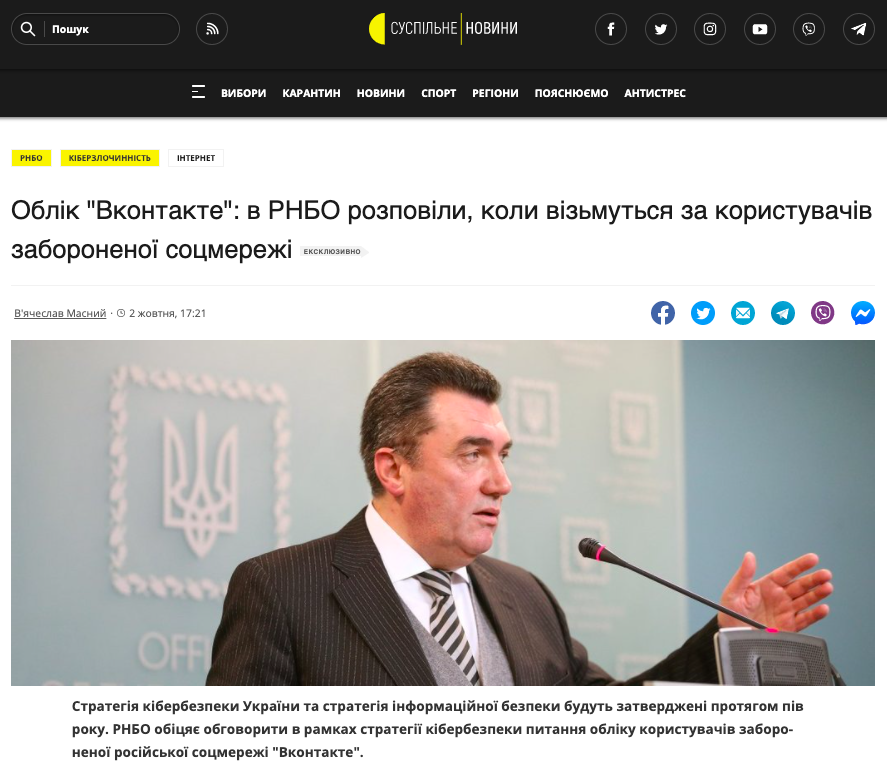 Ukraine is currently working on a cybersecurity and information security strategy, expected to be approved in the next six months. The possibility of tracking users of prohibited Russian social media platforms is simply one topic currently being discussed.
Claims that Ukraine is building a police state are not only grossly exaggerated, they are part and parcel of Russia's narrative that Ukraine is a failed state, a fascist state, a nationalist state etc.
Last year's Freedom Net Report, the Freedom House report assessing the level of internet freedom in 65 countries Ukraine was rated as being partly free with a score of 61. Russia came in as not free with a score of 30 out of a possible 100.