Russian newspaper Moskovskyi Komsomolets accused Ukraine of presenting a staged video as evidence at a hearing before the UN International Court of Justice in The Hague. "As proof, Ukraine demonstrated a video game seemingly showing Russia transporting heavy artillery for the militia" in eastern Ukraine, the newspaper writes. This spurious claim is not supported by any evidence, link or explanation.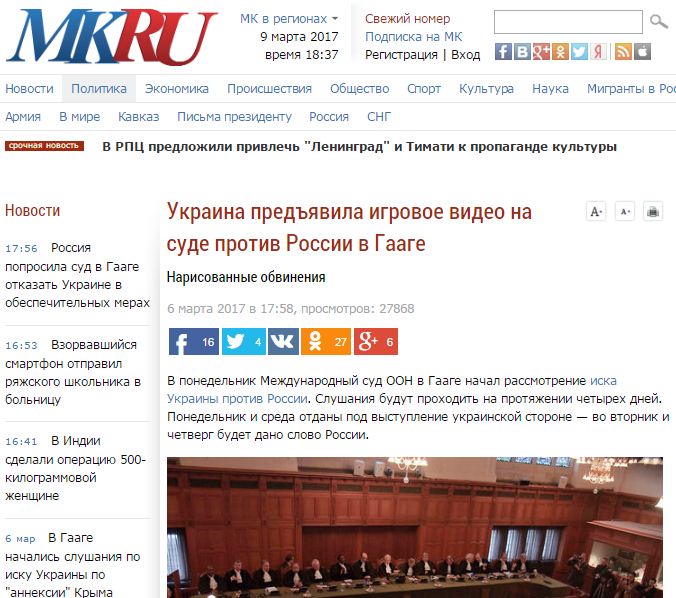 The hearing is part of Ukraine's suit against Russia for financing terrorism and racial discrimination.
The animation that Russian media has deliberately misrepresented as a video game is a documentary visualization prepared by the Joint Investigation Team, a group of detectives from Holland, Australia, Belgium, Malaysia and Ukraine. The team spent more than two years compiling evidence on the 2014 downing of Malaysian flight MH17, the video is part of their findings concluding that the MH17 was shot down by a missile brought in from Russia.
The documentary visualization was presented to the court as a computer –generated graphic and nothing else.  It uses evidence gathered by the investigation team showing the route taken by the Russian missile launcher in a convoy into Ukraine.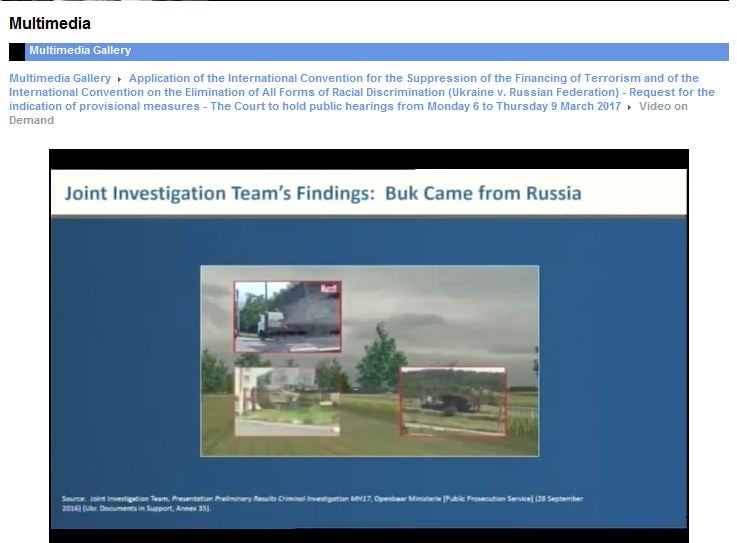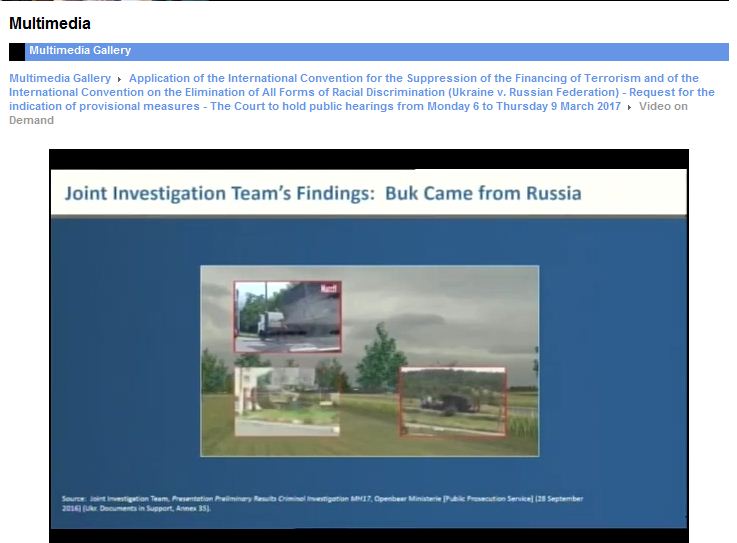 The full session of the ICJ hearing is available on the court's web site where the documentary visualization is also available. (1:48:00-1:54:00). Anyone wishing to can see for themselves exactly what it is.
At the hearing, Ukraine's Deputy Foreign Minister Olena Zerkal requested an immediate court order to stop Russian transfers of money, weapons, equipment, training and personnel to Russian separatists fighting Ukrainian forces in eastern Ukraine. (The full text of Zerkal's address is available here.)
Other media who disseminated similar stories claiming that Ukraine was presenting a video game as evidence include Rambler News, Nesam.net.ua, Zagolovki, Live News and others.