Ukraine's Armed Forces are not planning, have never planned and never will plan any aggressive operations against Belarus, Ukraine's Defense Minister Oleksiy Reznikov declared. Any attempts to accuse Ukraine of preparing an attack on Belarus is a provocation and a pretext for involving the Belarusian army in Russia's war against Ukraine.
Russian websites have been busy spreading Alexander Lukashenko's claims that Ukraine was allegedly "preparing to attack" Belarus. The self-proclaimed eternal leader of Belarus announced this during a meeting with Kremlin chief Vladimir Putin. Lukashenko brought a map with him to the talks, which he says reveals Kyiv's plans to attack Minsk. "They were not only preparing to strike in Donbas. They have set up positions to strike at Belarus" Lukashenko said.
In fact, Ukraine has never planned and does not plan any aggressive actions against Belarus, and any such claims are only a pretext for involving the Belarusian army in Russia's war against Ukraine, Ukraine's Defense Minister Reznikov said. The Russian air force is preparing to strike a provocative blow against Belarus near the Ukrainian-Belarusian border, in particular the village of Kopani, in the Stolin district of the Brest region, he said. "In order to mask the crime, Russia plans to carry out an attack from Ukraine's airspace. The purpose of this provocation is to force the current leadership of Belarus to go to war against Ukraine. (…) I guarantee that the Ukrainian army has not planned, is not planning and will not plan any aggressive actions against Belarus. During these 15 days of war Ukrainian troops have killed more than 12,000 Russian soldiers. Don't let your country get involved in this war!" Minister Reznikov emphasized in a Facebook statement directed to the Belarusian people.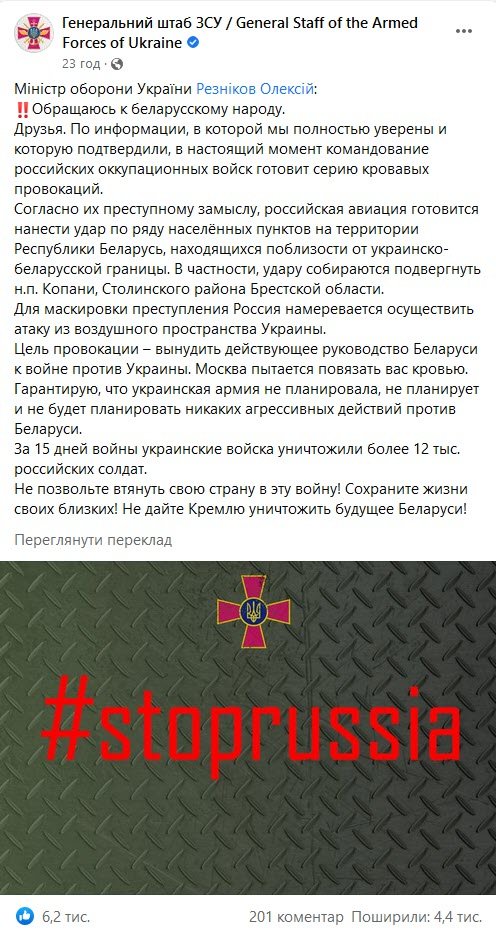 On March 11, Ukraine's Air Force Command announced in a Facebook post that at 2:30 PM Kyiv time Russian planes entered Ukraine, turned around over the towns of Horodyshche and Tumen in northern Ukraine and then fired on the Belarusian town of Kopani. Ukraine's military called the move a ruse intended to draw the Belarusian Armed Forces into war with Ukraine. At the same time in a post on the Telegram messaging platform the Belarusian Ministry of Defense denied that Kopani had been fired upon but said that Minsk was sending five battalion tactical groups to the border with Ukraine for reconnaissance, patrol, security and defense tasks.
StopFake has debunked similar fakes such as the one about Poland allegedly planning to attack Belarus, or that Ukraine's Armed Forces were hiding weapons and ammunition at the Zaporizhzhia Nuclear Power Plant and tried to attack the facility.