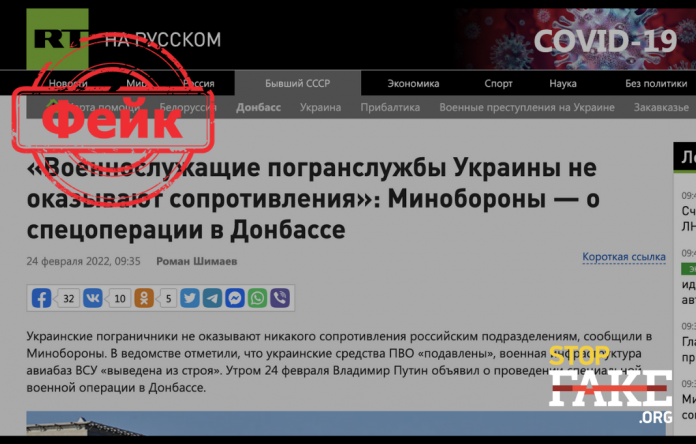 Against the backdrop of a full scale Russian invasion, Russian media continue spreading disinformation, this time claiming that Ukrainian military is simply not putting up against the advancing Russian troops. Russian media claim that Ukrainian air defense has been "muffled" and Ukraine's air base military infrastructure has been "disabled".
Ukraine's armed forces were on high alert and repelling Russian attacks as of 5:00 am since Russian President Vladimir Putin's declaration of war. They Ukrainian military has taken and is holding defensive positions.
Ukraine's General Staff informs that on February 24 Ukraine's military shot down five planes and two helicopters, two tanks and several Russian military trucks.
Ukraine's Commander in chief issued an order to inflict maximum losses on the invading forces.
Russia has in fact bombed several Ukrainian airports, Boryspil, Ozerne, Kulbakino, Chuhuyev, Kramatorsk, Chornobayivtsi and several Ukrainian military sites.
Russia is also launching artillery fire on the towns along Ukraine's state border, including from Crimea, the Ukrainian peninsula Russia annexed in 2014. According to Ukraine's State Border Service, Russia is breaking through Ukraine's border posts. As a result of shelling the Preobrazhenka area border guards' positions (a town in southeastern Kherson province) from Crimea, one Ukrainian border guard was killed.