The spring planting season in Ukraine is in jeopardy not because of the Ukrainian authorities, but because of the Russian Federation, which on February 24 unleashed a full-scale invasion of Ukraine. Ukrainian farmers were forced to start the spring planting campaign with bullets and missiles flying above them, regions where the war is raging are unable to sow wheat, extra hands needed for spring wheat planting are busy defending Ukraine and fuel shortages plague the entire process throughout the country. Nevertheless the spring planting campaign is underway in 20 farming regions in Ukraine.
Russian media are cynically declaring that the Ukrainian authorities are responsible for the possible failure of this year's grain crop because they "took decisions that jeopardized both the planting and even the preservation of available food in the country."
Completely silent about the Russian war that is impeding normal life in Ukraine, the Kremlin propaganda machine claims that famine will come because the fuel previously imported from Russia and Belarus is now lacking due to corruption and bad Ukrainian decisions.
"This is not 1933 and it is unlikely that anyone will die of starvation in Ukraine. Surely aid will come from abroad, and above all from Russia. But Ukraine herself is doing everything possible to create this very famine. The deputy minister (Deputy Minister of Agrarian Policy Taras Vysotsky ed. note) is more inclined to count billions of dollars and hryvnia and not the country's food needs" writes the propagandist Vzglyad newspaper.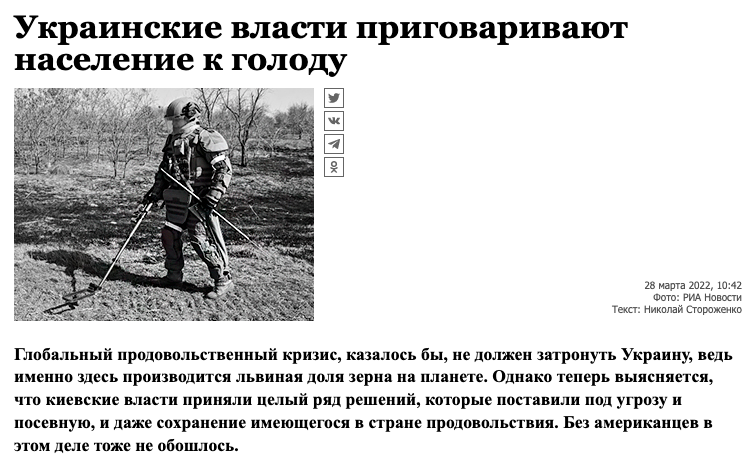 Regardless of the difficult conditions brought on by Russia's war against Ukraine, the spring planting season in Ukraine has already begun. According to Ukrainian Prime Minister Denys Shmyhal, 20 farming regions in Ukraine are actively planting.
Shmyhal noted that there is cautious optimism about the future yield from the spring planting. "According to operational data, spring planting can be carried out on six million hectares of land. This is 80% of the area that was planted last year" the Prime Minister noted.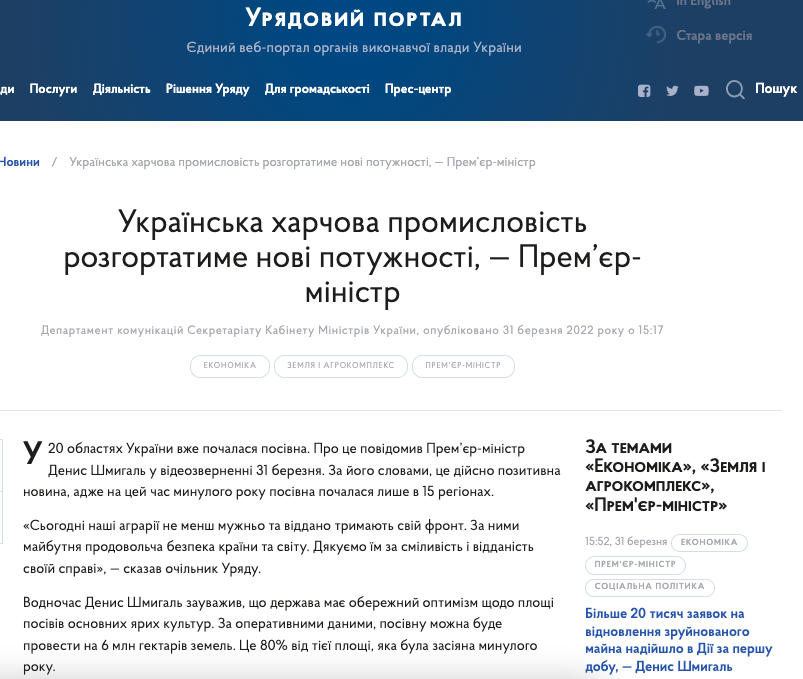 Earlier First Deputy Minister for Agrarian Policy Taras Vysotsky said that Ukraine would increase the planting of cultures that are easy to produce in view of future food security, specifically peas, barley and oats.
"These used to be niche crops, but they are easy to grow and very important for human nutrition. There will be a shift from planting export-oriented crops to crops intended for domestic consumption" Vysotsky said.
The Agrarian Ministry also noted that currently Ukraine has enough stocks of wheat, oil and corn to ensure food security for the coming year.
Ukraine has enlisted the support of G7 countries' Agricultural Policy Ministers and other international colleagues to ensure increased export of Ukrainian agricultural products through new logistical routes. G7 representatives, the EU Commissioner for Agriculture Policy and representatives of the UN World Food Program, the UN Food and Agriculture Organization also pledged to provide Ukraine with fuel for the spring planting campaign. Recently, Azerbaijan also announced that it would supply Ukraine with fuel for spring planting.
Russian troops have blown up several fuel depots in Ukraine and continue to target other such installations. According to Ukrainian Energy Minister's adviser Olena Zerkal, the destroyed fuel was meant for commercial use, to be used for the spring sowing campaign and for consumer's needs.