Pro-Kremlin media announced last week that according to Ukraine's National bank 20% of Ukrainian businesses will be laying off employees in the very near future. Although the source for this claim is Ukraine's National Bank, it is not a National Bank analysis or a forecast; it is simply the result of a poll that the Bank conducts on a monthly basis among business leaders and managers. The poll is a feasibility study conducted monthly to determine the level of business activity, which remains relatively high in Ukraine. Furthermore, this data is only for the month of January 2020, it is no way an indicator of general future economic activity for Ukraine.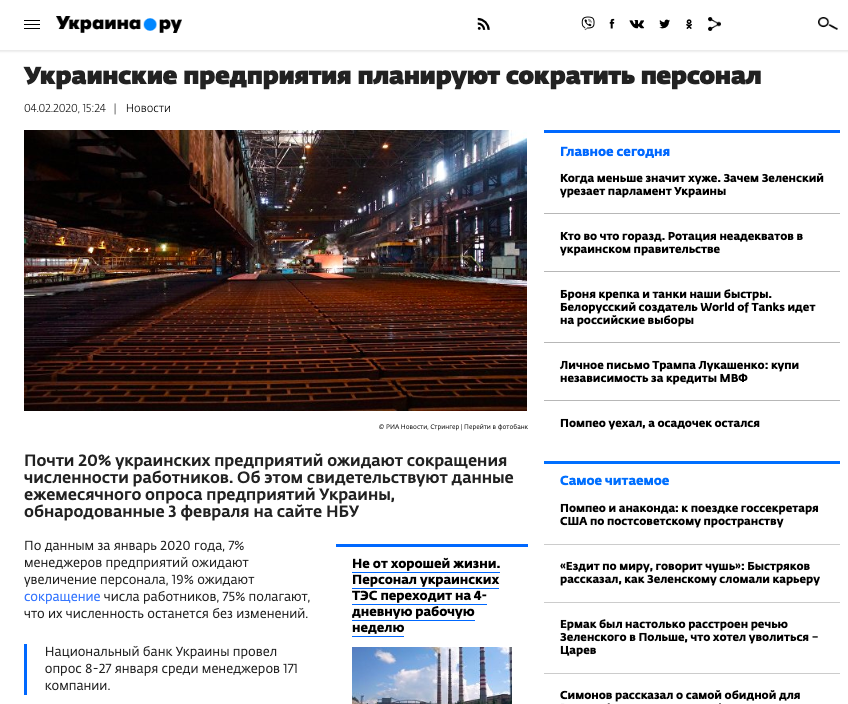 The Kremlin faithful propagandist site Ukraina.ru took the Ukrainian National Bank poll data for January and announced that it was an indicator of mass future layoffs in Ukraine. While some poll respondents did mention possible layoffs, the overall tone of the poll was positive and the Ukraina.ru spin on the poll completely ignores other important indicators from the survey.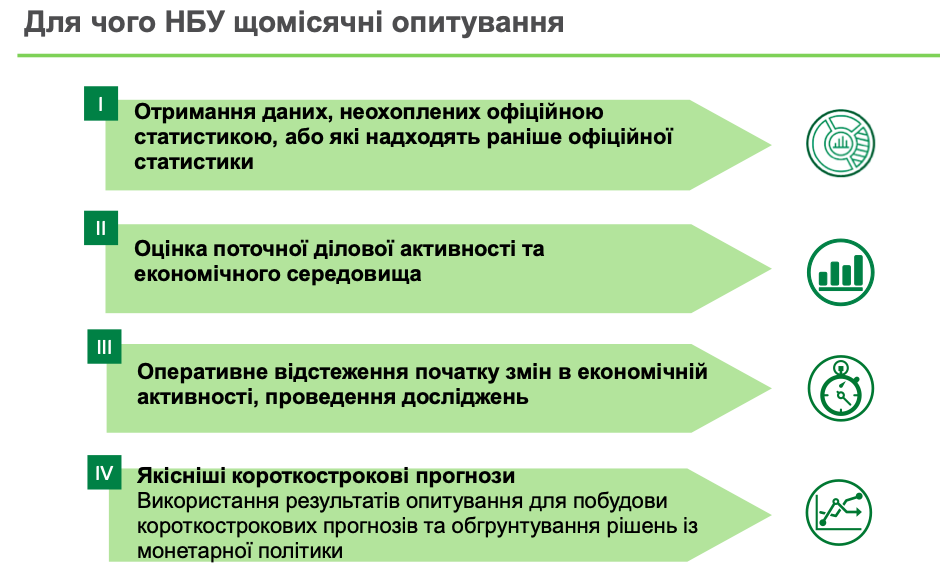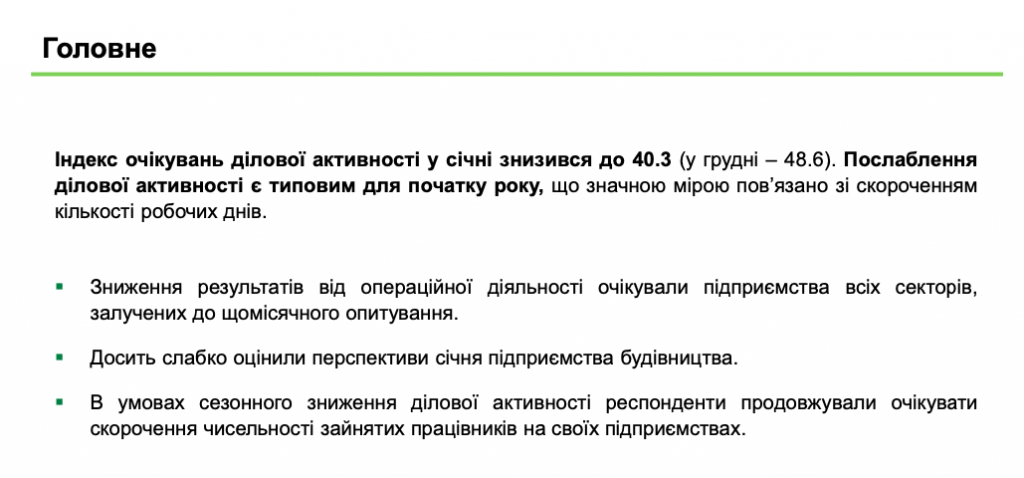 In 2019 Ukraine's National Bank introduced a new tool to help the Bank rapidly assess and track economic trends and developments, a monthly poll of business expectations and activity. The index is based on surveys of various Ukrainian enterprises that form the basis of Ukraine's economy. Previously such indicators were collected to assess business growth for the next 12 months, now the index concentrates on analyzing the current state of the economic environment.
The January 2020 poll was conducted among business managers in the field of industry, construction, retail and the service sector. Ukraine's National Bank emphasizes that the published data represents results that reflect only the opinions of respondents; the data are not National Bank forecasts, estimates or predictions.
Ukraine's National Bank points out that the Business Expectation Index for January 2020 fell to 40.% from 48.6% in December 2019 and notes that such a reduction is typical for the beginning of the year in Ukraine as January has a reduced number of working days because of the many holidays celebrated during that month.
Whatever Ukraina.ru may claim about the dire state of Ukraine's economy and future mass redundancies, the January 2020 National Bank survey results tell a different story.  75% of the National Bank monthly poll respondents from the construction sector, 85% of respondents from various trade enterprises, and 68% of respondents from the service industry noted that they expected the number of their employees to remain unchanged in the foreseeable future.