Kremlin propaganda has long propagated narratives about alleged pro-Russian sentiments in eastern Ukraine. These narratives are intended to deflect attention from the presence of Russian troops in Donbas and to present Russia's aggression in Ukraine as an internal conflict, a civil war. At the same time pro-Kremlin media are busy trying to convince their public that in Ukraine there are many supporters of unification with Russia, particularly throughout eastern Ukraine, in Kharkiv, Odesa, Mykolayiv and Zaporizhzhia.
During an appearance on Russia's state owned television channel Rossia 1, Igor Korotchenko, the editor-in-chief of Russia's National Defense journal, a publication devoted to Russian national security issues, declared that "people in Mykolayiv, Odesa, Kharkiv and scores of other Ukrainian cities want to return to Russia". Korotchenko's message was quickly picked up by Krasnaya Vesna, Politnavigator. EurAsia Daily disseminated a similar narrative but this time quoting another so-called expert, former Kremlin insider and Putin confidante Sergei Markov.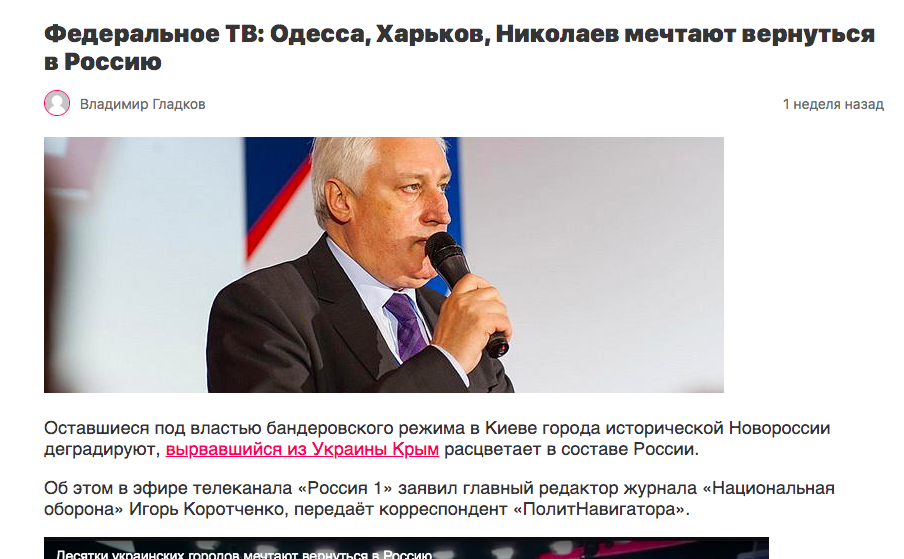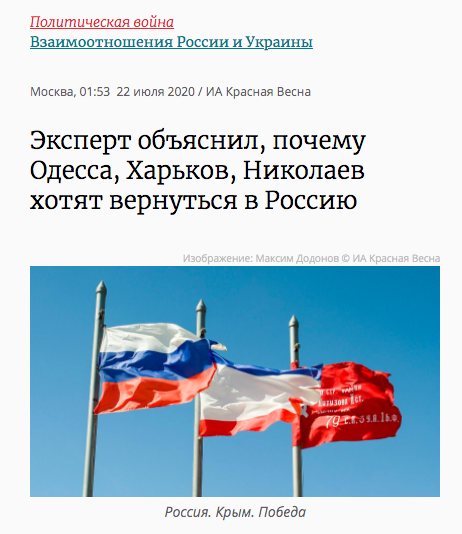 Talking heads such as Markov or Korotchenko are invited to participate in all sorts of television talk shows to parrot the views of the Kremlin. Markov's and Korotchenko's declarations however are a case of wishful thinking at best.
In fact statistics tell us the opposite of what Korotchenko and Markov claim, Ukrainians do not want to unite with Russia.
According to the latest polls conducted by the prestigious Kyiv International Institute of Sociology, 90% of Ukrainians support Ukrainian independence and believe their country should be independent from Russia. Residents of Ukraine's eastern territories have a more positive attitude towards the European Union – 53% than towards Russia – 35%. Only 7% of residents in southern Ukraine and 5% in eastern Ukraine feel that Ukraine and Russia should unite. A poll conducted by Germany's largest market research institute GFK in 2016-2017 reinforces the findings of the Kyiv International Sociology Institute, eastern and southern Ukrainians have no desire to join Russia. Among Odesa residents only 2% think that Russian occupied areas of the Donetsk and Luhansk regions should be integrated into the Russian Federation, in the Kharkiv and Mykolayiv regions that figure is even smaller, only 1% think such integration is a good idea.