The Ukrainian Forces Commander-in-Chief General Valery Zaluzhny, did not say anything of the sort. This video is a high-quality fake, a so-called deepfake, created using artificial intelligence.
A video is being widely shared online in which a man resembling the Ukrainian Commander-in-Chief General Valery Zaluzhny, declares that Ukrainian President Volodymyr Zelensky allegedly assassinated his assistant and is preparing to "surrender" the country to the enemy.
"Zelensky is the enemy of our state. Because of him, we completely failed the counteroffensive. I urge Ukrainians to protest on the streets and all Ukrainian defenders to disobey the criminal orders of their commanders. Immediately deploy your weapons and enter Kyiv," the man in the video says.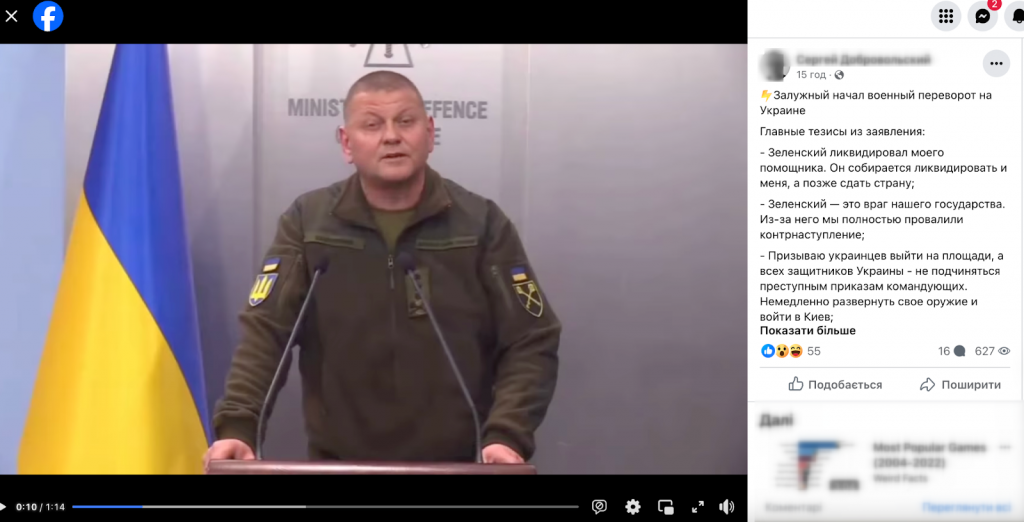 In reality, this video is a high-quality fake, a so-called deepfake, created using artificial intelligence. When creating deepfake videos, certain images or videos are superimposed on other videos. For this overlay, a machine learning technique called GAN (generative adversarial network) is used. With this technology, it is also possible to fake a voice. For more information about how attackers use artificial intelligence to generate fake videos, read our article Deep Fake: When Neural Networks Become More Skilled Than Propagandists.
You can find out whether the video has been artificially edited using the Deepware tool. This tool detects facial manipulations generated by artificial intelligence. Having analyzed the video shared online, Deepware Scanner determined it to be suspicious and containing signs of interference.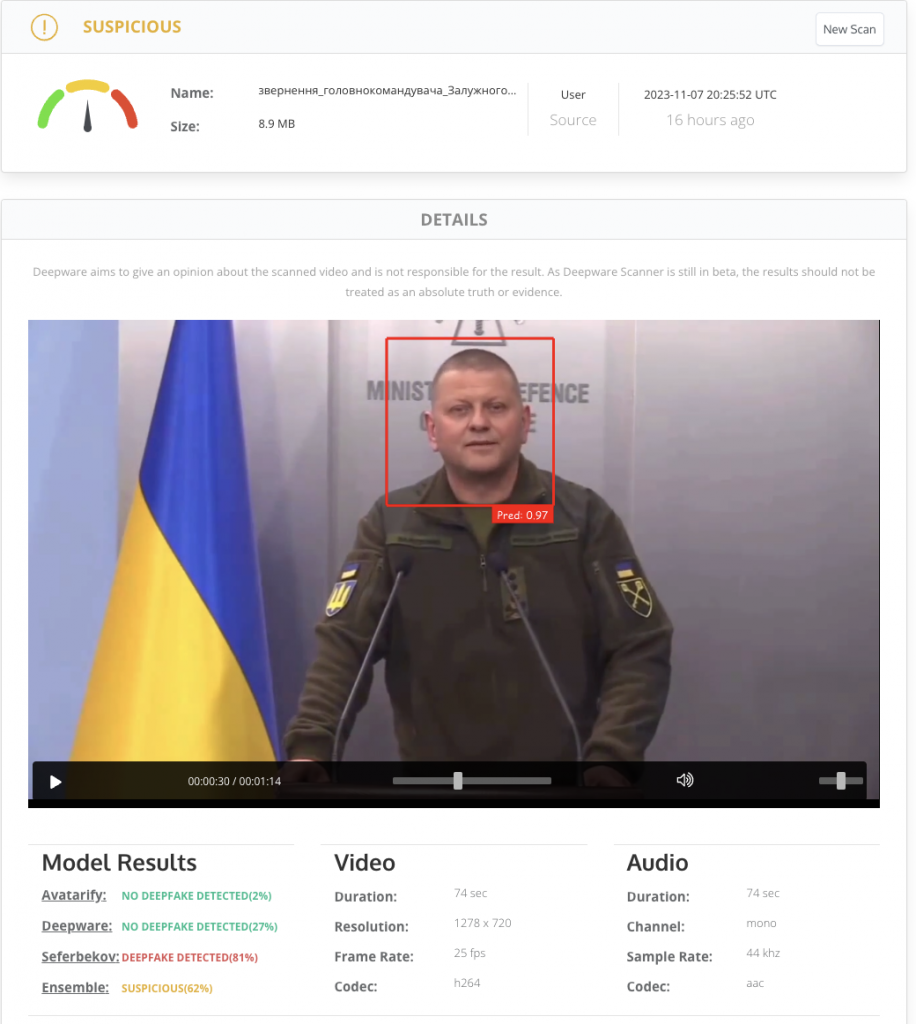 The fact that this is a deepfake is also indicated by the quality of the video and the person's appearance. If you look carefully, you can notice flashing lighting, unnatural movement of the eyelids and mouth, and also, in some moments, a discrepancy between a person's facial expressions and his speech.
Using a reverse image search on Google, StopFake journalists were able to find the original video, which most likely was used to create the fake. This is a video message from the Ukrainian Commander-in-Chief on the escalation of the situation in the front-line territories of Ukraine dated February 18, 2022.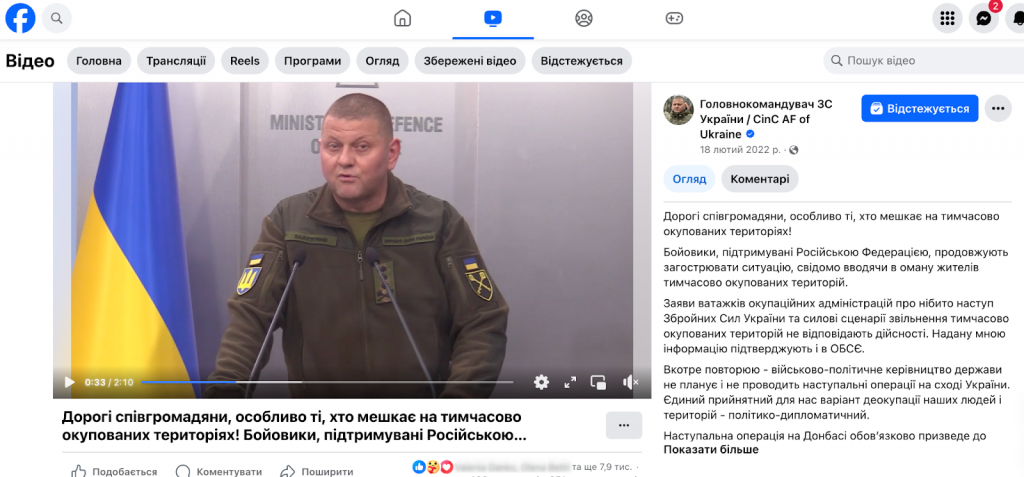 It should also be noted that this video is being shared online mainly through anonymous Telegram channels and pro-Russian groups. Analysts from the Center for Combating Disinformation at Ukraine's National Security Council managed to find out that this video was first posted by the Telegram channel Radio Trukha, the description of which states that they also publish humorous content.
"By spreading such fakes, Russian propagandists seek to spread panic and ground the narrative about a clash between the government and the military," writes the Center for Countering Disinformation. The department notes that back on November 7 they predicted similar information and psychological special operations by the Kremlin.
Previously, StopFake refuted false information that Commander-in-Chief Zaluzhny allegedly admitted the failure of the Ukrainian Forces in the war.