General Melnyk, who is quoted by Russian media, did not make any statements about the "destruction of the combat-ready part of the Ukrainian Armed Forces". Melnyk spoke about the need to replenish the resources of the Ukrainian Armed Forces with Western equipment and new trained personnel for the rotation of Ukrainian soldiers on the front line.
Russian media outlets, citing the Commander of the Ukrainian troops in the Kharkiv region, General Serhiy Melnyk, spread manipulative materials about the "knocked-out Ukrainian army". By taking Melnyk's quote out of context, pro-Kremlin media outlets claimed that "combat-ready parts of the Ukrainian Armed Forces have been destroyed and professional soldiers have been knocked out".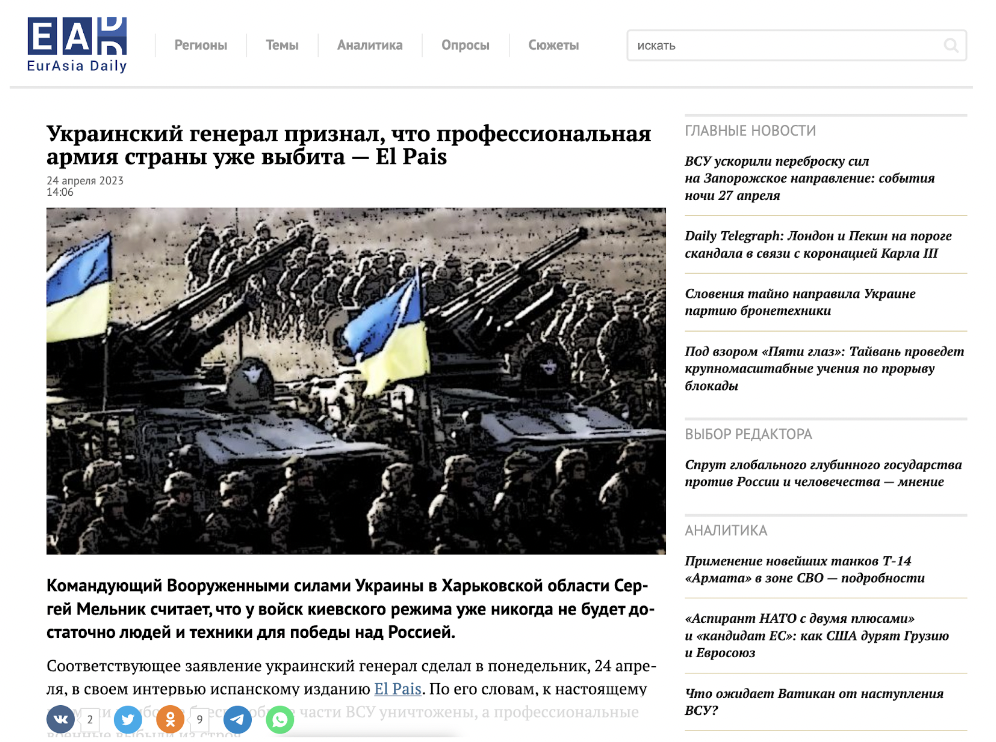 Manipulative articles in Russian media are based on a large interview with the head of the Kharkiv military garrison, Serhiy Melnyk, in the Spanish newspaper El País. Melnyk not only talked about the operations to defend Kharkiv from the Russian invasion in 2022 but also shared his thoughts on the Ukrainian Armed Forces' counter-offensive in 2023.
The General noted that he has no doubt about the success of the Ukrainian army in the fight against Russian occupiers and emphasized that Ukrainian troops face a colossal challenge. Ukraine needs a large amount of resources — not only equipment and ammunition but also personnel, as soldiers on the front line require more frequent rotations. It is precisely this phrase of Melnyk's about the need for more frequent rotations for Ukrainian defenders that Russian media took out of context and created a fake news story that the professional army of Ukraine "has already been knocked out".
After the appearance of this fake news in Russian media, Serhiy Melnyk clarified his words once again. Melnyk emphasized that his message was that the Ukrainian army needs trained personnel to rotate soldiers on the front line.
"We need people. Because soldiers at the forefront, even though they hold heroically, are still getting exhausted. Some of them are wounded, some are still recovering, and some, unfortunately, have died. That is why we have to mobilize people and conduct exercises to maintain order and effectively work on the de-occupation of our state," emphasized Melnyk.
The general also reiterated that the Armed Forces of Ukraine have enough resources for a counteroffensive, and the most important thing for the army is to get as much Western weaponry as possible, which will help to carry out the operation to liberate Ukrainian territories from Russian occupiers effectively and with minimal losses among the personnel.